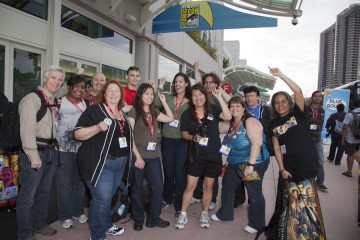 Shiny!
Need a ride to Comic-Con? Then you can hop on board the Whedonopolis Party Bus, along with the crew from Whedonopolis. They'll be departing from Encino in California on Wednesday, July 8 at 8AM, with a stop at Culver City at 9AM, and another stop in Costa Mesa at 11:30AM. There, they'll also take a brief stop to let riders pick up a quick lunch from a nearby fast food restaurant.
And from there, it's straight on to the mother of all conventions, San Diego Comic-Con, with a planned 2PM arrival time.
If that sounds like your cup of tea, then you can snag a ticket for $60 round-trip — and instructions on how to join in are on the Whedonopolis site.
If you can't hitch a ride, you can also find the Whedonopolis gang at their annual panel, the interactive screening of the Buffy the Vampire Slayer musical episode "Once More With Feeling", taking place on Sunday at 2:45PM in Room 6BCF.
Will you be trying to board the Whedonopolis Party Bus? Let us know in the comments.