Two months from today, San Diego Comic-Con will officially kick off with Preview Night – but we've got a lot of ground to cover in these next two months. Today, we've got a (late) update on Crimson Peak, news on Alienware's return, good signs for both Con Man and Nerd HQ appearances, word on where you can grab all your Mouse Guard goods, and more.
Here's a look at the news you might have missed:
Hey #SDCC faithful, how is the commute on the Coronado Bridge during the Con? Is it easy to get around if we stay @ Coronado Beach?

— ALIENWARE (@Alienware) May 6, 2015
@kerrydixon Yep we couldn't wait to be back.

— ALIENWARE (@Alienware) May 6, 2015
Sometimes, even we miss news – and this USA Today interview with Jessica Chastain from last December slipped off our radar. Towards the end, she and Oscar Isaac are asked if they consider themselves geeks. Chastain's answer? Yes, and she'll be at Comic-Con to promote Crimson Peak. During last year's Hall H presentation, director Guillermo del Toro had also mentioned that he intended to bring fellow Crimson Peak co-star Tom Hiddleston back to SDCC for a panel for the film, so fingers crossed that it's all still on.
Can't wait for Alan Tudyk and Nathan Fillion's Con Man? Neither can we – but the good news is, it looks like we won't have to wait too much longer for a look at it, as they have tweeted that they are working on setting up panels for both San Diego Comic-Con and Nerd HQ this year.
https://twitter.com/ConManSeries/status/596179521495261184
Looks like David Petersen and his popular comic series Mouse Guard will be headed back to Comic-Con. Petersen tweeted that he'll have his own booth with "limited space", but that you'll be able to grab copies of The Art of Mouse Guard: 2005-2015 at the BOOM! Studios/Archaia booth. Additionally, Petersen will be doing signings at the Archaia booth and his own table.
@brainwise I have limited space at my booth, so I don't know yet…BUT the BOOM!/Archaia booth will!

— David Petersen (@mouseguard) May 7, 2015
@brainwise Barring any printing/shipping problems, that is the plan. I'll be doing signings at the Archaia booth as well as my table too

— David Petersen (@mouseguard) May 7, 2015
Comic book author Josh Trujillo announced on Twitter that his latest book, Death Saves, will debut at Comic-Con.
@crotheras Yes definitely! We will debut at San Diego Comic Con but you should get your copy before then. Thank you for supporting the book!

— Josh Trujillo! 🏳️‍🌈💙🪲 (@losthiskeysman) May 6, 2015
Nidhi Chanani of Everyday Love Art announced on Instagram that they are releasing an exclusive Giraffe Love shirt for Comic-con- but want to know which version you like more. Go vote now on Instagram.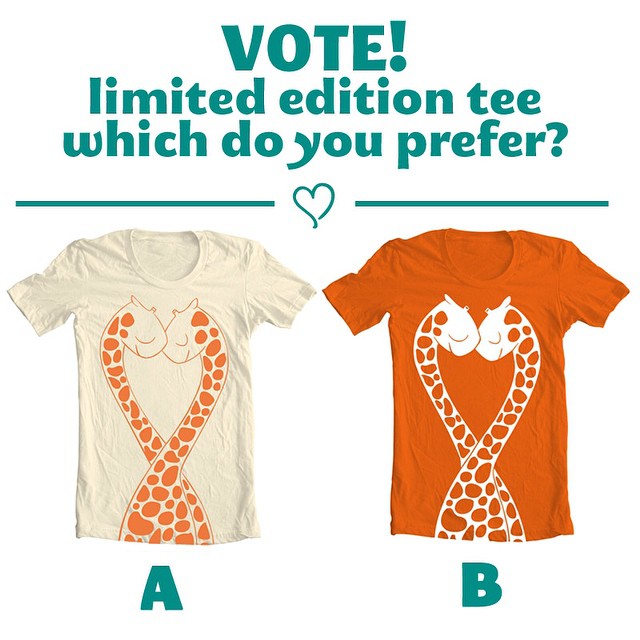 Artist Michael Allred announced via Twitter that he'll be at San Diego Comic-Con this year.
Our schedule isn't allowing many appearances for the forseeable future. Doing a SDCC drop in & then @RoseCityCC https://t.co/JttLbbuFZ7

— Michael Allred (@AllredMD) May 8, 2015
If you're hoping for some news on NECA's awesome Godzilla line, looks like it might be coming at Comic-Con.
Maybe some news at sdcc https://t.co/bt7jtI3gAD

— NECA (@NECA_TOYS) May 8, 2015
With both Agent Carter and Marvel's Agents of S.H.I.E.L.D. officially renewed, looks like our good friends over at Agent Carter News and S.H.I.E.L.D. TV will be hosting another Comic-Con party. This year's party will be a joint combination for fans of both shows – with more details coming soon.
@SD_Comic_Con @Dreyesbo we'll be doing an #AgentsofSHIELD & #AgentCarter combined party at SDCC, news soon!

— Agent Carter News (@AgentCarterNews) May 8, 2015
The Costume Designers Guild is once again heading to SDCC, according to Instagram. They "have [a] lot of fun things planned", including the Hall Costume Awards. They also usually hold a few panels, so keep an eye out for those.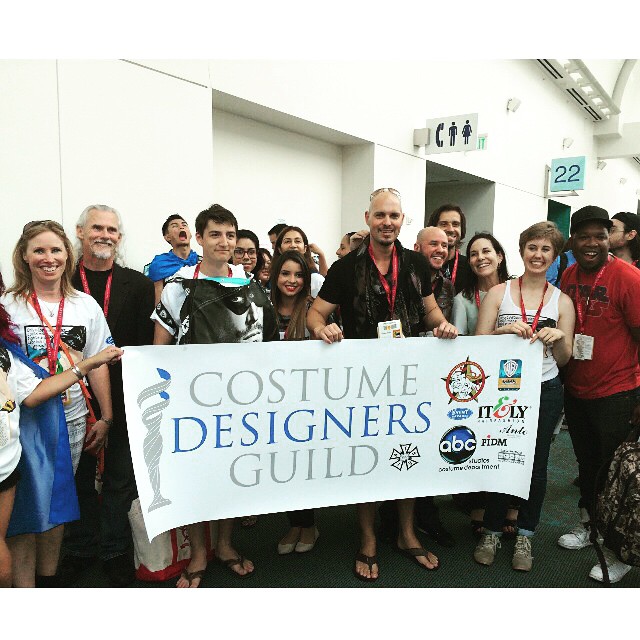 Artist and illustrator Juan Muniz has partnered up with 3DRetro to create an exclusive for this year, based on Muniz's work. Muniz is well-known for his bunny character Felipe, a simple character that goes through every day problems. The exclusive will be based on Muniz's "uhoh" piece, which features Felipe holding a bunch of colorful Grenade shaped balloons while looking down to see that one of the pins has fallen out, thinking to himself, "uhoh". There will be four colorways of the toy in total, but at SDCC, they'll be releasing the original colorway, available at the 3DRetro booth. Muniz will also be doing signings at 3Dretro's booth, and giving away a free signed and numbered print to everyone that picks up a toy. Here's a look at the design and illustration of the day: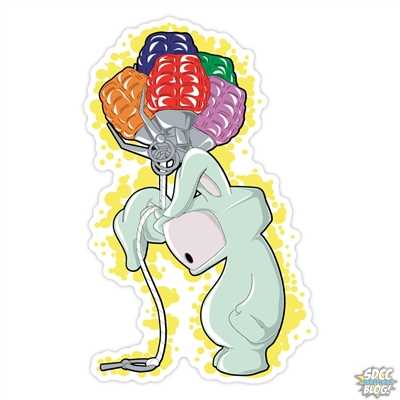 Full Moon Features, the genre film studio, revealed to a fan on Twitter that they will be in attendance at Comic-Con.
@ILikeHorrorMovs Yes, we'll be at the San Diego Comic Con and Comikaze in LA. Next weekend we're at Spooky Empire in Orlando, FL.

— Full Moon Features (@fullmoonhorror) May 8, 2015
Jody Houser, who has worked on IDW's Orphan Black, announced via Twitter that she will be signing autographs at SDCC.
@missewon @OrphanBlack Hah! Not sure the release date for #4 yet but will tweet as soon as I know. And I will be signing at SDCC!

— Jody Houser ✒️🗯️🎲 (@Jody_Houser) May 7, 2015
Anything we missed? Let us know in the comments, drop us a line or tweet us at @SD_Comic_Con.