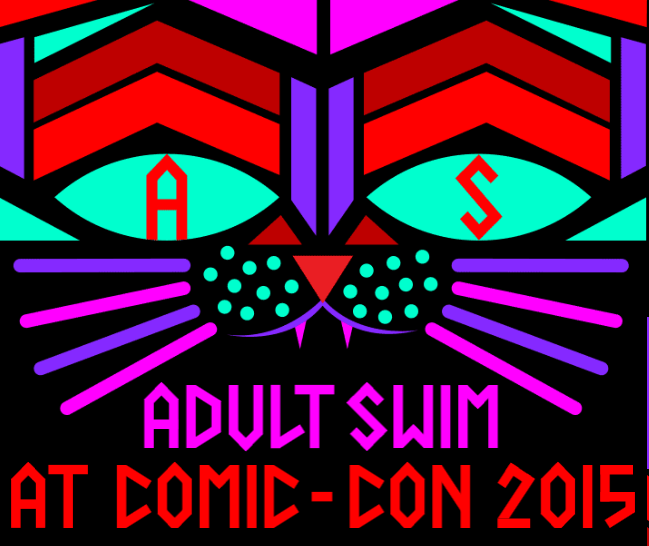 Adult Swim and Cartoon Network are headed back to San Diego Comic-Con this year, and just like in previous years, they're going all out with panels, screenings, a carnival midway, and the return of the Meatwad Full Dome Experience.
As usual, both networks will be taking over the Hilton Bayfront's Indigo Ballroom on Friday, July 10. The day will kick off with back-to-back "fandemonium" panels for Regular Show and Ugly Grandpa at 10AM, followed by Adventure Time and Steven Universe at 11.
Then, Adult Swim takes to the stage, with fan favorites Aqua Teen Hunger Force for a special farewell panel, as well as a special look at Your Pretty Face is Going to Hell from 12:15PM-1PM. After that, it's Rick and Morty with creator Dan Harmon and cast members/writer Ryan Ridley at 1:15, Mike Tyson Mysteries with Mike Tyson at 2PM, and Robot Chicken along with Seth Green, Matthew Senreich, Tim Root, and Breckin Meyer at 3:15PM.
There will also be a panel for Childrens Hospital on Sunday, July 12 from 1PM-2PM in Room 25ABC.
Additionally, Cartoon Network is bringing back their nightly screenings in Room 7AB on both Thursday and Friday. On Thursday, the Adventure Time Royal Ball returns at 8PM for a first-look at a new Adventure Time episode, as well as the world premiere screening of Cartoon Network's We Bare Bears. Then on Friday, from 8PM-9PM, head to Room 7AB for Clarence & Friends Pajama Party, for "awesome episodes of your favorite Cartoon Network shows and super cool prizes".
Just like last year, they're also bringing in a carnival and the Meatwad Full Dome Experience to downtown. Instead of the Petco Interactive Zone though, they'll be located at Convention Way & 5th Ave Pier, behind the convention center, where the Godzilla setup was last year. Here, they'll be giving away things, offering live streaming events (including Toonami Pre-Flight on July 11 from 1PM-2PM and Fischcenter Live on July 9 and 10 from 1PM-2PM), hosting free games, and more. You can RSVP now on their site, though for the live tapings, a daily giveaway for tickets will happen at the Adult Swim on the Green ticketing booth.
Here's the schedule for the nightly screenings at Adult Swim on the Green:
ADULT SWIM PRESENTS: THINGS YOU'VE NEVER / RARELY SEEN
Featuring Adult Swim specials, never-before-seen pilots, an early look at Mike Tyson Mysteries, The Venture Bros., Squidbillies, and more.
JULY 9
8:30‑10PM
RICK AND MORTY SCREENING
Season 2 Preview
JULY 10
8:30‑10PM
AQUA TEEN HUNGER FORCE FOREVER & YOUR PRETTY FACE IS GOING TO HELL SCREENING
Early look at new episodes
JULY 11
8:30‑10PM
And here's the signing schedule:
Friday, July 10
Mike Tyson Mysteries – 5:15PM-6PM – Warner Bros. Booth #4545
Regular Show, Uncle Grandpa & Clarence – 2PM – Autograph Alley AA04
Adventure Time & Steven Universe – 4PM – Artist Alley AA04
Saturday, July 11
Aqua Teen Hunger Force Forever & Your Pretty Face is Going to Hell – 1PM-2PM – Adult Swim Booth #3721
Rick & Morty – 2:30PM-3:30PM – Adult Swim Booth #3721
Robot Chicken – 4PM-5PM – Adult Swim Booth #3721
We Bare Bears – 1PM – Cartoon Network Booth #3735
Sunday, July 12
Childrens Hospital – 12PM-12:30PM – Warner Bros. Booth #4545