Bandai, the Japanese toy making company which owns some very large licenses (namely, Power Rangers), will be bringing exclusives to Comic-Con again this year.
From Bandai's site, here's instructions on how to purchase the exclusives:
Where can I purchase these Limited Edition items?
San Diego Comic-Con @ San Diego Convention Center
For both Power Rangers and Doraemon items, get a product ticket upstairs in the Sails Pavilion in the Bandai line mornings of: Thursday 7/9 through Sunday 7/12. (See below "HOW TO BUY" for detailed instructions.)

Which days will product be on sale?
Power Rangers and Doraemon – July 9-12, 2015
While supplies last. Limited quantities sold each day.

Will you be selling product on Wednesday (Preview Night)?
No, this year we will not be selling any product on Preview Night.Will the items be available for exhibitors to purchase?Yes. However, sales to exhibitors will be limited to Sunday 7/12/2015 only. Limit one per person. Exhibitors will be required to follow the same steps as all other consumers by retrieving a ticket at the Comic-Con designated times from the Bandai line upstairs in the Sails Pavilion.

How to Buy?

Form a single file line in the Sails Pavilion Thursday-Sunday morning July 9-12. The line will form at the front of the building for entry to the Sails Pavilion. Depending on crowds, this line may start moving as early as 7:00 am.

Select which items you want the opportunity to purchase. Take a ticket for each of those items. Please note, a ticket to purchase is not guaranteed.

There will be 2 types of tickets: "Guaranteed Purchase" tickets, and "Random Drawing" tickets.

If you get a "Guaranteed Purchase" ticket, read it carefully! It will list the time range you can come to the Bandai booth #3535 that day only to purchase your product.

If you get a "Random Drawing" ticket, you have been entered in the drawing to purchase that item on the specified day. Check at the Bandai booth #3535 on the big screens, any time after 10:00 AM on the designated date to see if your number is drawn for you to purchase on that day only!

Be sure to purchase your product by 5:00 PM on the same day you receive the ticket!! Tickets are valid same day only.

Credit card only, no cash. No product will be sold without a valid "Guaranteed Purchase" ticket or a winning "Random Drawing" ticket. Limit 1 of each item per person. Duplicated tickets will not be honored. ADA attendees with mobility issues should follow SDCC instructions on Sails Pavilion entry and line access. All Sales Final. No returns, no exchanges, no refunds. We reserve the right to refuse a sale at any time for any reason. Sales to exhibitors are limited to SUNDAY 7/12 only.
Let's take a look at this year's Bandai Comic-Con exclusives:
[UPDATE June 23] Bandai also announced that they'll be giving away free Limited Edition Bonus Dino Chargers at Toys "R" Us locations with any purchase of Bandai Power Rangers of $20 or more. Offer valid July 8-July 19.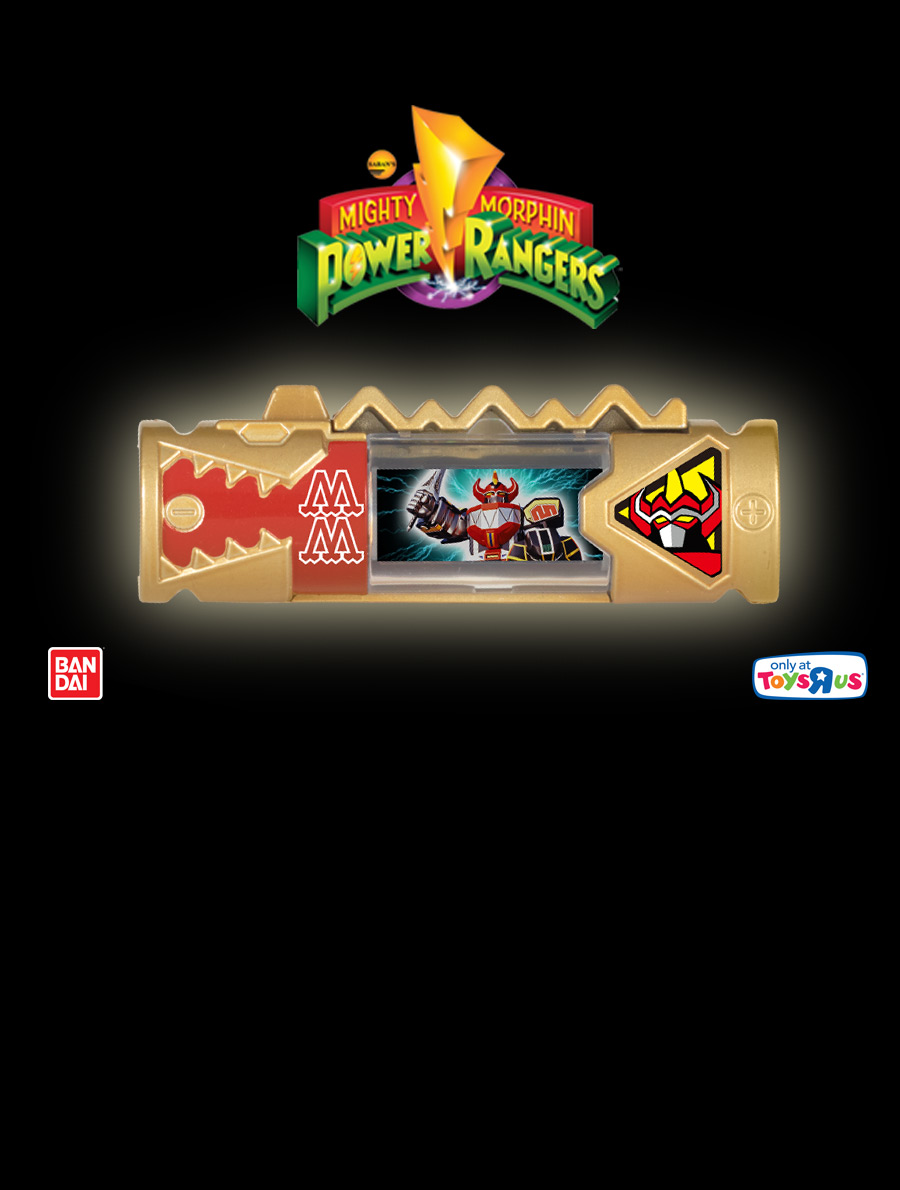 [UPDATE June 16] Another Bandai exclusive has been revealed – the Limited Black Edition Mighty Morphin Power Rangers Legacy Saba Saber. The full size collector's edition of Tommy Oliver's Saber will retail for a whopping $175, and is made of premium black and gold materials and die cast parts. The exclusive will be limited to 1,000 pieces.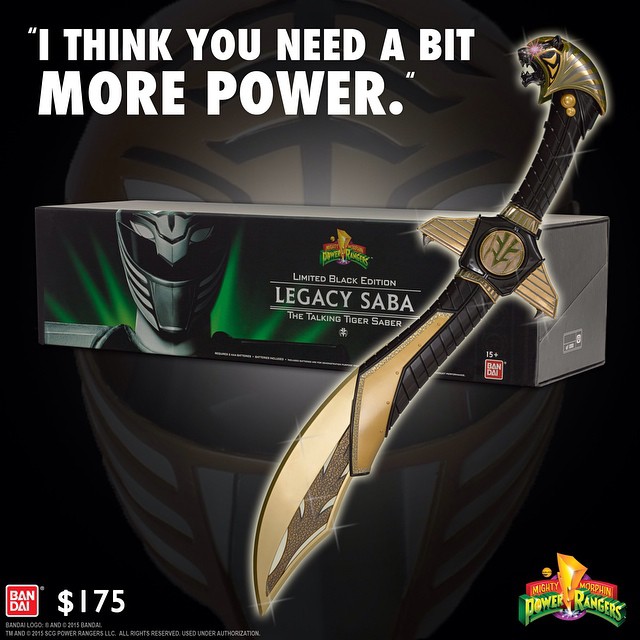 [UPDATE June 12] The week isn't over yet, and we've got another new Bandai exclusive: the Limited Edition Mighty Morphin Power Rangers Dino Charger Power Pack. Only 700 sets were made, and will be available for $30. In order to grab one at the con, you'll need to get a ticket in the Sails Pavilion during SDCC.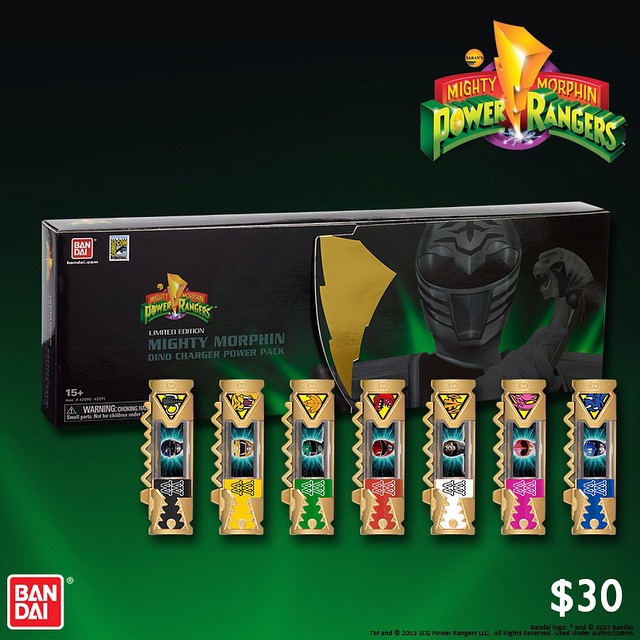 [UPDATE June 8] Another week, another Bandai Comic-Con exclusive. The popular toymarker revealed today that they'll be bringing a Tokyo Vinyl Mighty Morphin Power Rangers White Ranger to SDCC. This marks the fifth in the series of Limited Edition Mighty Morphin Tokyo Vinyl figures, though this exclusive will be limited to just 700 pieces and available for $25.
Just like in previous years, you'll need a ticket to grab it — and you'll need to get that ticket in the Sails Pavilion in the morning.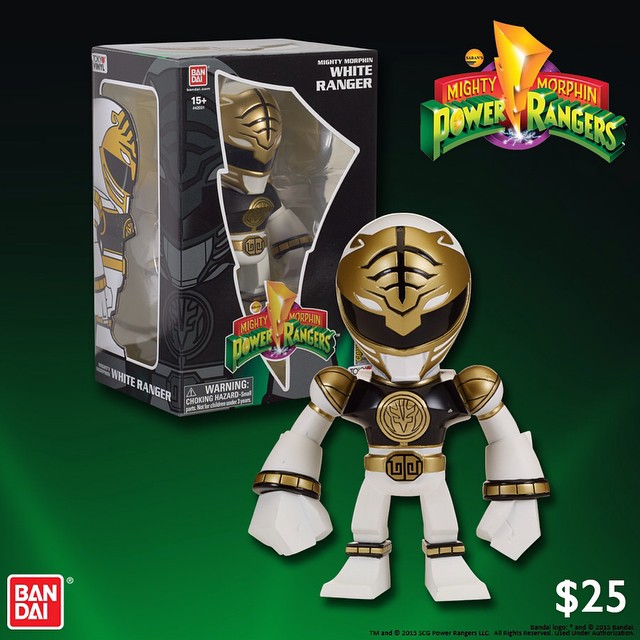 [UPDATE June 4] Bandai has unveiled its first Comic-Con 2015 exclusive via Instagram.  The company will be bringing a 2015 Limited Edition Doraemon METALLIC Vinyl Figure to the show.
There will only be 300 pieces produced and available, and tickets will be required for purchase.  Attendees will need to head to the Sails Pavilion each morning of 7/9 – 7/12.  Stay tuned for more details as they become available closer to the San Diego Comic-Con show date.
Here's a look at the Doraemon exclusive: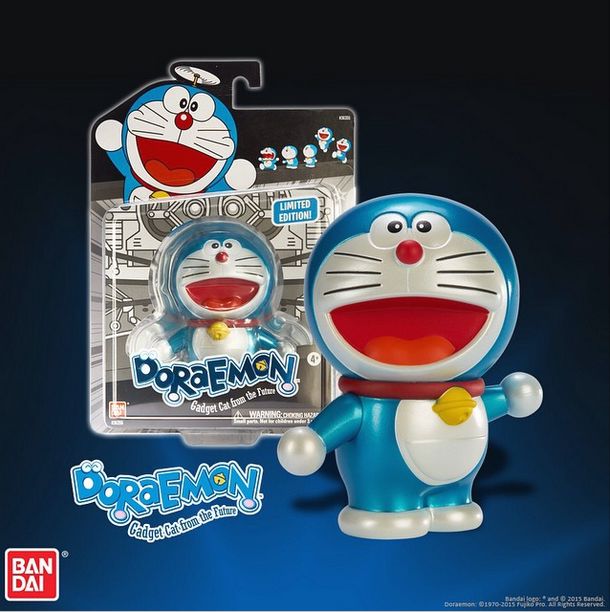 Are you excited about the exclusives Bandai is bringing? Let us know in the comments.