CineQuest have announced their first round of San Diego Comic-Con exclusives, which are sure to please fans of the Winchester boys and Clone Clubbers alike. You can purchase any of CineQuest's Comic-Con exclusives and have them shipped directly to you after the convention, or pick them up at CineQuest.com Booth #4539.
[UPDATE June 22] Cinequest's final Comic-Con exclusive this year is a Fanmail Subscription Box. The new monthly mystery box will feature a special "Ladies of the Con" box, celebrating super heroines. When you preorder, your card will be charged a $0.99 deposit fee. Upon pick-up at Booth #4539, a one-time $85 charge (estimated) charge will be charged, for a total of three boxes (including the one to be picked up at the convention, and two more to be shipped after). Overseas buyers will pay international shipping for the two monthly boxes included in the purchase.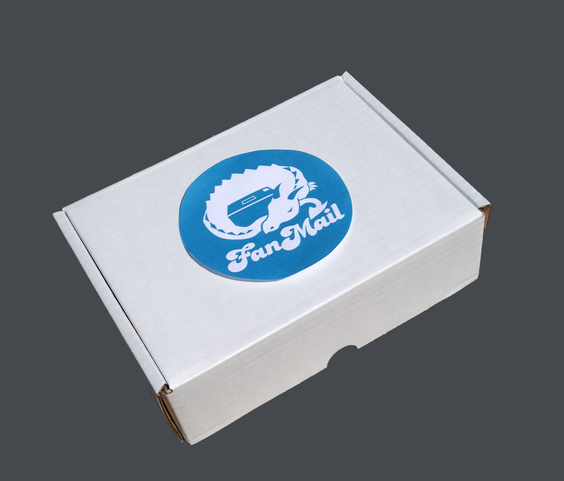 [UPDATE June 9] Cinequest has another Comic-Con exclusive for attendees: a "Road Trip to San Diego" t-shirt, to celebrate the series' tenth year at the convention. It's available for $24.99 with convention pick-up, or $25 for those who'd like to have it shipped.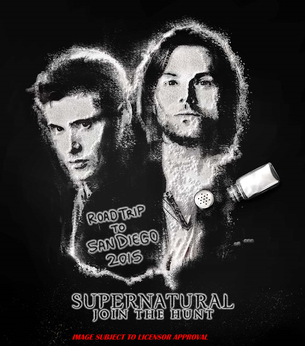 For fans of Orphan Black, Cinequest is partnering with IDW to present an exclusive variant cover to Orphan Black #4. The issue, writte by John Fawcett and with variant cover artwork by Alan Quah, can be pre-ordered for $9.99 and picked up at the CineQuest booth. Here's a look at the cover: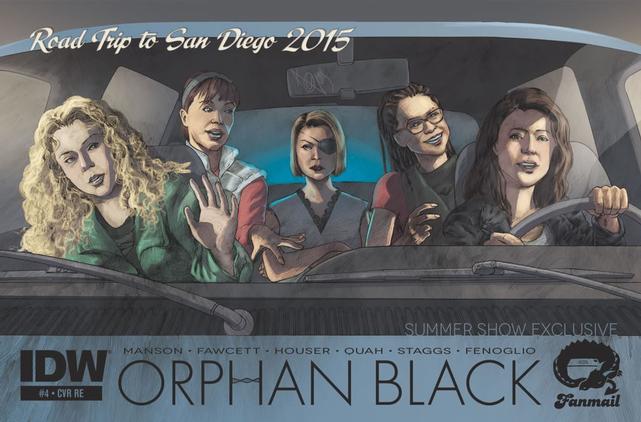 [UPDATE May 19] Just like last year, they'll be offering up a 1:64 die-cast variant of the Supernatural boys' 1967 Chevy Impala, though this year's exclusive comes from the episode "Swan Swong" and features a variant of the car as it appeared on the Rainbow Motors lot, where it was purchased by John Winchester. The car features Rainbow Motors dealer plates, the price as marked on the windshield in white grease pen, and all the dust it has gathered while sitting on the used car lot.
The set also comes with a replica of Sam's toy army man from the episode.
"The Impala is one of our favorite characters from Supernatural and it was never more important to the Winchester brothers' story than in Swan Song," CineQuest.com President Mark Del Vecchio said. "We worked with the great people at GreenLight to replicate the car as it appeared when John Winchester bought it and then to create a replica of Sam's toy army man as a special bonus."
The piece is limited to 2,500 pieces, and the variant will be released at San Diego Comic-Con 2015, with a limited numbermade available first to members of Club CQ and then to the general public. A small number of GreenLight Green Machine green-rimmed chase variants will also be available.
Attendees can purchase for $19.99 and pick it up at the convention at CineQuest.com Booth #4539, or non-attendees can grab it for the same price and have it shipped.
From their site, here's a look at the car: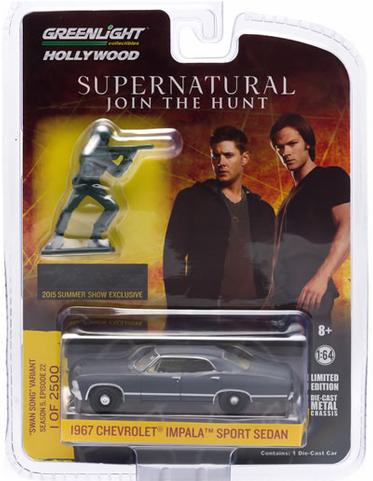 And here's a look at the blister card packaging: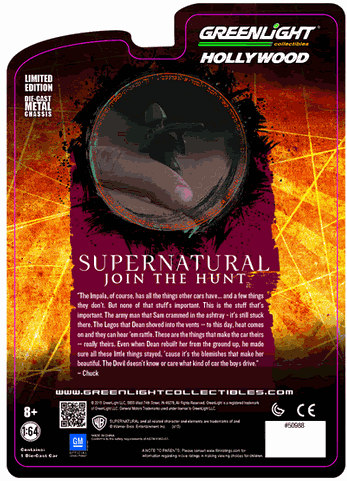 Will you be grabbing any of CineQuest's Comic-Con 2015 exclusives? Let us know in the comments.