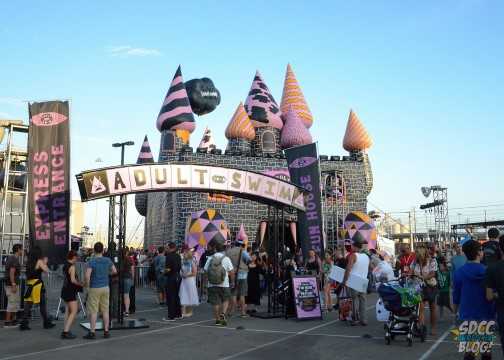 We've got a whole calendar full of events and offsite installations happening around San Diego Comic-Con, but there's still so much more to come.  Comic-Con International has just unveiled tons more happenings around the Gaslamp.
The Xbox Gaming Lounge is returning for all four days of San Diego Comic-Con, once again to the Manchester Grant Hyatt, in the Seaport Ballroom, where attendees can enjoy over 90 gaming stations.
The Assassin's Creed obstacle course is also back, as well as the Game of Thrones offsite exhibit, and even a new FX Fearless Arena – a live action virtual reality mission set inside The Strain, an inflatable snow globe from Fargo, and more.
Here's the full post, from Comic-Con International's Toucan Blog:
The Xbox Lounge – Visit the Xbox Lounge in the Seaport Ballroom on the second level of the Harbor Tower at the Manchester Located at Grand Manchester Hyatt in the Seaport Ballroom, the Xbox Lounge is full of entertainment. Play games. Jump into amazing experiences. Over 90+ gaming stations, including some of the hottest unreleased titles and more! For more details go to www.xboxeventsus.com

Thursday, Friday & Saturday: 11:00 AM–8:00 PM
Sunday: 10:00 AM–5:00 PM
Seaport Ballroom, Second Level, Manchester Grand Hyatt Hotel

The Her Universe Fashion Show – The second annual Her Universe "Geek Couture" Fashion Show will be held on Thursday, July 9, at the Manchester Grand Hyatt Hotel Harbor Ballroom during SDCC. Two grand prize-winners will be selected at the Fashion Show to be a guest designer with Her Universe to develop a Her Universe fashion collection to be sold at Hot Topic. An esteemed panel of judges will review all 25 finalists' designs that "walk the runway." The judges will select one winning designer and the audience will vote to select the second winning designer.

Thursday, 6:00 PM–8:00 PM
Harbor Ballroom, Second Level, Manchester Grand Hyatt Hotel

Assassin's Creed Experience 2015 – Parkour like a Master Assassin on this life-size obstacle course based on Assassin's Creed Syndicate, the upcoming video game set during London's industrial revolution. Run the course, play the game, pre-order for exclusive swag only at Comic-Con, and even perform the iconic Leap of Faith, all for free.

Thursday, Friday & Saturday: 10:00 AM–6:00 PM
Sunday: 10:00 AM–5:00 PM
MLK Promenade, next to the Hilton Gaslamp Hotel

Enter the FX Fearless Arena – Escape vampires in The Strain's live action virtual reality mission. Bundle up for a blizzard in the Fargo giant inflatable snow globe. Survive a medieval duel inspired by The Bastard Executioner. Check into a whole new American Horror Story. Are you ready to experience the FX Fearless Arena?

Thursday: 12:00 PM–6:00 PM
Friday & Saturday: 10:00 AM–6:00 PM
Sunday: 11:00 AM–6:00 PM
Hilton San Diego Bayfront Lawn, Opposite Hall H

Adult Swim on the Green – Adult Swim is returning to Comic-Con and they've got a carnival following them around this time! They'll be giving away everything you've ever dreamed of at the Carnival Midway, and The Meatwad Full Dome Experience is back for another year of intergalactic-mind-travel. They'll be bringing you nightly screenings (with famous people) and daily live streaming events (with somewhat famous people). It's free, it's fun, and it's on the green! For more information visit adultswimpresents.com

Thursday, Friday & Saturday: 9:30 AM–10:00 PM
Sunday: 9:30 AM–5:00 PM
Behind the Convention Center next to the 5th Ave. Pier and Ferry Landing
No details are mentioned but additional offsite events include:
NBC's World of Heroes Reborn and Blindspot, Gaslamp Square, Fifth Ave. and Harbor Drive
Nintendo Video Game Lounge, San Diego Ballroom at the Marriott Marquis & Marina
Game of Thrones: Experience the Realm, 628 L St. across from the Omni Hotel
Fox Television's Ice Cream for Scream Queens, multiple locations