In addition to their vinyl exclusives this year, Kidrobot will also be featuring some limited edition screen prints and artist signings at San Diego Comic-Con.
Artists Frank Kozik, Brandt Peters, and Scott Tolleson will feature limited edition numbered and signed premium screen prints available for purchase at the booth #5645. Each print will be produced in runs of less than 200 pieces, and retail for $25. The first 50 fans in line for each of the signings listed below will also receive a free screen print.
Junko Mizuno will also be on site to sign autographs featured her yet-to-be-announced limited edition Dunny.
Here's a look at the prints: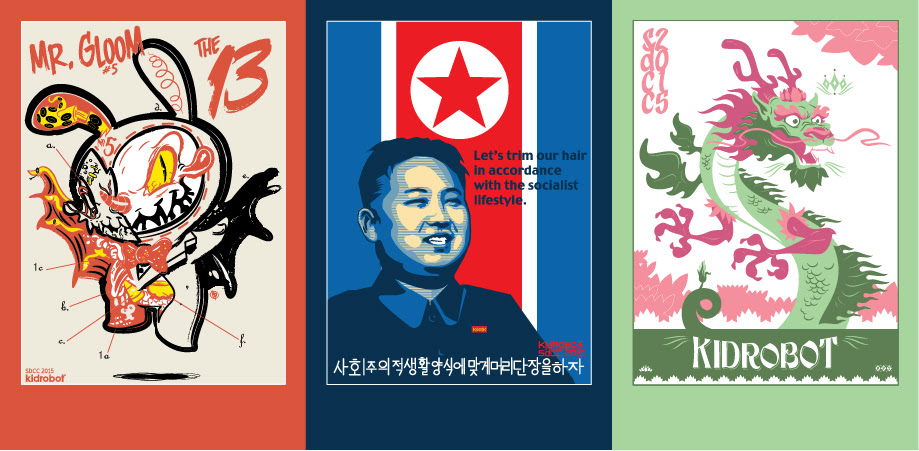 Several Kidrobot artists will also be doing signings at the Kidrobot booth, including Junko Mizuno, Scott Tolleson, Brandt Peters, Chris 51, and Frank Kozik. Here's a look at the schedule:
Thursday, July 9
Junko Mizuno 1pm-3pm
Scott Tolleson 4pm-6pm
Friday, July 10
Junko Mizuno 1pm-3pm
Frank Kozik 4pm-6pm
Saturday, July 11
Brandt Peters 1pm-3pm
Chris 51 4pm-6pm
Will you be stopping by Kidrobot's booth during Comic-Con? Let us know in the comments.