The official San Diego Comic-Con t-shirt has been revealed and pre-orders are once again happening online before the convention. The pre-order and pickup process that has been used for the last couple years is continuing with no changes, except for the pick-up/merch store location (see map below).

There are four t-shirts available for ordering, including a light gray one featuring the The Flash by artist Andy Kubert (with inks by his father, the late Joe Kubert) to celebrate Flash's 75th Anniversary. Also available are a new Carolina Blue Toucan t-shirt featuring art by Rick Geary, and 2 new Comic-Con logo t-shirts available in either a steel (gray) or a black design, with a teal version in Women's only. They are also re-offering last year's dancing Toucan design in black.
In addition to the official Comic-Con International 2015 shirts, CCI is also offering  The Comics Arts Conference Logo T-Shirt in stone-washed blue and light blue in Women's and Youth sizes.
All t-shirts are available for the following prices (sales tax included) and sizes:
ADULT S-XL $21.55
ADULT XXL $24.79
ADULT XXXL $28.03
WOMEN'S S-XL $21.55
YOUTH S-L $18.31
T-shirts that are pre-ordered can be picked up in the Marriott Marquis & Marina in the Comic-Con International merch area – the Marina Ballroom D – between the hours of 9:30AM-7PM on Thursday-Saturday, or 9:30AM-3PM on Sunday. They are also now opening early on Wednesday, July 8, from 12:00 to 5:00 PM for pick-up of pre-ordered shirts only. All pre-orders are guaranteed, though pre-orders will close online on June 29.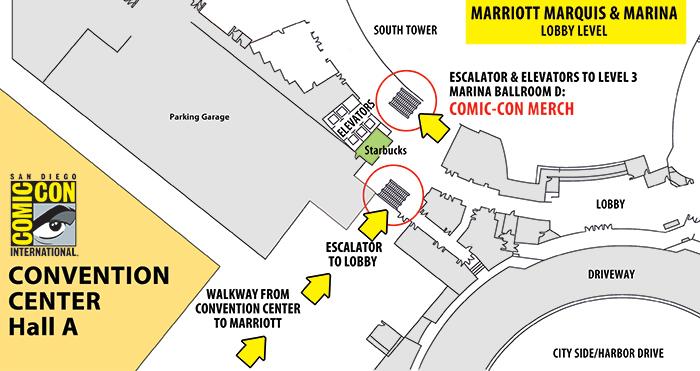 You can find more information about the shirts, including all the designs, and pre-order them online now on CCI's site.
Will you be buying one of these shirts? Let us know in the comments.