Today's a relatively light edition of Under the Tents, but that's because all the big news is already up on our site. Everything from that Mattel and Hot Wheels Stormtrooper car that got more details confirmed to a panel, autograph signing, and offsite for USA Network's Colony. But there's still some news left to be shared with all of you today, including news of a Harmontown show, Star Wars swag, how you can gain entry to the Nerdist VIP party, and more.
Here's a look at the news you might have missed:
Bobby Chiu and Kei Acedera's Creatures & Spirits will be available at Comic-Con this summer.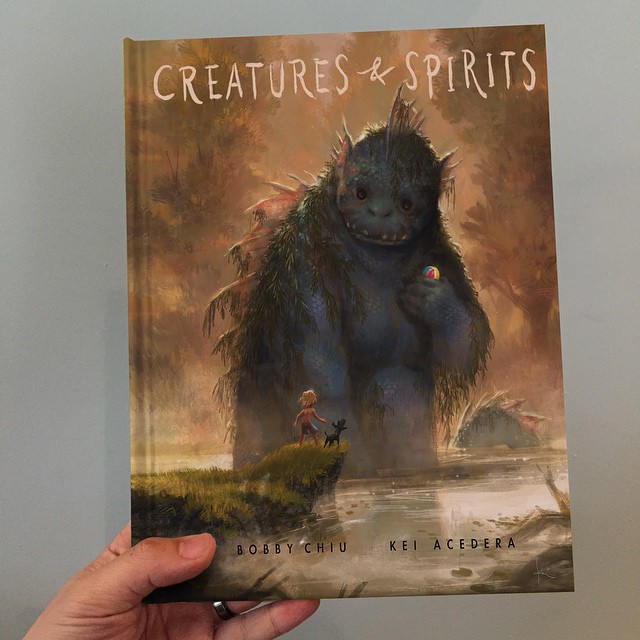 Purridge & Friends are introducing The Funky Felines at Comic-Con, psychedelic 16″ Plush SDCC exclusives. There's two varieties to choose from: Psychedelic Purridge and Groovy Ringo, both of which are $70 and available now for pre-order to be shipped.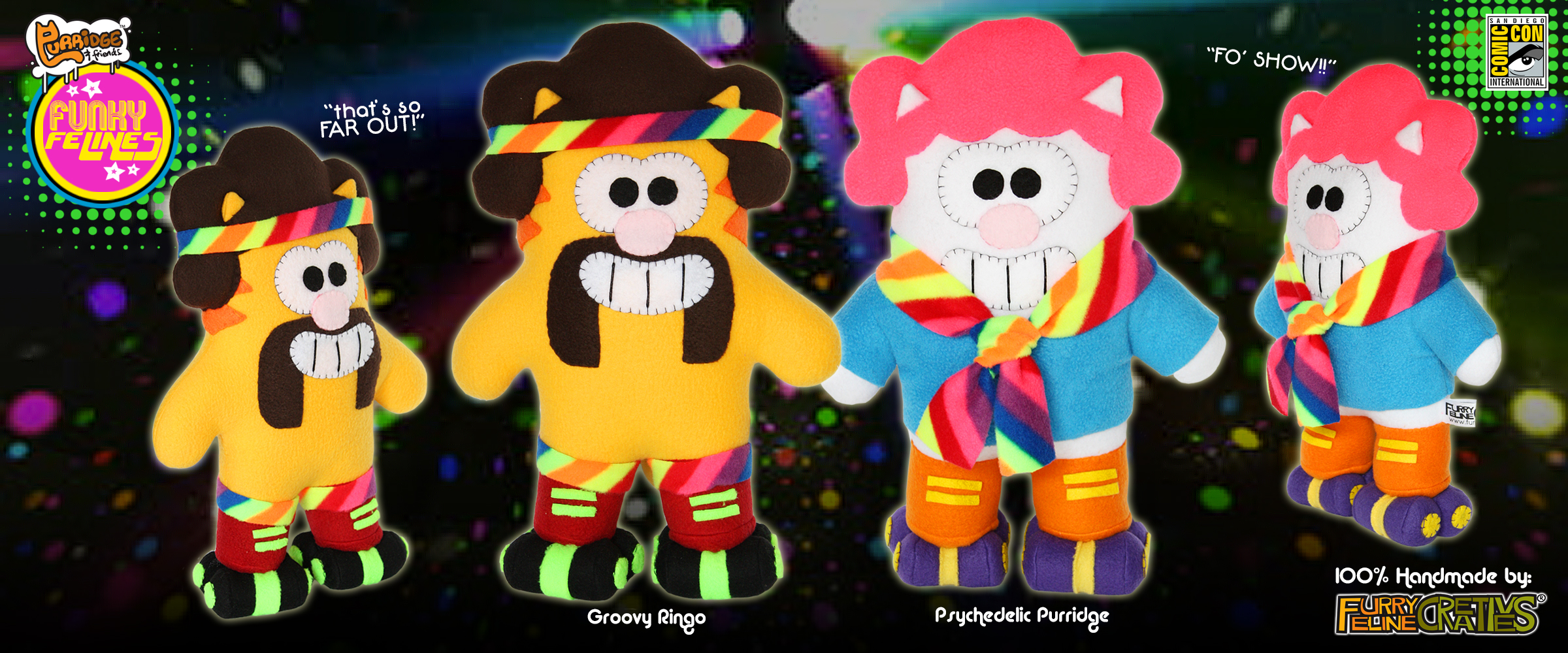 Community and Rick & Morty creator Dan Harmon is bringing his popular Harmontown, in which Harmon riffs on everything from his TV shows to his life to whatever he feels like in that given moment, to Comic-Con. The show will be on Sunday night, though few details are available yet. That also spells good things for the odds of a Rick & Morty and/or Community panel if Harmon is in town.
https://twitter.com/danharmon/status/610101539537956864
https://twitter.com/danharmon/status/610102495986094081
Artist Camilla d'Errico showed off her small painting "Sour Patch" on Facebook, that will be part of her Beauties and Beasties series debuting at SDCC.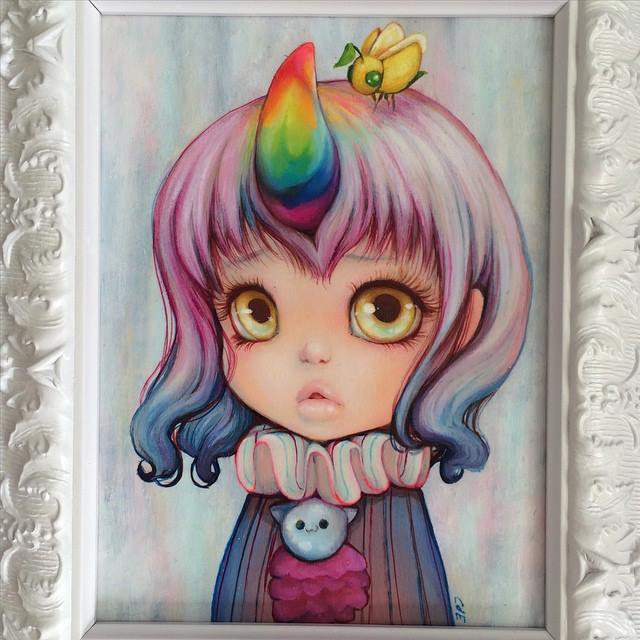 Sal Abbinanti, Alex Ross' art dealer, revealed Ross' new sketchbook cover for Comic-Con.
-Alex Ross #SDCC2015 sketchbook cover.
Booth 2 4 1 9@thealexrossart @Comic_Con @sdccgotgirl @SD_Comic_Con pic.twitter.com/Cwvqrdx1uE

— Sal Abbinanti (@SalAbbinanti) June 14, 2015
PR agent Joseph Damon showed off artist Humberto Ramos' brand new "My Marvels Vol 3" hardcover sketchbook, that will be available at Comic-Con. The 50-page sketchbook is limited to 1500 copies, and can be picked up for $30 at Booth #5017.
@SD_Comic_Con NEWS!- @humberto_ramos will have a brand new My Marvels vol 3 HC sketchbook available at booth 5017 pic.twitter.com/Gpy1iVJSkU

— Joseph M. Damon (@culturevandal) June 15, 2015
For those of you heading to the Agents Wrap Party (the Agents of S.H.I.E.L.D. and Agent Carter fan party), the goodies for this year's swag bag have been revealed (and there's still tickets left!). For those who can't make it to the physical party, they're also giving away two bags. To enter, comment on their post and then tweet about the event and/or post to Facebook and tumblr.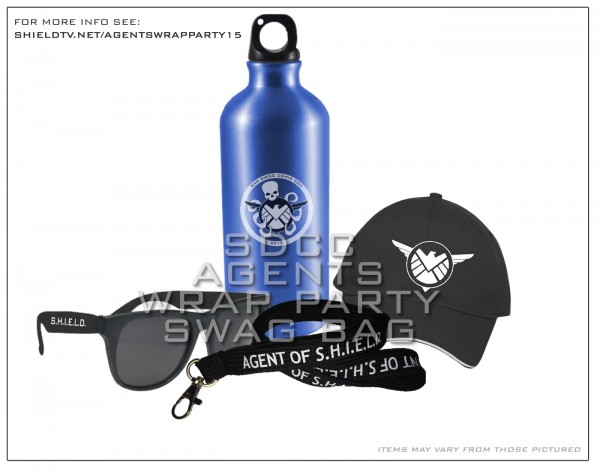 Our friends over at The Ninjabot will be giving away free daily swag at the convention. Each day, you can stop by for a free button design (Wednesday: Rey, Thursday: Poe Dameron, Friday: Chewbacca, Saturday: Han Solo, Sunday: Stormtrooper). So stop by Small Press L-08, and you might just get a bonus BB-8 button with a $10 purchase.

Writer Alex de Campi mentioned on Twitter that an exclusive variant of Archie vs Predator will be available at the Dark Horse booth during the con.
Get your SDCC exclusive variant of Archie vs Predator at @DarkHorseComics then go to @heroinitiative to CGC it! https://t.co/dc8MFe3RV9

— Alex de Campi (@alexdecampi) June 15, 2015
You could be partying it up with Nerdist at a VIP Nerdist Comic-Con party. ESET is currently sponsoring a giveaway, where they'll give away two tickets per week leading up the July 10 party. The photo they're using to promote the party is from Geek & Sundry's Comic-Con party, giving more credence to the common belief that Nerdist and G&S are teaming up at the Petco offsite.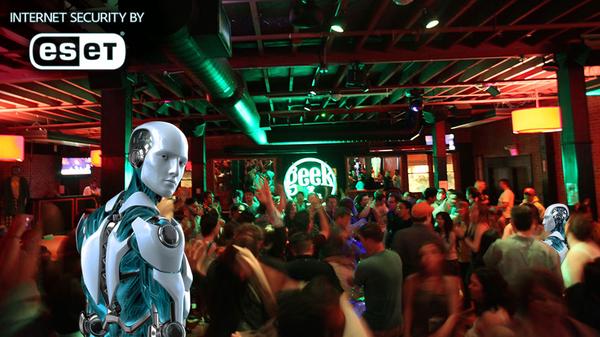 New York magazine editor Abraham Riesman mentioned on Twitter that he'll be moderating two panels at Comic-Con this year, with an official announcement coming soon.
https://twitter.com/abrahamjoseph/status/610458065620586497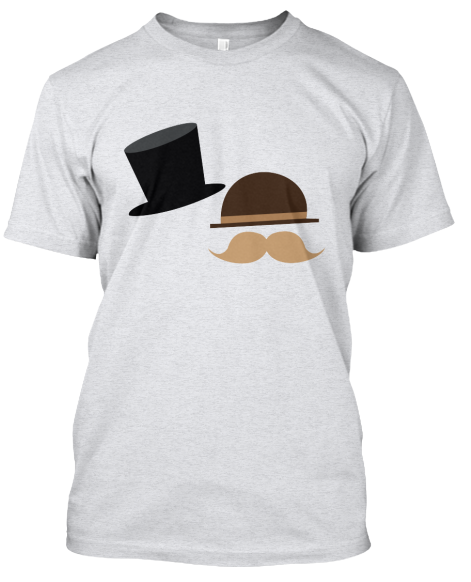 Anything we missed? Let us know in the comments, drop us a line or tweet us at @SD_Comic_Con.