When it comes to San Diego Comic-Con exclusives, the cornerstones of the con have consistently been Hasbro and Mattel. With license to manufacture toys that are consistently at the top of the pop culture want list, both booths have been the craziest for many of Comic-Con's years. To address the frenzied crowds, Mattel introduced a pre-sale system a few years ago. Since that time, the results have varied. While Monster High has consistently made both online and floor sales difficult, the pre-sale has given attendees a nice option. The main concern with Mattel remains judging which of the exclusives will truly be exclusive to the con and which will end up easily obtainable at discounted rates in the months after the show.
This year, just like last year, Mattel will be using a voucher system. That means that you can pre-order your Mattel exclusives online and receive a voucher to pick them up on the show floor during Comic-Con, knowing that you've secured what you wanted. Here's the schedule for this year's Pre-Sale:
Early Access: Monday, 6/1/15 from 8 a.m. PT to Tuesday, 6/2/15 at 8 a.m. PT (Club Eternia® subscribers only)
All Access: Tuesday, 6/2/15 at 9 a.m. PT to Monday, 6/11 at 11:59 p.m. PT (open to everyone)
Pick-Up at SDCC: Thursday, 7/9/15 thru Saturday, 7/11/15 (pick-up times/location to be announced)
For those not attending Comic-Con, Mattel will also offer any leftover exclusives during their annual SDCC After-Party Sale, scheduled for July 27 at 9AM PT.
Now, let's take a look at what Mattel has planned for 2015:
[UPDATE July 1] Oh, did you think that Mattel was done with Comic-Con exclusives? USA Today just announced that they'll be selling a movie-inspired Batman v Superman two-pack for $30. The 6″ figures are modeled after the likeness of Henry Cavill's Superman and Ben Affleck's Batman, and come with display bases that "combine to form the film's iconic logo, and lights-and-sounds packaging".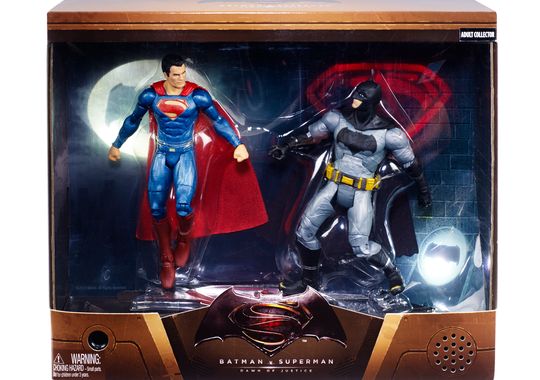 Plus, they'll also have a Hot Wheels Batmobile for $25, which features a die-cast chassis and body, rubber tires, and machine guns and missile launchers.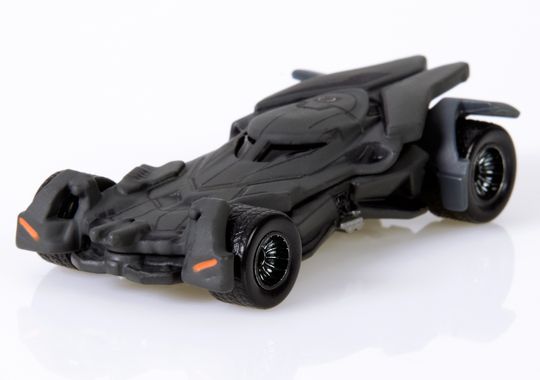 The booth will also have previews at their booth for upcoming products, including a 12″ Wonder Woman Barbie from Batman v Superman, and a life-sized Hot Wheels build of a Batman v Superman Twin Mill car.
You can find more information on USA Today.
[UPDATE June 15] There was some confusion after Entertainment Weekly unveiled Mattel and Hot Wheels' Star Wars: The Force Awakens First Order Stormtrooper character car as to whether or not the car would be a Comic-Con exclusive, or even if it would actually be sold at the convention, or merely displayed. We've since learned, thanks to some answers from Hot Wheels on Twitter, that it will be sold, and it will have some exclusive features only for Comic-Con: a protective blister pack and Real Riders rubber tires.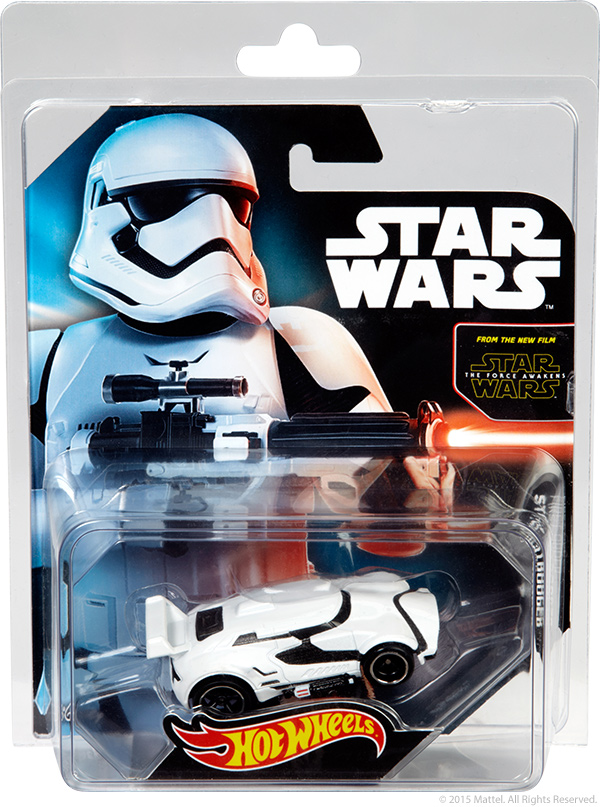 [UPDATE June 9] And now, the final Mattel SDCC exclusive has been announced: a BOOMco Halo UNSC/Covenant Battle Pack, which retails for $30. Limited supply will be sold at the convention at both Mattel's booth and the Toys "R" Us booths, or you can pre-order it now for pick-up at the con.
Here's the official description:
Get stuck in the action with the HALO® powered by BOOMco™ UNSC/Covenant Battle Pack! Compete as a heroic Spartan armed with the UNSC M6 Blaster, or as an elite Covenant operative with the Plasma Overcharge Blaster. These two blasters feature authentic HALO features, sleek designs and crazy-fast firing power with epic accuracy at distances up to 70 feet. Plus, the Battle Pack includes 16 Smart Stick™ Darts and a HALO-themed Smart Stick™ target, so you can practice your aim or set up a multiplayer challenge and see where you nailed it. Get the competitive edge on the HALO® battlefield and Blast Better™ with BOOMco™! (Firing distances are approximations only.)

For San Diego Comic Con only, blasters come in an exclusive, collectible HALO® case inspired by in-game UNSC supply crates.  Limited supply will be sold at Mattel retail and Toys "R" Us booths at SDCC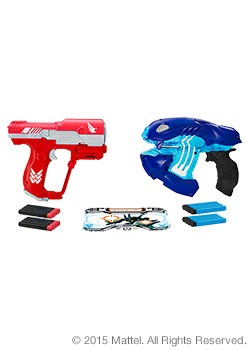 [UPDATE June 8] We're one day away from Mattel adding undisclosed Boomco and Mega Bloks exclusives into the mix, so no time like the present to begin unveiling just what those exclusives are. Toyark has the details on at least the latter: a Halo 5 Box Set. The $20 three-pack includes Spartan Locke, Master Chief, and the Arbiter, and come with game-accurate weapons, a unique metallic finish, and detailed battle armor. Also included in the set is a buildable display stand and Halo 5: Guardians name plate. You can find more information on Toyark.
[UPDATE May 29] With only a few days to go until Mattel's Club Eternia presale kicks in, the toy company has been busy prepping. They've now got the page up for the General Public presale, which will take place on June 2 at 9AM PT. This page includes the prices for all the known exclusives (which we've updated below), what look like the two mystery exclusives to be debuted on June 9 (a Mega Bloks exclusive and a BOOMco item), as well as this gem:
Hot Wheels® Marvel Secret Wars™ Character Car 3-Pack ($35)

Coinciding with the release of the 2015 Marvel Secret Wars comic book crossover event is this exclusive Hot Wheels® 3-pack, including highly-detailed character cars representing Miles Morales: The Ultimate Spider-Man™, Superior Iron Man™ and Sam Wilson's Captain America™. Each vehicle features a die-cast body, Real Riders® rubber tires and is displayed in its own window box within an innovative comic book structure that opens to display all 3 cars in action. And with custom art created by comic illustrator Jim Cheung, this Comic-Con exclusive is a one-of-a-kind find!
[UPDATE May 24] Looks like the Valentine and Whisp two-pack won't be the only Monster High exclusives at this year's San Diego Comic-Con, as the official Twitter account has just unleashed a photo of Nefera ($20), the first Monster High vinyl exclusive.
She might be small, but she's mighty powerful! Introducing the #SDCC2015 vinyl exclusive, #Nefera! #MonsterHigh pic.twitter.com/RHuVMPCATP

— Monster High (@MonsterHigh) May 24, 2015
[UPDATE May 22] The date for the Mattel pre-order sale has been pushed back just slightly, with Club Eternia subscribers getting early access on Monday, June 1  at 8AM- June 2 at 8AM. Then, all access will open now on Tuesday, June 2 at 9AM PT. Although that pre-order will include most of Mattel's exclusives, two new "mystery products" will become available on June 9.
[UPDATE May 21] The first look at this year's Monster High exclusives actually haven't come from the Mattel blog (though we expect that update later this afternoon), but rather from the official Twitter account.
And the verdict is: Valentine and Whisp ($40). Just like last year, the Monster High exclusives will be a two-pack – and though there's no word yet on pricing, we expect that soon.
This #SDCC exclusive goes out to all of the monsters who believe in second chances! Introducing #Valentine & #Whisp! pic.twitter.com/t2fJ2D7jKJ

— Monster High (@MonsterHigh) May 21, 2015
[UPDATE May 14] Mattel has revealed a look at their San Diego Comic-Con round #2 exclusives, which includes the hotly rumored Ever After High Raven Queen and Thomas and Friends Super Friends Minis.  As with the other Matty reveal, these will also be available for the Early Access and All Access sale before the Con.  Here's a more detailed look at the round two exclusives from Mattel:
Ever After High® Raven Queen® SDCC 2015 Exclusive Raven Queen, Daughter of The Evil Queen ($30)

Raven Queen never wanted to be the next Evil Queen. But she always wondered why her mother tried to take over all fairy tales. By accepting her destiny, Raven may find some answers, not to mention some wicked powerful magic! What secrets lie inside the looking glass? Only the magic mirror knows.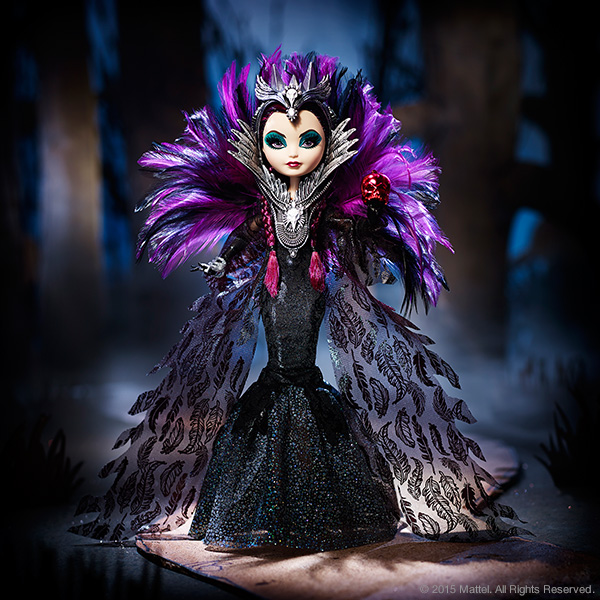 Thomas & Friends™ Super Friends Minis ($30)

The world's favorite engines meet the world's greatest super heroes as Thomas & Friends™ collide with DC Super Friends™ for a mighty mashup! The engines who keep the Island of Sodor running now have heroic new makeovers as MINIS with designs based on the heroes seen in DC Comics.
This exclusive San Diego Comic-Con pack features five fantastic MINIS mashups, including:
Exclusive to San Diego Comic-Con: Diesel as the Dark Knight version of Batman!
Thomas/Superman
Spencer/Cyborg
D10/The Joker
Millie/Harley Quinn
Best of all, it includes a premium, exclusive-to-San Diego Comic-Con package complete with a new comic story revealing the origin of the Thomas& Friends/DC Super Friends mashup and dynamic light-up action! It's the perfect introduction to the Thomas & Friends/DC Super Friends MINIS.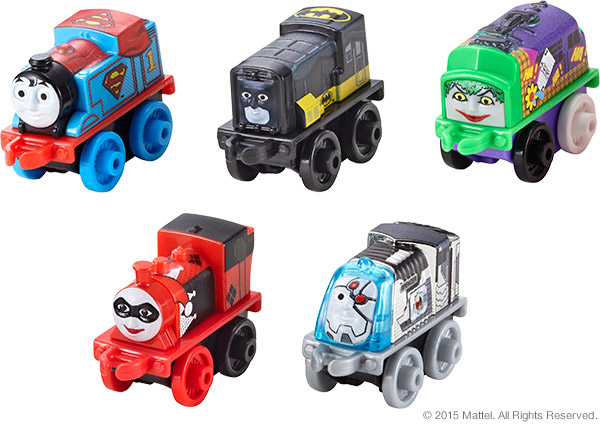 [UPDATE May 7] Mattel has finally unlocked the first look at their Comic-Con exclusives, which include a Ghostbusters Courtroom Battle Egon Spengler and a Masters of the Universe Rotar vs. Twistoid set. Additionally, they will also be offering a Hover Robots 3-Pack, which while not exclusive to Comic-Con as it was previously sold only during Mattel's February 2015 Early Access sale, will be available for pick-up during SDCC.
Ghostbusters™ Courtroom Battle Egon Spengler™ ($30)

Do, re, Egon! When the Scoleri brothers make an unscheduled appearance before Judge Wexler, the professor of paranormal dispenses some justice Ghostbusters™ style. This commemorative 6" figure pays tribute to Harold Ramis, who created the character of the serious scientist.
Masters of the Universe® Rotar™ vs. Twistoid™ ($55)

Recreate the Second Ultimate Battleground as Rotar™ and Twistoid™ go head to head!
A former palace guard wounded in battle, Rotar™ was merged with an android body resulting in fists of fury fueled by his hyper spin powers. He now protects Eternia® as one of the Masters of the Universe®!
Rotar's nemesis Twistoid™ is a Gyro Robot who serves Skeletor®. Using super spinning action, Twistoid™ wields a ball and chain, whirling sword, and terror gears to defeat his enemies.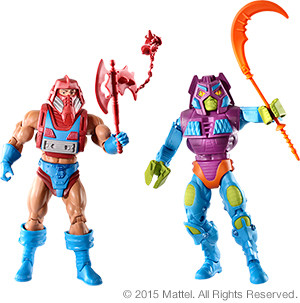 Hover Robots™ 3-Pack ($35)

Previously sold only during our February 2015 Early Access sale, everyone's favorite drones of destruction are joining the list of products available for pick-up at SDCC. Each pack comes with three sets of hands, a sticker sheet, and three stands.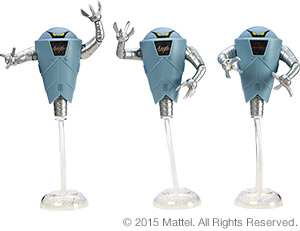 Will Mattel be on your SDCC short list? If so, what are you after? Let us know in the comments.