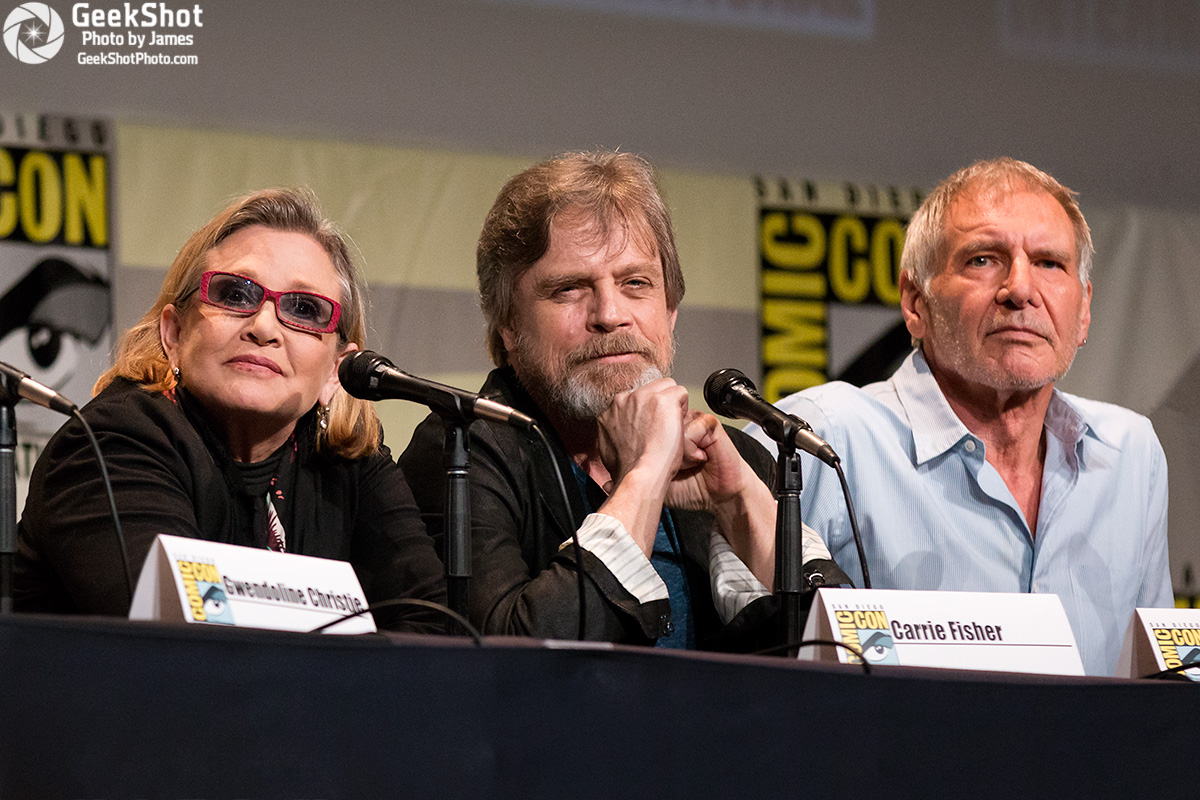 Welcome to the GeekShot Photo Exclusive Series. This will be a weekly post featuring cool, interesting, or just plain awesome moments we have captured during San Diego Comic-Con and WonderCon. Each week we'll post a photo by Beth or James of GeekShot Photography. We may include a short story about the photo, but sometimes we'll just let the photo speak for itself.
About This Photo
Carrie Fisher, Mark Hamill, and Harrison Ford at the Star Wars: The Force Awakens panel at San Diego Comic-Con 2015.
As most regular readers are aware, this moment was the highlight of SDCC 2015 for me. Having the three legacy (as Lucasfilm/Disney are calling them) actors appear on the panel was my biggest wish and, as you can see, that wish was fulfilled. It was difficult to grab a shot of all three of them looking in one direction and also having a good expression on their faces. Luckily I managed to get a few worthy ones and this one was the best. Being on the side of the audience where the questions are asked was helpful, which I've also talked about before.
The one thing I want discuss technically about this photo is the aperture. If you look closely you can see that Harrison is a bit out of focus. I was shooting at f2.8 and that's the reason why. That wide open the depth of field will be fairly shallow. Most of the time I was taking shots of an individual so this didn't make a difference. But when I took a group shot I had to deal with it. Unfortunately the only solution is to raise the aperture, but that would lessen the light reaching the sensor. I would have to increase the ISO or lower the shutter speed. One or both of those are options worth exploring if you want to avoid the depth of field problem.
Did you get a shot of what you wanted to see most at the con? Let us know in the comments.
You can see all of the previous posts in this series here.