With 2015 almost in our rear-view mirrors, it's time to start getting serious about San Diego Comic-Con 2016 – and there's plenty of news to be found. Already the judges for the 2016 Eisner Awards have been revealed, we've got some details on the very popular annual Marvel Fan Photo Shoot, word of both Geek & Sundry and Roddenberry Entertainment's appearances, and plenty of news on some of your favorite artists and authors.
Here's what you may have missed:
Comic book author and illustrator Don Rosa has posted his upcoming 2016 signing and appearance schedule via his Facebook account which includes San Diego Comic-Con 2016.  Don Rosa is well known for Scrooge McDuck as well as other Disney characters.  Although he is unable to bring any books for sale and signing, he welcomes any sketches, photos with him, or your own books brought from home for him to sign.
Darren Kozial, creator/director of Australian comic Dark Oz, revealed via Twitter that Dark Oz will be at SDCC 2016 with a table.
Aussie comics going to the world! DARK OZ is heading to San Diego Comic Con in July – table is booked and paid for. pic.twitter.com/Cnt2P7kCbH

— Darren Koziol (@DarrenKoziol1) December 7, 2015
Marvel Studios concept artist Andy Park revealed through a Twitter conversation with An Englishman in San Diego that there's a good chance that he and Ryan Meinerding will be at Comic-Con for this upcoming year.
@EnglishmanSDCC there's a good chance Ryan & I will be at San Diego Comic Con next year. We'd be happy to sign them for u 🙂

— Andy Park (@andyparkart) December 7, 2015
Good news for fans of MAD Magazine artist Tom Richmond.  He will be at SDCC table I-02 debuting an all new limited edition print for 2016.  You can find his current schedule and details on his website appearances page.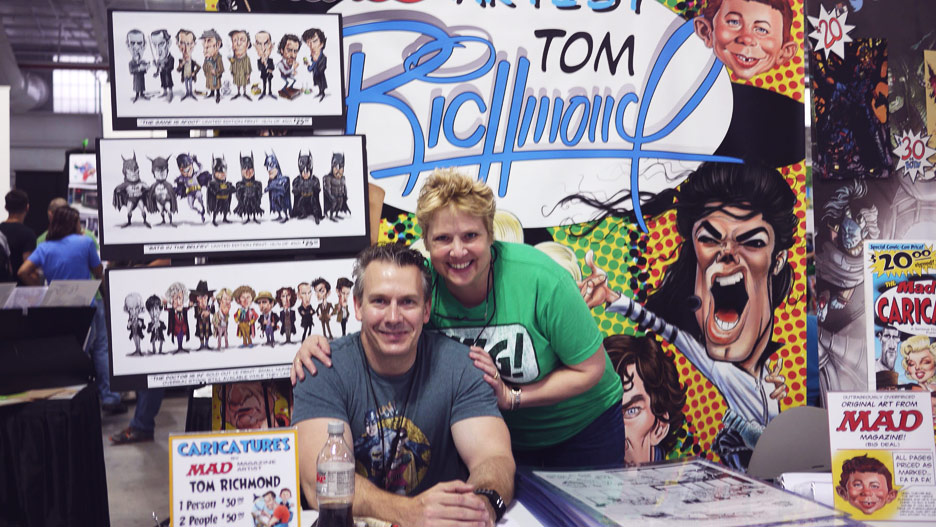 A San Diego Comic-Con regular, Roddenberry Entertainment also revealed on their website event page that they will once again be gracing the Con with their presence.  In the past, Roddenberry Entertainment has also sponsored a special offsite dive event in San Diego during convention time.  Although there are no details of an eighth annual dive, we'll keep you posted.
The author of the Iron Druid Chronicles, Kevin Hearne, posted an announcement on his events and appearances page that not only will he be attending SDCC 2016, you won't even need a badge to see him.  Hearne reveals that he will be at the Upstart Crow coffee shop and bookstore near the convention center, at 9AM on Saturday, July 23. He'll be there to happily chat, take selfies or sign anything you bring.
Another author confirmation for this years Comic-Con: New York Times best selling author, Sherrilyn Kenyon, posted on her website that she will be attending the con. Swing by her booth to check out the latest merchandise and freebies.
Although it was already announced in our first 2016 UTT that Armado Huerta will be attending SDCC, we now also have news of a couple of the models he will have signing at his booth.  Huerta announced via his DeviantArt page and via Twitter that both Amy Wilder and Sarah Hunter will be in attendance.
Sarah Hunter will be signing Prints in my booth #5553 on Friday at SDCC'16. We are not worthy 󾌯 https://t.co/3jju8IVpXy

— Armando Huerta (@Armando_Huerta) December 15, 2015
Josep Blas a freelance cartoonist, gives us a sneak peak of one of his three SpacePunks t-shirt designs that he will be bringing to Comic-Con.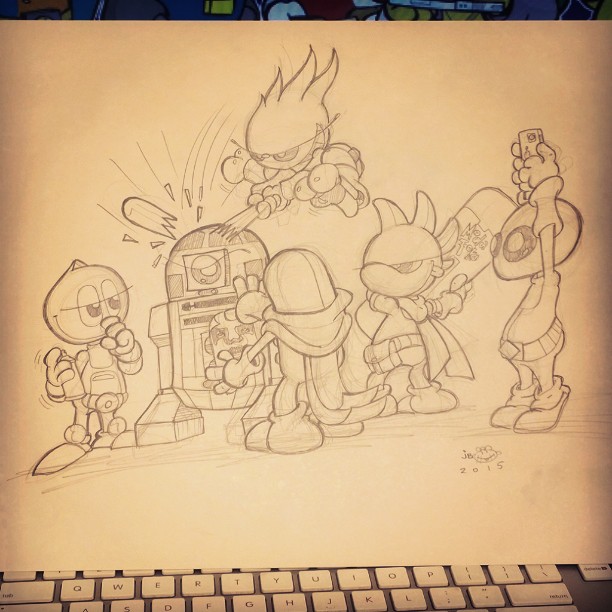 Author Seanan McGuire posted to her Livejournal account page that she will be attending SDCC 2016.
Storyboard artist, illustrator and character designer of X-Men: Evolution, Steven E. Gordon, is booked and ready for Comic-Con International 2016.  You can find more details on his Facebook page.
Flutter Comic has announced that Flutter will be exhibiting at SDCC 2016.
Excited to announce that we'll be exhibiting Flutter next year at #SDCC, #C2E2, & @GeeksOUT 's @FLAMECON! More 2016 appearances TBA. @215Ink

— Flutter Comic (@FlutterComic) December 18, 2015
Once again one of the cornerstones of Comic-Con, The Will Eisner Comic Industry Awards judges for for 2016 Eisner Awards have been named, with Brian Doherty, Danny Fingeroth, Jason Grazulis, Jason Poole, Natalie Powell, and Carol Tilley serving for 2016. Hop on over to Comic-Con International's dedicated page for more detailed information about each judge.
Comic-Con International is proud to announce the judging panel for the 2016 Will Eisner Comic Industry Awards. #SDCC https://t.co/ml5WnlQuvo

— San Diego Comic-Con (@Comic_Con) December 18, 2015
Visual artist Robin Street-Morris will be displaying her art at the San Diego Comic-Con annual art show, which takes place upstairs in Sails during the con.
https://twitter.com/StreetMorrisArt/status/671746275847499776
Confirmed cons I'm attending in 2016: Emerald City, Thought Bubble and SDCC.

— Tess Fowler (@TessFowler) December 21, 2015
BroadSword Comics, featuring the work of Jim Balent and Holly G., will be at SDCC 2016, the duo announced on Twitter.
https://twitter.com/BroadSwordComic/status/681118509053669376
Every year, you can expect to find certain groups of cosplayers gathering together for big group photos – and 2016 will be no exception. The annual Marvel Fan Shoot will be back, with the time tentatively set right now for Saturday, July 23, with the exact time still TBD. Keep an eye on the Facebook event page for more information.


Anything we missed? Let us know in the comments.