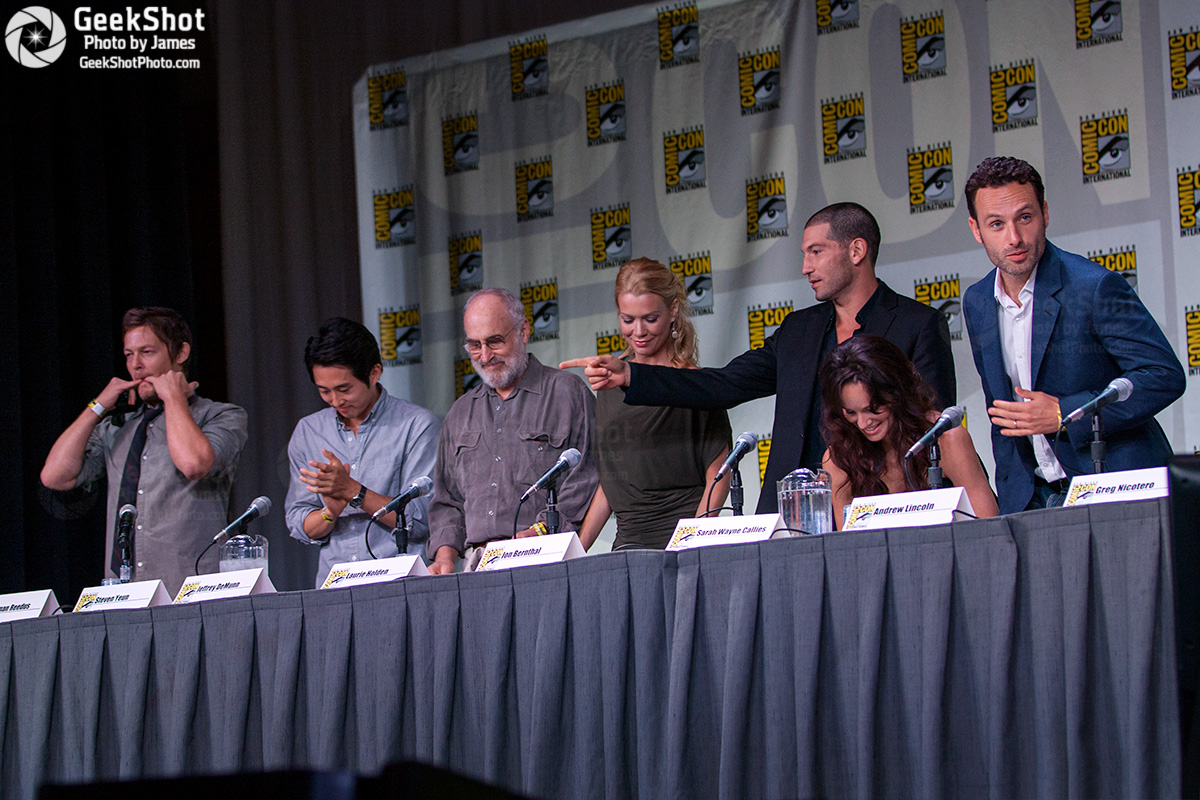 Welcome to the GeekShot Photo Exclusive Series. This will be a weekly post featuring cool, interesting, or just plain awesome moments we have captured during San Diego Comic-Con and WonderCon. Each week we'll post a photo by Beth or James of GeekShot Photography. We may include a short story about the photo, but sometimes we'll just let the photo speak for itself.
About This Photo
The Walking Dead cast at San Diego Comic-Con 2011.
This is the panel after season one, when TWD was becoming the media behemoth it is today. My how things have changed. Not only are some of these cast members no longer on the show, and Reedus isn't "Full Daryl" yet, but this was back when they were still in Ballroom 20. Even Frank Darabont was there (not pictured but to the left of Lincoln) before getting fired mere days after this panel.
This brings up one of the magical things about photos. They bring you back to a specific time and place in your life, or your fandom when taken at Comic-Con. I can remember the day, the crowds, the fun, and even random stuff that has nothing to do with the panel itself. It was all triggered by selecting and editing this photo. I don't currently watch TWD, but when I do I'll be able to look back on these photos and remember being there for the awesome reveal of the season two trailer.
Don't forget to take some photos as you go though the con so you have them waiting to activate random and special memories in the coming years.
You can see all of the previous posts in this series here.
This photo is copyright (All Rights Reserved) by Beth and/or James Riley of GeekShot Photography. It may not be copied, reposted, published, or used in any manner without their written permission.