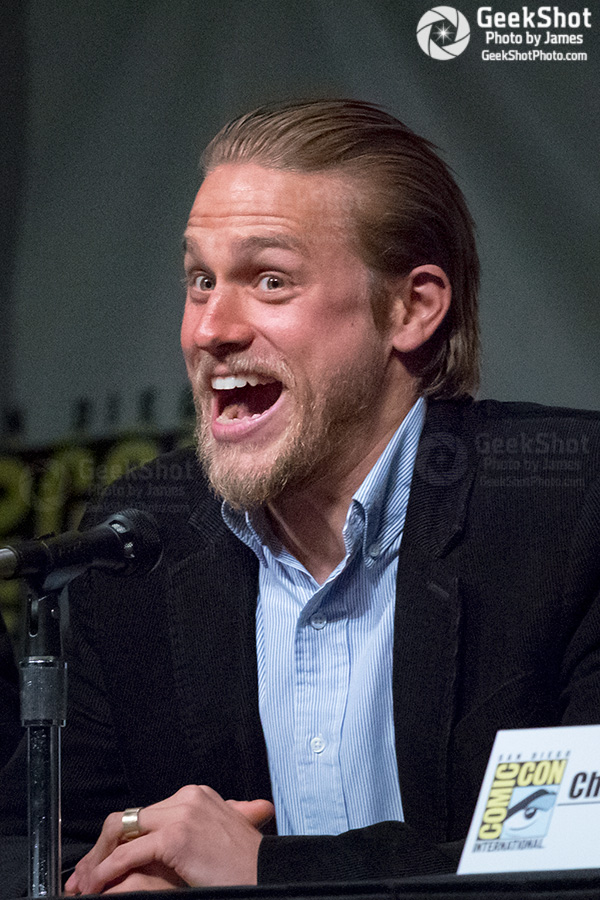 Welcome to the GeekShot Photo Exclusive Series. This will be a weekly post featuring cool, interesting, or just plain awesome moments we have captured during San Diego Comic-Con and WonderCon. Each week we'll post a photo by Beth or James of GeekShot Photography. We may include a short story about the photo, but sometimes we'll just let the photo speak for itself.
About This Photo
Charlie Hunnam at the Pacific Rim panel at San Diego Comic-Con 2012.
It's like Charlie was peering into the future of this week's announcement that Pacific Rim 2 would be getting made. It's an interesting bit of news since Guillermo del Toro isn't directing, but I feel Steven S. DeKnight is a good choice. I've enjoyed his work from Buffy through to Daredevil.
It's always interesting to me that I go looking for a photo and can find something useful or relevant from years ago. I've probably looked through this particular folder many times over the last two years as I search for a photo for this series. Timing is obviously important when taking the photo, but also in deciding when it's best to post it.
Have you ever held a photo back waiting for the best time to post? Let us know in the comments.
You can see all of the previous posts in this series here.
This photo is copyright (All Rights Reserved) by Beth and/or James Riley of GeekShot Photography. It may not be copied, reposted, published, or used in any manner without their written permission.