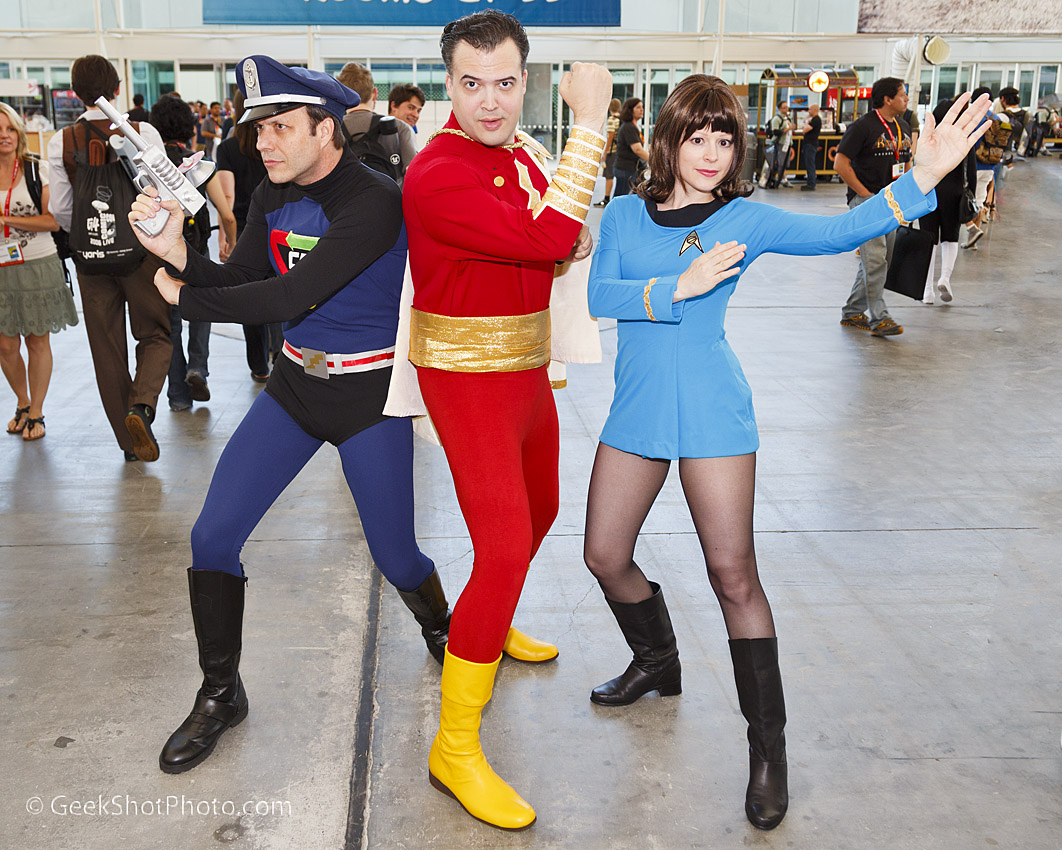 The Masquerade is one of San Diego Comic-Con's most anticipated events, and for cosplayers hoping to be able to walk the stage in their finest, Comic-Con International today revealed details on the 42nd Annual Masquerade. You can find the official rules and entry form on their site.
The event, to be held on Saturday, July 23 in Ballroom 20 at 8:30PM, draws a crowd of 3,900 attendees (with 2,000 more watching in Sails Pavilion and other rooms, which act as overflow). Just as in previous years, the Masquerade is free to participate in for anyone with a Saturday badge.
Contestants can enter as a single participant or in a group, and medallions will be given to the winners in the following categories:
Best In Show
Judges' Choice
Best Re-Creation
Best Original Design
Best Workmanship
Most Humorous

Most Beautiful
Best Young Fan
The former category of Best Presentation has been replaced with Most Humorous this year.
Winners in the above categories will also receive a free 4-day badge to San Diego Comic-Con 2017 – which is a big prize in and of itself. In the event that a group wins, up to four memberships will be given.
Entrants are also eligible for certain sponsored awards that various organizations choose the winner of, including:
Frank And Son Collectible Show, of the City of Industry, CA, "Your one-stop show for all your collectible needs" will present to the entry they deem the audience favorite $1,000 cash, plus a very impressive trophy.

DC Comics representatives will present a special DC DIRECT collectible valued at $300 to the finest entry portraying a DC Comics character or characters from their publications or films.

Lucasfilm Ltd. will reward the best Star Wars costumers with fabulous items from their Licensing Archives. The finest Star Wars entries will be selected by a Lucasfilm representative to receive very special limited-edition collectibles.

The Costume Designers Guild IATSE Local 892: Celebrity Costume Designer judges from the CDG will present to their favorite entry a CDG Masquerade trophy provided by Legacy Effects and a full year's subscription to Costume Designer magazine. The Costume Designers Guild is Local 892 of the International Alliance of Theatrical and Stage Employees (I.A.T.S.E.), and represents Costume Designers, Assistant
Costume Designers and Costume Illustrators working at the highest levels of expertise in motion pictures, TV, commercials, music videos, and new media.

The David C. Copley Award for Most Innovative Costume: UCLA's David C. Copley Center for Costume Design will bestow on their favorite entry the UCLA Copley Center for The Study of Costume Design Award of a
$1,000 gift card to Amazon.com, plus a copy of Copley Center Director Deborah Nadoolman Landis' book: Hollywood Sketchbook: A Century of Costume Illustration, (cover price $75)
You can find more information about the Masquerade on Comic-Con International's website.
What do you think about the new rules? Let us know in the comments.