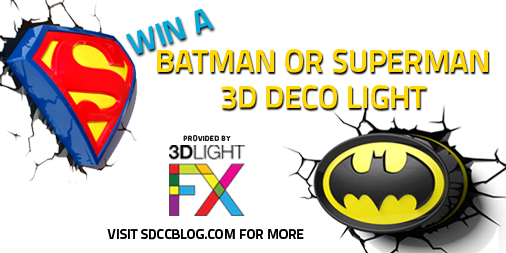 It's essentially DC weekend — a little movie called Batman v Superman: Dawn of Justice is now in theaters (maybe you've heard of it?), and DC is offering wall-to-wall events, announcements, and more to attendees at WonderCon this weekend. And we're celebrating by partnering with our friends at 3DLightFX to give away a Batman or Superman light.
You don't need to travel to Metropolis or Gotham to get your hands on this 3D deco nightlight, which currently comes in four different styles: four different styles: Batman, Batarang, Batman Emblem, or Superman Shield. The winner will be able to choose between the iconic Batman Emblem and the Superman Shield.
3DLightFX is home to a slew of other awesome nightlight lines, including Star Wars, Marvel, Minions, and more, which you can find on Target.com. They also recently launched a line of mini-deco lights, including Star Wars, Marvel, My Little Pony, and more, which will retail for $10-16 each.
To enter, simply follow the instructions below. Entries will close on Sunday, April 10, at 12AM PT — and once a winner is selected, they will have 24 hours to claim their prize, or a new winner will be selected.
You can find more of 3DlightFX's very cool lighting installations their website as well as Instagram.