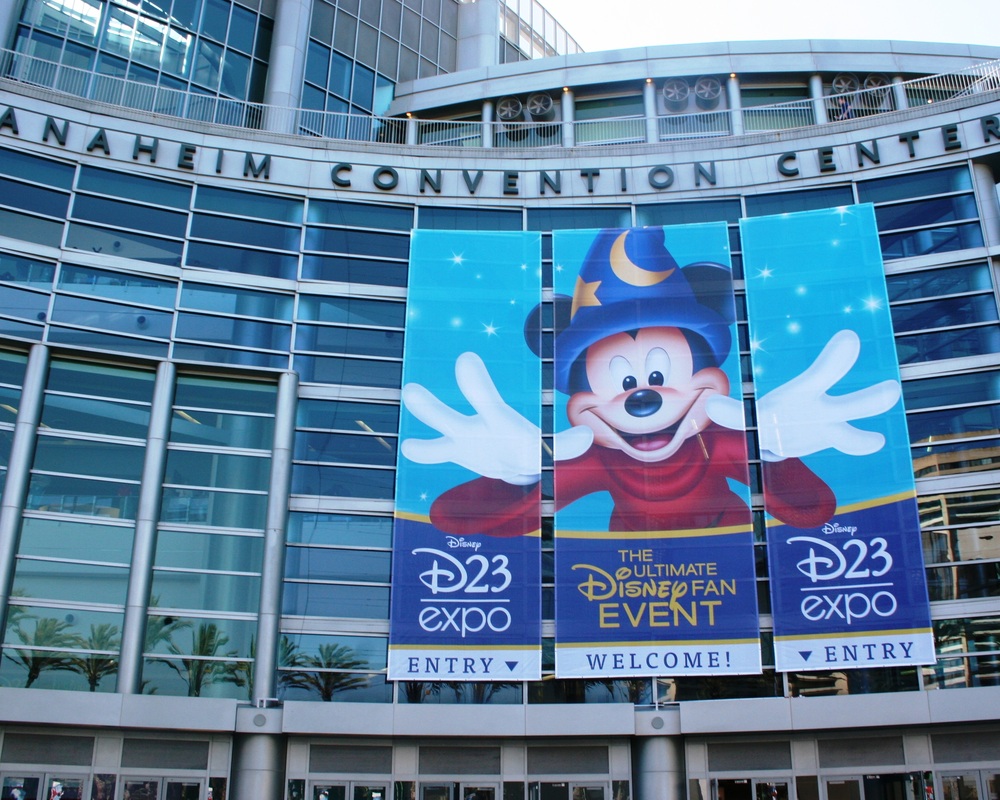 D23 Expo, Disney's biennial mega-event, is shifting from August to July 14-16 for 2017 – which is important to note mostly because it impacts another big pop culture convention happening around the same time: San Diego Comic-Con.
Although Comic-Con International hasn't confirmed 2017 dates, the San Diego Convention Center has had dates for an unnamed convention featuring 130,000 attendees for July 19-23, 2017, since January, and there's really nothing else that slot could be. That means that D23 is planting their flag on the weekend right before San Diego Comic-Con, which could have a big impact on both attendees and programming.
So what does this mean?
How It Might Impact San Diego Comic-Con Programming
D23 is a showcase for all kinds of Disney programming and properties – everything from the theme parks, to their films, to their TV shows, to more. Of those, though, Marvel Studios is the most likely to be impacted.
Over on the TV side, ABC has a long-standing relationship with San Diego Comic-Con, and the big news coming out of D23 has never been about their TV series, but about their films. San Diego Comic-Con offers a lot more press for their TV series, so we're not anticipating seeing a big shift there. There hasn't really been big theme park news at San Diego Comic-Con in the past, leaving that still in D23's domain.
But what of the films? We think Star Wars is the most likely to still attend, of Disney's two biggest franchises. Star Wars has a long and storied history with San Diego Comic-Con, dating all the way back to 1976 when they presented a panel on the then-upcoming Star Wars: A New Hope. Every year, Friday is known as Star Wars Day at the convention, and considering the response fans had to simply being shown a behind-the-scenes-reel of Star Wars: The Force Awakens, rather than new footage, it's safe to say that Disney doesn't have to really bring fireworks to keep fans happy. They can debut footage at their own event, then whet fans appetites at SDCC with something extra.
Disney Studio films haven't made an appearance in years so that's not likely to change.
Which means, basically, that Marvel films are the most likely to be impacted. When D23 was last held in 2015, Marvel skipped the convention for the first time in several years – which Marvel Studios Present Kevin Feige chalked up to The Hollywood Reporter as "just timing". Feige said, "We had done that [media] event in October, when we announced so much. Everyone knows what we're doing over the next few years. I really have a belief: If you can't go to Comic-Con and overdeliver, then don't go." However, a month later at D23, they debuted footage from Captain America: Civil War, as well as Doctor Strange concept art.
So could attendees be looking at a repeat of 2015? After all, if Disney makes their own announcements at their own convention, on a weekend when they don't have to fight for the same kind of press coverage as they would at San Diego Comic-Con, they could still claim they wouldn't be able to overdeliver at SDCC – because they'd have already shown fans their offerings.
It's a compelling argument to make about today's news – but it's not the only one.
Of course, there's a flipside to this. While there are plenty of press outlets screaming into the void of the internet today as they stare down what is undoubtedly going to be the longest week and a half of their lives (just look at Twitter this afternoon) – this might be the easiest way for Disney to lower costs, get all kinds of good PR, and knock out a whole lot of work in a much shorter amount of time.
Even Ryan Penagos, the Vice President and Executive Editor of Marvel's Digital Media and who also helps run their booth at events, seemed excited at the prospect of the two conventions being back-to-back. While he didn't elaborate, it's not hard to imagine that the idea of basically packing up their things for one con and moving them straight to another, rather than taking them back to a warehouse, only to get them all out again a month later, might seem appealing.
I'll wait for official word from SDCC itself, but I'd actually love SDCC to be right after D23 in 2017. https://t.co/g096P40NJL

— Ryan Penagos (@AgentM) March 28, 2016
There's also the potential to simply keep talent in town for a week, rather than flying them out for two separate events, which could result in lower costs, and seem appealing. Imagine the PR windfall from having your stars attend D23 and SDCC with a visit to Disneyland in between?
Either Way, What Does This Mean for Attendees?
This could actually be really good for attendees (both the ones who choose to attend D23 and the ones who don't!).
While a certain subset is going to be even more exhausted than normal by packing in back-to-back conventions (may we recommend killing time by exploring all that San Diego has to offer, or a trip to Disneyland?), that could mean that lines are even shorter. Attendees who are already tired on day one may be less likely to camp out – and they may either feel like they already saw what Marvel and Star Wars had to offer so they don't need to see it again if they attend both cons, or they could feel like they already got the better end of that deal if they don't attend.
There's a good chance that many attendees will plan to attend both cons, maybe even more than would normally attend D23. After all, you can make one giant week-and-a-half vacation for the cost of one plane ticket – which means that attendees planning to go to D23 should buy their tickets when they go on sale on July 14th, 2016, because they're more likely to sell out.
Because tickets go on sale so early, there's also a possibility it may even help San Diego 2017 ticket sales, which won't take place until likely sometime in the fall. If you're mainly a fan of Marvel and Star Wars and assume they won't be at Comic-Con but will be at D23, maybe you don't feel the need to go to San Diego.
And if they don't attend, it may also free up some of the lines for Hall H. While Game of Thrones and The Walking Dead always bring huge crowds and a long wait, last year all of the Saturday big studio movie panels – including Warner Bros., Sony, 20th Century Fox, and more – didn't require a camp-out. Attendees could walk up an hour or two before the panel, and still get in. If Disney really does pack up their toys and go to Anaheim, this may be the easiest to get into Hall H line-up attendees have seen in the better part of a decade. Or it could be a reason for the other studios to step up their game, since they won't be fighting for headlines with Disney.
Overall, this feels less like the start of a Con War and more like a strategic move by Disney to take advantage of the marketing behemoth SDCC has become. They can claim First! and Exclusive! by bringing all their best to D23 and then claim they aren't ignoring SDCC by showing up there too.  
We've got a full year (or more) of speculating about what this could potentially mean for 2017 – but what are your thoughts? Let us know in the comments.