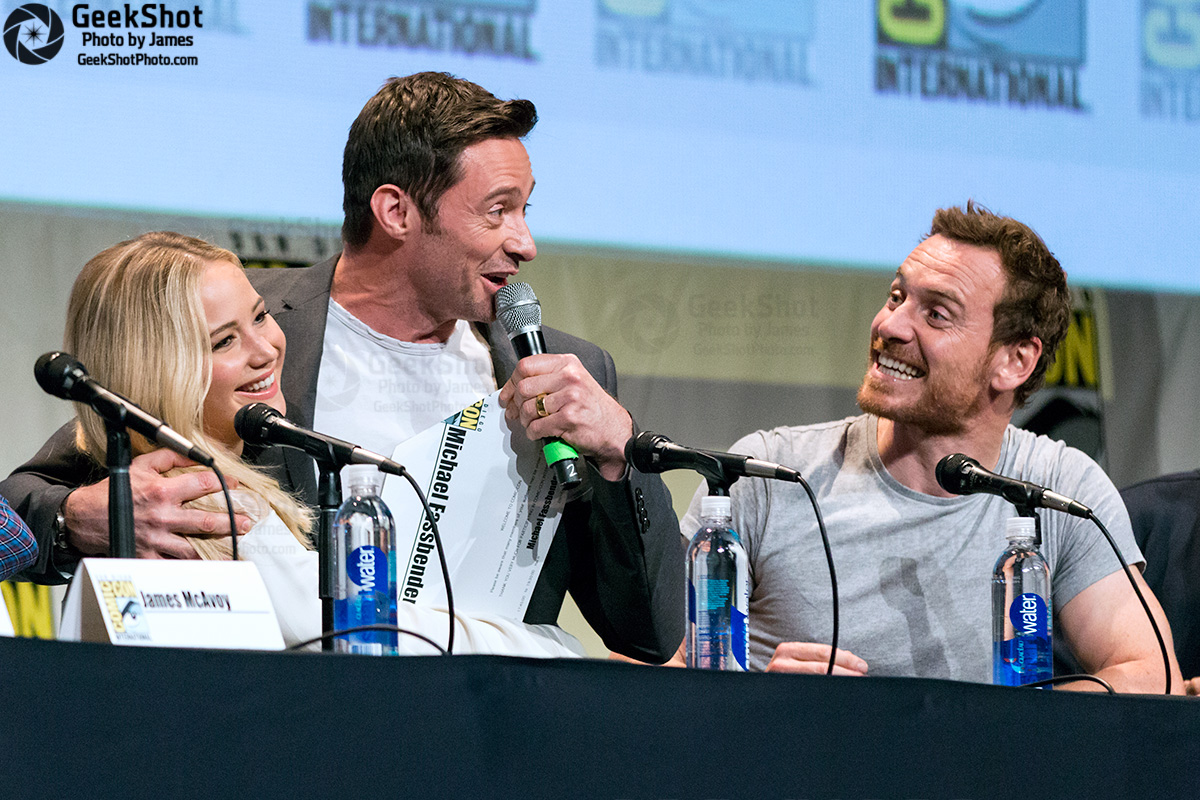 Welcome to the GeekShot Photo Exclusive Series. This will be a weekly post featuring cool, interesting, or just plain awesome moments we have captured during San Diego Comic-Con and WonderCon. Each week we'll post a photo by Beth or James of GeekShot Photography. We may include a short story about the photo, but sometimes we'll just let the photo speak for itself.
About This Photo
Jennifer Lawrence, Hugh Jackman, and Michael Fassbender at the X-Men: Apocalypse panel at San Diego Comic-Con 2015.
Sometimes luck is on your side. A lot more people than usual were probably feeling lucky on Saturday last year when it only took a few hours or less to get into Hall H. We even managed to get into the room in time for the Fox/Marvel panels by getting in line in the early afternoon. We don't expect this to happen again if Marvel Studios returns, but it was a nice change of pace.
Continuing our streak of luck, we managed to find seats in the 7th row between panels. Sometimes that mad dash everyone makes to the front actually works. And then there were things like this happening on stage. I wonder who is going to take up the mantle of fun shenanigans on stage when Jackman and Lawrence are no longer making X-Men movies (hint: it'll be James McAvoy or James McAvoy).
As for the shot itself, this is a classic middle of a reaction shot. Michael Fassbender is on his way to full on laughter, but that doesn't really make for a good photo with the way his face looks during it. Since I take a few shots at a time, the next photo I have is just a split second later. But I chose this one because he looks better in it. You should respect the panelist you're taking photos of to show them in the best light possible. It's pretty simple, don't post a photo if you wouldn't post the same one of yourself.
How was your luck getting into panels last year? Let us know in the comments.
You can see all of the previous posts in this series here.
This photo is copyright (All Rights Reserved) by Beth and/or James Riley of GeekShot Photography. It may not be copied, reposted, published, or used in any manner without their written permission.