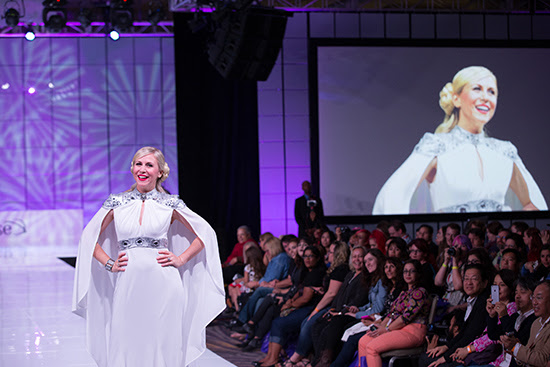 Ashley Eckstein's popular geek-themed clothing line, Her Universe, and Hot Topic are returning to San Diego Comic-Con this summer to bring a little extra style to the event. The two companies are once again teaming up for the third annual "Geek Couture" Her Universe Fashion Show.
The annual event pairs fashion and fandom, offering budding designers the chance to show off both their designing skills as well as their pop culture loves. Last year's event featured designs inspired by everything from Star Wars, Guardians of the Galaxy, Game of Thrones, Sailor Moon, Doctor Who, and much more.
For 2016, amateur fashion designers will once again be able to submit their pieces, inspired by geek culture, to compete for a chance to show off their final designs in the live show, set to take place in on Thursday, July 21 at the Manchester Grand Hyatt Hotel at 6PM.
25 finalists will compete at the live event, with up to three winners being selected to be a guest designer with Her Universe to develop a collection to be sold at Hot Topic. Additionally, Comic-Con HQ — CCI and Lionsgate's joint streaming video-on-demand service — will be filming a reality series about the competition.
Submissions are being accepted through April 24, and the top 25 contestants will be selected and announced by April 28. This year, in addition to submitting designs online, designers in the Southern California area will have the opportunity to submit their fashion concepts in-person to a panel of judges from Her Universe and Hot Topic at Hollywood and Highland in Los Angeles on April 23 beginning at 10AM. Designers from all over the country are welcome to submit and will also have the opportunity to submit video explanations of their designs if they cannot attend the open call.
You can find the full list of rules on the Her Universe contest page.