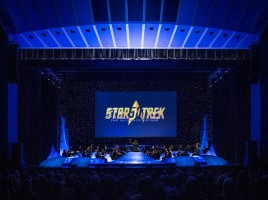 Now touring the nation is the Star Trek: The Ultimate Voyage concert, celebrating the 50th Anniversary of Star Trek. The concert takes audiences on a musical tour through the original series, Next Generation, Voyager, Enterprise and the films of the past five decades using video projection in conjunction with the live symphony.
The concert will be making a stop in San Diego on March 31, at the Civic Theatre in downtown. Tickets are available on the Broadway San Diego website, broadwaysd.com, or by phone at 888.937.8995.
For those outside of San Diego, the full tour schedule can be found at: startrekultimatevoyage.com
Outside Comic-Con and the SDCC Unofficial Blog are pleased to be able to give away a pair of tickets to the event! Enter using the widget below. The giveaway ends Friday, March 25, at 9pm Pacific time. The winner will be contacted via Facebook or Twitter and their tickets will be available at the Civic Theatre will call.
More about the concert tour:
Star Trek: The Ultimate Voyage is produced by CineConcerts, known for its popular live to projection, symphonic concert experiences including The Godfather, Gladiator and soon to be premiered Breakfast at Tiffany's.

Justin Freer, Producer and Founder of CineConcerts said, "The Star Trek franchise has for many years been an important and meaningful part of our culture in so many ways. This exciting concert experience featuring the greatest music and visuals spanning five decades will be an extraordinary and memorable event."

This lavish production includes an impressive live symphony orchestra and international special solo instruments. People of all ages and backgrounds will experience the franchise's groundbreaking and wildly popular musical achievements while the most iconic Star Trek film and TV footage is simultaneously beamed in high definition to a 40-foot wide screen. The concert will feature some of the greatest music written for the franchise including music from Star Trek: The Original Series, Star Trek: The Motion Picture, Star Trek II: The Wrath of Khan, Star Trek IV: The Voyage Home, Star Trek: Insurrection, Star Trek: The Next Generation, Star Trek: Deep Space Nine, Star Trek: Voyager and much more. This never-before-seen concert event is perfect for music lovers, filmgoers, science-fiction fans and anyone looking for an exciting and unique concert experience.

CineConcerts Co-Founder and Producer Brady Beaubien said, "When a story has renamed aircraft carriers, NASA space shuttles, and the first names of thousands of children in hundreds of countries, you realize these characters go beyond entertainment, but are more like family. Star Trek breaks every boundary of judgment or expectation. It inspires, challenges, and re-thinks. Star Trek is who we want to be. Inspired, fiercely loyal, sometimes reckless."
WHEN: Thursday, March 31, 7:30 PM
WHERE: San Diego Civic Theatre, 3rd and B Street, Downtown San Diego
TICKETS: Visit www.broadwaysd.com or call 888.937.8995
Have you attended any of the live movie symphonies during Comic-Con, or will you be attending one of the Star Trek: Ultimate Voyage concerts? Discuss in the comments below!