SXSW – the annual festival held in Austin, Texas, which combines music, film, and technology for a mega event – has been a pretty good indicator of what offsite events will eventually be headed to San Diego in July for San Diego Comic-Con.
For instance, for the last several years, a pretty-close version of the popular Game of Thrones offsite, which changes a bit every year, has first debuted at SXSW, before heading west. So while none of these offsite installations are a lock for San Diego, there's a lot of potential for what you might be seeing this summer.
Let's take a look at some of our favorite SXSW events, that we're hoping we'll see at San Diego.
Game of Thrones
Out of all of the offsites on this list, this is the most likely to be at San Diego in a similar form. This year, the popular HBO series brought along a brand new interactive exhibit, featuring the Hall of Faces. In the exhibit, attendees can enter the House of Black and White and transform themselves into a No One, by taking or uploading a photo of your face to have it featured on the iconic columns next to familiar faces from the show.
Attendees also had a chance to take photos while wielding Needle, sit on the Iron Throne, or see some of the beautiful costumes and illustrations up-close-and-personal from the series. They also got a sneak peek of exclusive content.
We'd honestly be shocked if Game of Thrones didn't return to San Diego Comic-Con this summer – and the odds are good you can also join the Hall of Faces there.
You can read more about the Game of Thrones Hall of Faces at the official Making Game of Thrones behind-the-scenes site.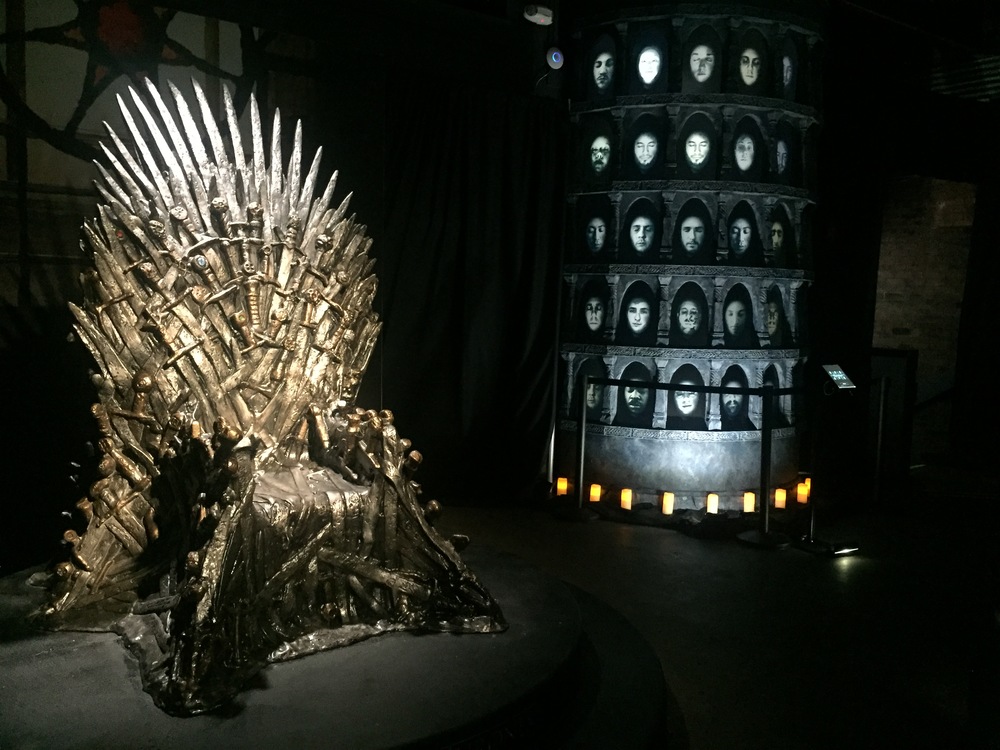 Mr. Robot
As exciting as the Game of Thrones offsite is, we're not going to lie: The installation we're salivating over is actually USA Network's Mr. Robot. fsociety made big splashes this year at SXSW by transforming downtown Austin into Coney Island, complete with a ferris wheel and a replica of the arcade that serves as fsociety's headquarters in the series (with actual working games to play). They also offered fsociety screen-printed t-shirts, and a chance to insert yourself into the action with a photo booth.
USA Network usually has a decent push for something at Comic-Con – last year featured military-style-officers in red berets from Colony roaming the Gaslamp, as well as free Uber rides for the series. In years past, they rented out an entire movie theater to screen the musical episode of Psych.
Although they didn't bring Mr. Robot at all last year (though stars Raimi Malek and Christian Slater did appear across the street at a Nerd HQ panel), the big pushes at both New York Comic Con and SXSW hopefully spell good things for SDCC. Let's just hope those "good things" also include a ferris wheel.
Awesome!! #MRRobotSXSW out at #SXSW2016. Love this show. pic.twitter.com/0bxS6YhKx1

— Nerd Fu (@TheNerdFu) March 12, 2016
Harley Quinn's Tattoo Parlor
WB's Suicide Squad got a big push at SXSW this weekend, with the launch of Harley Quinn's Tattoo Parlor. The event took over a local tattoo parlor, to give attendees both free temporary tattoos and free permanent tattoos, as well as candy and t-shirts promoting the film. A few years ago, Game of Thrones also gave free tattoos to fans at San Diego, and it was the talk of the town.
Although we think it's unlikely that we'll get a Suicide Squad panel this year (they attended last year, and the movie premieres a mere two weeks after the convention – when attendees have pretty much already made up their minds about if they're going to see the movie or not), it would be the perfect time for offsite marketing. A fan screening of the film? A big, splashy offsite that will get people talking? Those all make sense.
You can read more about the Harley Quinn Tattoo Parlor on ComicBook.com.
We're coming for you, Austin. #HarleysTattooParlor #SXSW #SuicideSquad pic.twitter.com/71oePZ6UfA

— The Suicide Squad (@SuicideSquadWB) March 11, 2016
What offsites are you hoping for at San Diego Comic-Con 2016? Let us know in the comments.