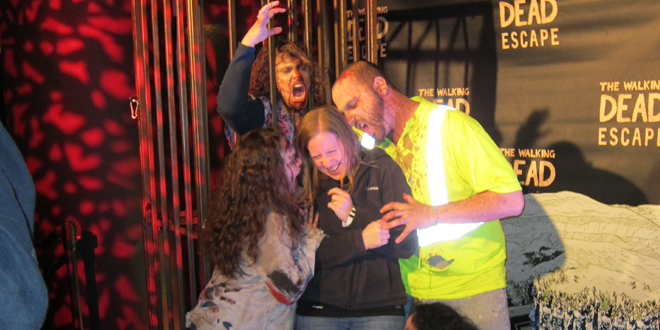 This time of year, every morning can be like Christmas, as we slowly learn what will be at San Diego Comic-Con. Will it be a panel announcement today? An exclusive? The anticipation is half the fun. However, we've got news of one offsite event that won't be making the trek this year.
The Walking Dead Escape, the popular immersive obstacle course that transformed attendees into both walkers and survivors battling for their lives just like in The Walking Dead, has been a mainstay at Comic-Con since 2012. But it  won't be at the convention this year, we have confirmed with Skybound Entertainment.
We've also confirmed that Walker Stalker Fan Fest (which debuted last year) won't be returning to the convention in 2016, though a different variation may take its place.
Both of those losses mean the potential for a different offsite event to take over that half of Petco Park – or it could leave room for Nerdist's Conival to grow, and giving us the opportunity to finally answer the age-old question: Can Chris Hardwick literally be everywhere at San Diego Comic-Con at once?
Just because we're down one or possibly two The Walking Dead offsite events, though, doesn't mean that The Walking Dead fans will be left empty-handed at Comic-Con. Skybound Entertainment will return to the convention this year, presumably with awesome exclusives just like last year, as well as panels and more. Although Robert Kirkman wasn't at the convention last year due to medical reasons, it was his first absence in well over a decade – and we fully expect to see him back in action in 2016.
Then there's also the matter of the actual AMC series, The Walking Dead – as well as the spin-off Fear the Walking Dead. We'd be shocked if both didn't make the journey back to San Diego Comic-Con this year, likely with a Hall H treatment again.
What would you like to see at Petco Park this year? Let us know in the comments.