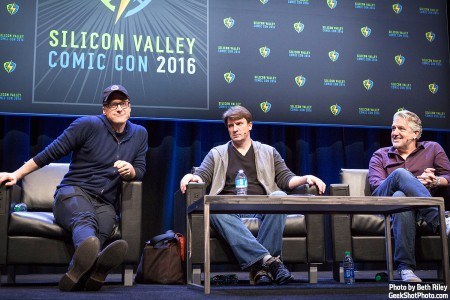 Announced this morning by Lionsgate, the 2nd season of Alan Tudyk, PJ Haarsma, and Nathan Fillion's Con Man would be produced exclusively for Comic-Con HQ and released later this year. The video-on-demand service, which you an read more about in our write-up, launches this Saturday, May 7, for a free trial period before it moves to subscription-based. The first season of Con Man will be available exclusively on CCHQ when the platform moves out of beta this Summer.
"Comic-Con HQ is all about capturing the spirit of the fan community, and in its own way, so is Con Man. Alan uniquely understands all sides of the fan experience and he's captured it in such a farcical way that it's as much parody as it is commentary around the power of fandom," said Seth Laderman, EVP and General Manager, Comic-Con HQ.
"We are thrilled to be a part of the Comic-Con HQ family," said Tudyk.  "For a series that was born out of a passion for the genre and support from the fans, we couldn't think of a better way to connect with our community." Watch more from Alan about Con Man and CCHQ:
https://www.youtube.com/watch?v=tBEUfh09ExA
Con Man was still filming during last year's Comic-Con when they hosted panels at both SDCC and NerdHQ. We can likely expect panels again this year as they film and promote their 2nd season, which will focus on Wray's (Alan Tudyk) attempt to propel himself from B-movie, sci-fi actor, and perpetual convention guest, to mainstream leading man.
What do you think of Con Man going exclusive to CCHQ? Let us know in the comments.