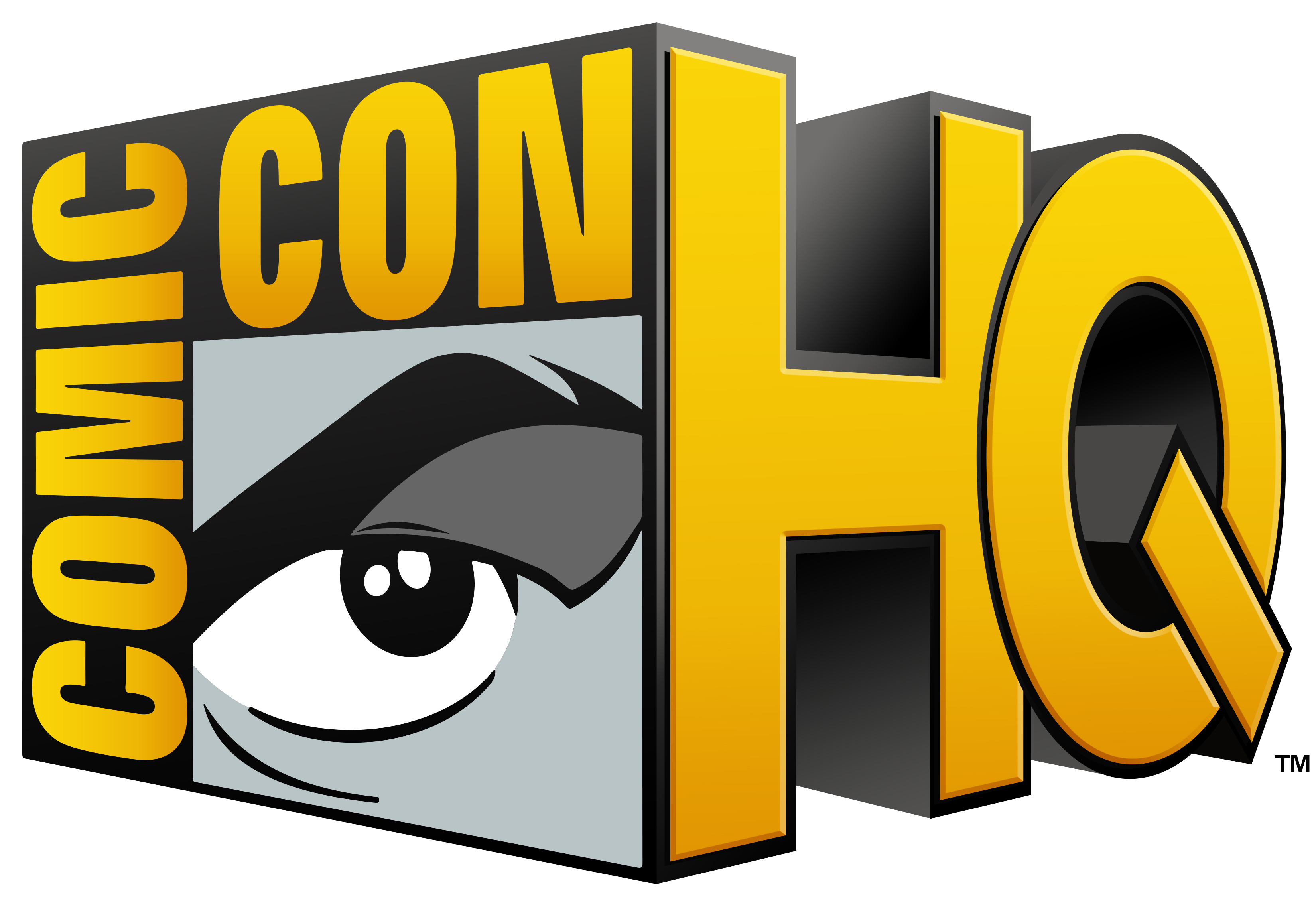 It's been almost a year since it was announced that Comic-Con International and Lionsgate were teaming up for a subscription video-on-demand service, and in that time, it appears that the two companies have been very busy creating a diverse offering of programs which will appear on the SVOD service when it launches for beta access on May 7 (and you can sign up now).
[UPDATE 5/4/2016]
The details of the SDCC trip you can win by signing up for the Comic-Con HQ Beta were released today via Her Universe. That may seem odd until you read the details.
There will be The Her Universe Fashion Show series starting in June on Comic-Con HQ and the winner of the trip will get VIP seats to the fashion show at SDCC. This looks to be one of the best prize packages for Comic-Con this year as it includes flights, hotel, badges, and the VIP fashion show seats for four people.
It looks like there's a typo in the text as it lists two and four VIP seats. However, we got confirmation from Her Universe that it does include four seats.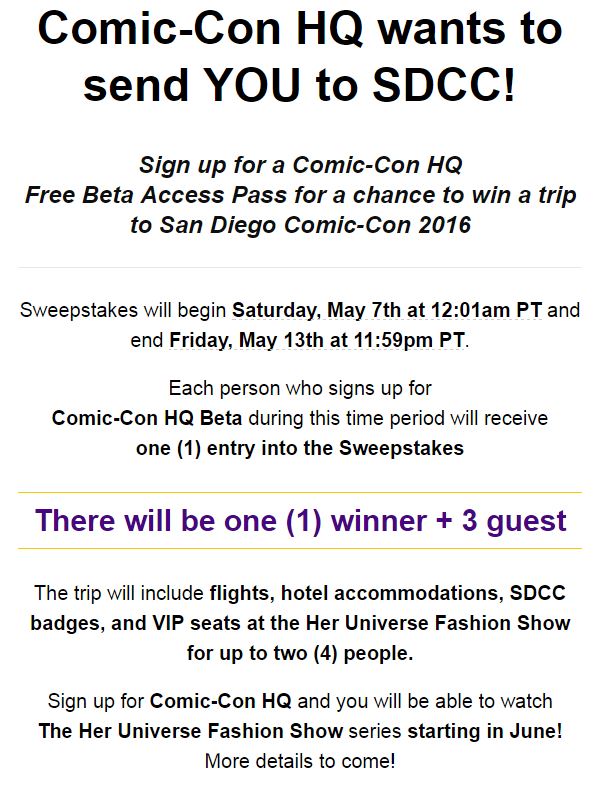 [UPDATE 5/3/2016]
Emails were sent out today with the Beta access code for Comic-Con HQ if you had already signed up. You still have time to sign up and receive an access code as the Beta doesn't begin until Free Comic Book Day on May 7th.
Brand new in the email is news that you can win a trip to SDCC 2016 if you sign up during the first week. Details will be available on their site.
Also note that "live-streamed programming" does not include panels. Select panels will have "delayed airings."
[UPDATE] Although the initial launch date of the paid service was set as June, Diamond Comics (who is partnering with CCHQ for Free Comic Book Day) announced that Beta access will continue through July 25, so that Beta access members will have access to the week-long live coverage of San Diego Comic-Con.
[PREVIOUS]
"For nearly half a century, Comic-Con has served as the definitive common ground where the fans of genre entertainment come together to express their passion for comics and pop culture," said Seth Laderman, EVP and General Manager for Comic-Con HQ. "Comic-Con HQ aspires to extend that exchange 365 days a year, bringing everything we love about Comic-Con to the world in ways never before seen and experienced. The new platform will provide a year-round destination to enjoy all facets of the community and access the vast diversity of content the world has come to expect from the largest and longest-running pop cultural celebration of the year."
The channel will feature original scripted and unscripted series, like an entertainment pop culture news show and a late night talk show from G4, the scripted comedy series Kings of Con inspired by real-life fan convention experiences from Richard Speight (Supernatural) and Rob Benedict, an unscripted series following Her Universe Fashion Show contestants as they design their way to the catwalk at San Diego Comic-Con, a science entertainment program called Impossible Science starring world champion illusionist Jason Latimer, who explores breakthrough technologies capable of achieving his seemingly impossible feats of magic with real science, and more. There will also be an "eclectic collection" of licensed film and TV series that air on the channel.
A weekly movie talk inspired by Collider Movie Talk series, two roundtable discussion shows, and an all-female panel on pop culture from a female perspective are also in the works.
In addition, fans will received unparalled access to San Diego Comic-Con, including both "live-streamed CCHQ programming, airings of select Comic-Con panels, and immersive access to the convention floor and sanctioned events never before available to the public such as the Masquerade and the Eisner Awards".
While this won't include live-streaming of panels, it will include 5-6 hours a day of live streamed exclusive content covering as much of the convention as possible to those who can't attend.
"We do not plan on live streaming the panels," Laderman told us. "Fans wait in line for hours if not days to be the first to experience some of the panels. We don't want to take that amazing experience away from anyone. We will be working with all the panel hosts to distribute the panels on our platform shortly after their live presentation.  We'll be working on covering as many panels as possible, in rooms of all sizes.  With this unparalleled access, we can now experience Comic-Con in a whole new way. "
It sounds like it's a win-win for both attendees and those fans watching at home, who will receive an in-depth look at the convention, without it taking away from the experience of those actually at the convention. David Glanzer, Chief Communications and Strategy Officer for Comic-Con International, re-iterated that goal.
"CCHQ is welcoming both attendees and fans new to the Comic-Con phenomenon to join our community and enjoy all aspects of the experience in ways never before imagined," said Glanzer. "Lionsgate is a terrific partner in this venture and uniquely qualified to provide quality programming that speaks directly to our fans. We're excited to see what we can accomplish with a dedicated Comic-Con channel 365 days a year."
The ad-free streaming service will be available  starting Free Comic Book Day on May 7 via browsers and iOS/Android devices. The paid subscription service will roll out across more connected devises in the months to come such as Roku, AppleTV and Xbox One, with additional devices and distribution platforms becoming available throughout the year. Pricing for the post-beta-launch has not been finalized.
"We have not finalized the subscription price at this point but our plan is to provide a premium service at an affordable price," Laderman told us. "When the next issue of your favorite comic hits the shelf, you pull it without a second thought, that's how we want people to feel about Comic-Con HQ."