What's that? Another Under the Tents? Yes, indeed it is! The frequency of these posts means one thing, we are two months away from San Diego Comic-Con! In this edition of UTT, we cover a few exclusives, Georgia Dunn, "Team Stevie", Otis Frampton, and Ghostbusters.
Here's a look at what you might have missed:
Mark Nagata

creates custom toys and vinyls and will have some of his creations at SDCC. His work will be a part of the Dragon Boy SDCC 2016 Artist Series

that will be found at Booth #4530, run by Martin Hsu. Hsu recently posted a photo of Mark's work on Instagram that you can find at his booth.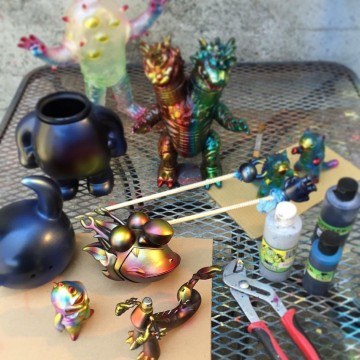 In more news related to Hsu, he will also have copies of his Dragon Boy Tales book, which is a limited edition with only 200 copies. Can't get enough Dragon Boy? You're in luck as Hsu will have SDCC exclusive Dragon Boy resin figures and custom series figures at his booth as well! All of this information was announced on his Facebook event page.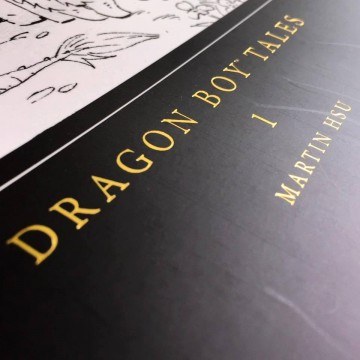 Cartoonist Georgia Dunn is making the leap from fan to exhibitor as she will be at SDCC to represent her work. Georgia recently tweeted out the news so make sure to wish her best of luck.
For anyone keeping track, this means that YES, my first con as a cartoonist and not a fan will be SDCC. NO PRESSURE!

— Georgia Dunn (@GeorgiaDunnBCN) May 19, 2016
I have exciting news! If you are going to San Diego Comic Con this year, I will be there doing a signing at the @gocomics booth! #SDCC16

— Georgia Dunn (@GeorgiaDunnBCN) May 19, 2016
While we've been showing off several sneak peeks of Patrick Ballesteros' popular 25 Cent Wonders pieces, which feature your favorite pop culture icons kidified, we've got our first look at a completed piece: Captain America: Civil War Team Captain America, which was revealed on Twitter. Watch out Team Stark! Visit Ballesteros quickly before our editor Kerry gets her hands on all the prints.
Watch out Team Starky, Team Stevie is fully assembled for the showdown! #25centwonders coming soon to @Comic_Con pic.twitter.com/7oHgF8op7w

— Patrick Ballesteros SDCC DD-08 (@PatrickBallest) May 19, 2016
Writer Peter Clines recently tweeted out that he will be attending SDCC and will most likely be at the Crown Publishing booth.
I will also be there! Most likely at the @CrownPublishing booth! I shall come find you and get said signature.

— Peter Clines (@PeterClines) May 19, 2016
Want your art featured at a booth at SDCC? Well, here is your chance. The Humanoids Blog is running a Moebius inspired contest with the winner receiving a Moebius art book not typically found in the U.S. According to their contest page, they will also be selecting several submissions to display in a gallery at their Humanoids booth at SDCC. Contest ends May 30, so don't delay.
The Baker Street Babes are looking for a few good detectives. Well actually, volunteers to be exact. They are in need of a few helping hands for their SherlockeDCC event during SDCC according to their recent tweet. For more information on the event itself, head over to our SDCC events page.
Volunteer Applications for #SherlockeDCC 2016 are now open! https://t.co/QLNaD6Fhnd #SDCC #Sherlock #SDCC2016 pic.twitter.com/JJn2ZRKtFt

— Baker Street Babes (@BakerStBabes) May 20, 2016
Publisher Drawn & Quarterly announced via their website that they will be attending SDCC along side several of the SDCC special guests. The announcement gives little information besides to expect details about signings, panels, and debut titles in the future!
USA Today and New York Times best selling author Marissa Meyer has SDCC on her list of tour dates on her site. Meyer's current work includes the current The Lunar Chronicles book series.
We'll be at #SDCC16 will you? pic.twitter.com/eNU3QxkVmd

— Things From Another World (@TFAW) May 20, 2016
Creator of the Oddly Normal series at Image Comics, Otis Frampton, tweeted out some info fans should be excited for. He will be at SDCC and won't be coming empty handed as he is currently working on a new print to bring with him.
A new print is coming. I'll have them at San Diego Comic-Con! #😁 pic.twitter.com/ZHypbYiA75

— Otis Frampton (@otisframpton) May 20, 2016
Munky King Toys posted a photo on his Instagram account teasing something for SDCC. The photo uses the hashtag #vinyltoys so we can't at least have a sense of what it is they are working on bringing to SDCC!
Excited for the upcoming Ghostbusters film? Artist pattymcpancakes on Instagram released a teaser photo of her upcoming Ghostbusters print for SDCC. You can find pattymcpancakes along her with art at table BB-11 at SDCC this July.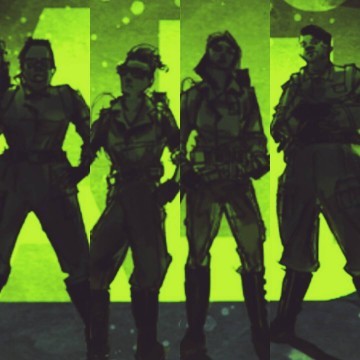 Mezco Toyz teased via Twitter their upcoming summer exclusives for San Diego Comic-Con and New York Comic Con, and some are easy to guess – like Captain America or a variant Harley Quinn Mez-Itz – but what are your guesses for the rest?
Our summer convention exclusives are coming your way soon! #MezcoToyz #SDCC #NYCC https://t.co/ZGw4Q0LjMA pic.twitter.com/zPjw8AXeBd

— Mezco Toyz (@mezcotoyz) May 25, 2016
Anything we missed? Let us know in the comments, drop us a line or tweet us at @SD_Comic_Con.