Sometimes, the magic of San Diego Comic-Con is in finding something new and exciting — and that's exactly what Patrick Ballesteros' whimsical art offers.
His 25 Cent Wonders collection, which features kid versions of some of your favorite characters, riding old-school mechanical rides like you used to find outside grocery stores, are both unique and playful.
After turning his attention to Captain America: Civil War with a trio of prints (including "Team Stevie", "Team Starky", and "Thanks for the Invite"), Ballesteros' next San Diego Comic-Con exclusive print features a different beloved Disney property: Monster's Inc.
The new piece, "Magic Mike", features Sully (complete with a Boo doll) and a Scare Factory containment worker riding atop Mike Wazowski.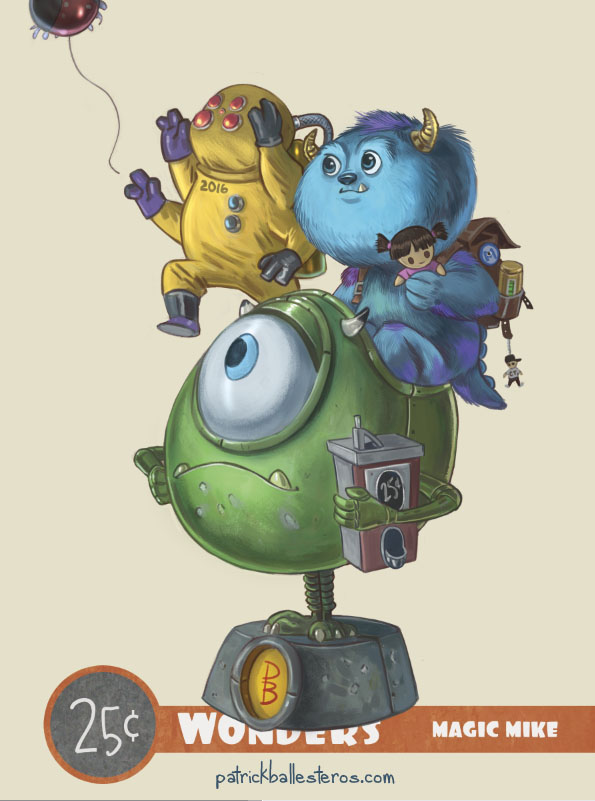 Each 6×8 print (with rounded corners) is a limited edition of less than 100, and is signed and hand numbered by Ballesteros. You can pick it up at Artist Alley Table DD-08 for only $12.
You can find more of Ballesteros' work on his website.
Will you be picking up this print at San Diego Comic-Con 2016? Let us know in the comments.