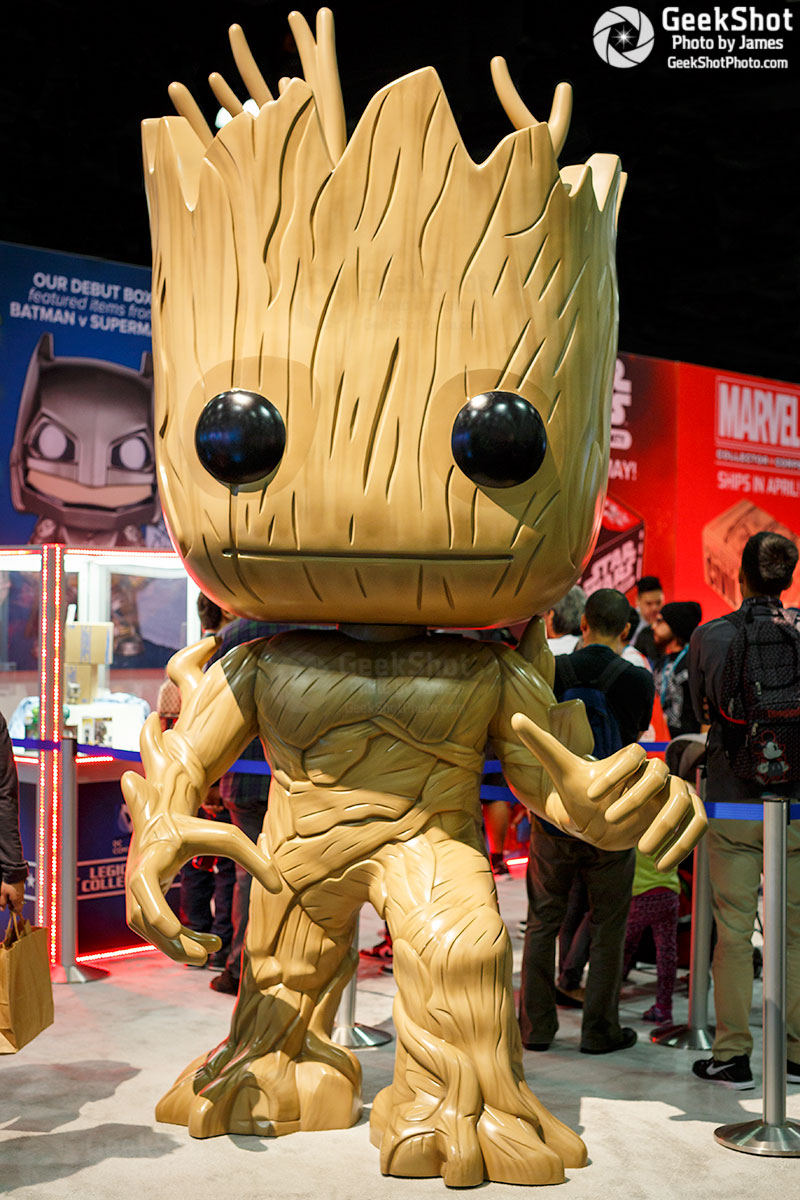 Welcome to the GeekShot Photo Exclusive Series. This will be a weekly post featuring cool, interesting, or just plain awesome moments we have captured during San Diego Comic-Con and WonderCon. Each week we'll post a photo by Beth or James of GeekShot Photography. We may include a short story about the photo, but sometimes we'll just let the photo speak for itself.
About This Photo
Groot statue at the Funko booth at WonderCon 2016.
SDCC 2016 is a mere 20 days away. The news and information about what's coming at the show this year is flowing fast now. All you have to do is look at this site and see that. It will be easy to get stressed out and overwhelmed trying to figure out what you want to do, what you want to see or buy, and feeling like you're missing something.
Relax. This is supposed to be about fun. Seeing your favorite show or movie cast and creators. Getting sketches. Meeting friends. Buying cool stuff. It's about gathering in a place where there are 130,000 other people who are the same as you at heart.
So let me give you the piece of advice that I sometimes forget to use. If you're not having fun, take the time to figure out why. I'm not talking about waiting in line for however many hours it takes to do the thing you want to do. I'm talking about experiencing/buying/seeing that thing once you get to it. If you wait 18 hours to get into Hall H for the WB panel and then don't have fun watching it, you need to take a time out and ask yourself why.
I've been to enough cons, and SDCC in particular over 20 times, to know that I can't keep doing the same thing year after year. I've been in Hall H at least once for the last 6 years. That's more than enough for me for now (unless I can just walk in). Will I miss some amazing panels? Sure. But I can watch them later. The actual experience is not worth the wait and stress to me after doing it multiple times now.
This year I plan to do things that let me move from event to panel to floor to whatever. I'm not devoting hours of my day to waiting in lines. I'm buying or trying for tickets to some events so I'm guaranteed entry. This means I'm going to miss a lot of big events. But it also means I'll be able to catch a lot of small or specific things I'm going to enjoy. Having the time to visit and see more things offsite, even if I don't participate in whatever they have going on, will be a welcome change. Last year I made it on the other side of Harbor twice, on both Wednesday and Sunday. I missed all of the con except a couple hours on Thursday while waiting in line. When I thought about these things I knew I wanted to make a change for this year.
Obviously you need to make a plan for this year in order to get the most out of the con. Just take a moment if you went previously and think about how you felt during and after. Evaluate your experiences and make decisions to keep at it or change it up. If this is your first year you need to make these decisions based on what you think you'll want to do. There a lot of guides and help on this site for that.
Just make sure you are having fun. If you're not, make a change.
We are Groot.
You can see all of the previous posts in this series here.
This photo is copyright (All Rights Reserved) by Beth and/or James Riley of GeekShot Photography. It may not be copied, reposted, published, or used in any manner without their written permission.