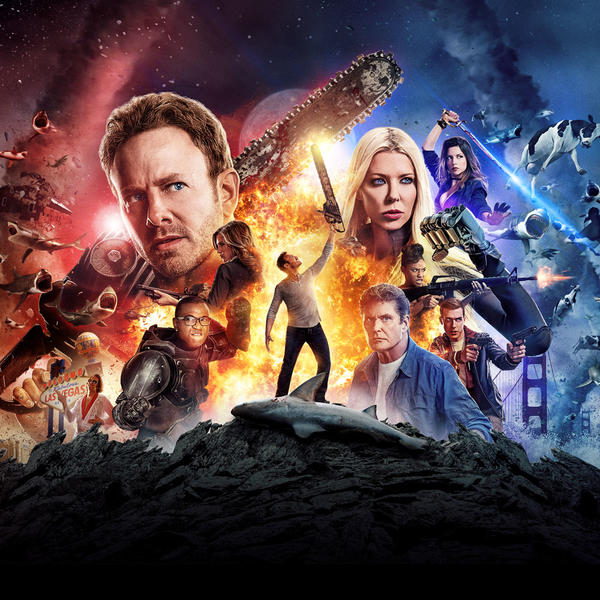 That thundering noise off in the distance isn't just your imagination — it's the sound of Syfy's Sharknado 4: The 4th Awakening sweeping into San Diego Comic-Con this summer.
In the new film, Ian Ziering, Tara Reid, and David Hasselhoff return for another round of weather-related aquatic mayhem, as Fin Shepherd (Ziering) and his family have enjoyed a blissful five years free of sharknados. But that all changes in unexpected ways.
Actress Stacey Dash, who will play the mayor of Chicago in Sharknado 4, spoke to The Hollywood Reporter about what promotion she has ahead of her for the movie.
"I never even heard of Sharknado until I did it. I'm proudly going to Comic-Con for them," Dash told The Hollywood Reporter.
Sharknado has become a bit of a Comic-Con staple, as the timing has worked out the last several years that the film debuts shortly after the convention, giving Syfy plenty of footage and information to share with attendees. Last year's panel featured featured stars Ian Ziering, Tara Reid, Cassie Scerbo, and David Hasselhoff — as well as director Anthony C. Ferrante and writer Thunder Levin.
This year, the film will premiere on Syfy on July 31, 2016 — just a few short days after the convention. With the announcement that Syfy will be filming a live Comic-Con show (free for attendees to attend!), we expect Sharknado 4: The 4th Awakening to get a big push.
Which really just leaves one question: Will we get more awesome Sharknado parades again this year? We're hoping the forecast looks good.