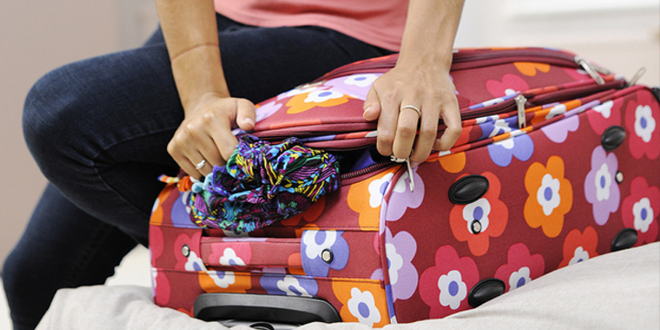 We get asked a lot — what do I need to pack for San Diego Comic-Con?
We've previously compiled a list of "Uncommon Items" you might not think to bring to the convention, but we're going to offer a more comprehensive list (though by no means complete) of what to pack — as well as how to make it fit.
What to Bring
The Basics
Obviously, you need clothes. I'm assuming you can handle that part.
But what I always recommend is that you also bring a jacket (it may be July in San Diego, but it can get cold late at night/early morning, as well as inside the panel rooms), a really good pair of walking shoes which you've already broken in, and at least one pair of socks per day (just as important as the shoes — especially this year with no carpeting in the aisles or common areas in the convention center).
You'll also need a good backpack. Although CCI/Warner Bros. typically provides you with a bag on-site (to be picked up in Sails Pavilion this year), they're not the best quality, and can fall apart under the strain. Also, bring a poster tube.
Don't forget your toiletries — which includes, but is not limited to: Toothbrush and toothpaste, deodorant (to be carried with you at all times), hand wipes (useful for both anything sticky that may get on your hands and for wiping off sweat), make-up, straighteners, blow dryers (hotels usually only have one, and if there are multiple people in your room, it can be an issue), hairspray, razors, and more.
Also new this year, masks. Bring lots and lots of masks, so you can easily switch them out, as well as hand sanitizer.
Gadgets
Everyone says it, but for good reason: The best thing you can bring to San Diego Comic-Con is an external charger. Lines get boring fast, so odds are you'll be using your phone and running down the battery a lot — and who knows how long it will be before you see sunlight or your hotel room again anyway. We actually always recommend bringing at least two, and if there's one item you should be willing to splurge on besides your shoes, it's this. I've used Anker for years because I find it lasts longer than most other things I've tried, but there are lots of options on the market these days.
Have a good camera. We know your phone takes decent photos — but odds are it won't zoom in with crystal clear clarity on Benedict Cumberbatch's face as much as you'd like it to. And along those same lines, bring extra SD cards, and extra battery (either rechargeable or of the AA/AAA variety) for your camera.
There are lots of other gadgets that may be required or enhance your experience — including, but not limited to, video recorders, audio recorders (if you're press), FitBits/Apple Watches for tracking how many steps you take, a tablet, etc. Use your own best judgement.
However, make sure you leave the selfie sticks and drones at home! They're both banned.
Other
Bring an umbrella (just in case) and a power strip. If there are multiple people in your room, odds are you'll all be trying to charge your camera, external chargers, and phones — all at the same time.
If you're planning on camping out, a sleeping bag is also a must. You'll deeply regret being without one at 3AM on the hard concrete. Pillows can always be… borrowed, from your hotel.
Exclusives
If you're planning on bringing home exclusives rather than shipping them (which is always an option! Just swing by a FedEx/UPS/etc during the con), plan on bringing something to get them home safely. That may mean purchasing bubble wrap, cardboard, Funko Pop! protectors, shipping boxes, etc.
Groceries
You can buy them at home or at Ralph's downtown — but you're going to want something to snack on that isn't convention center food. Buying a pack of bottled water for your entire room is also a great option (and a quick way to make your con roommates love you).
How To Pack It
I find that a lot of people surprisingly don't know the basic fundamentals for packing even just clothing fit into your suitcase in a way that maximizes all available space — so let's start with that. In all my years of traveling, I've never seen a better how-to-pack guide for clothes than this adorable cartoon from tumblr: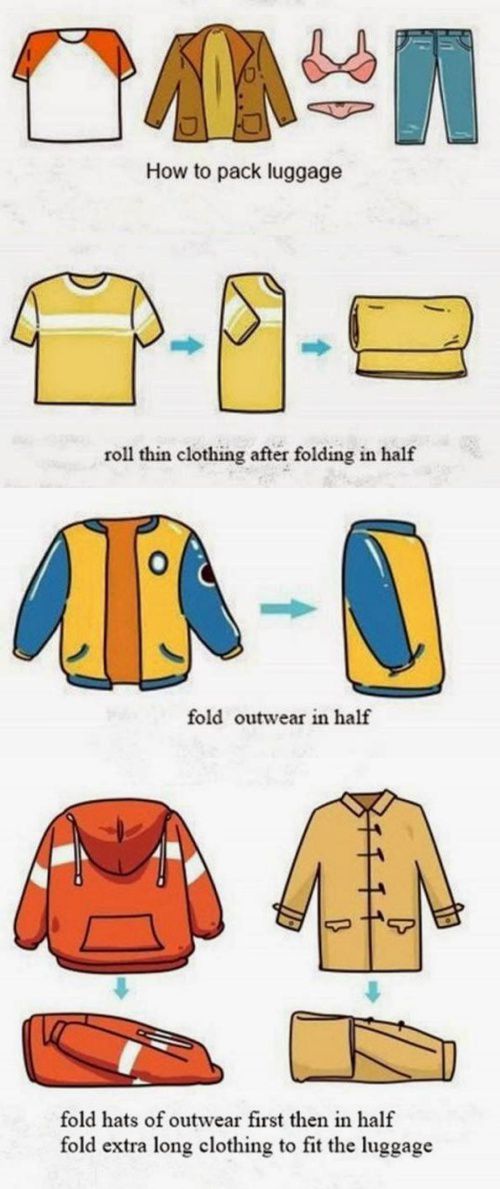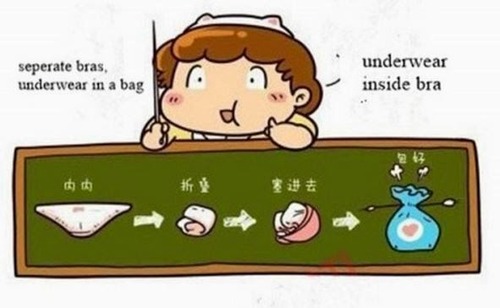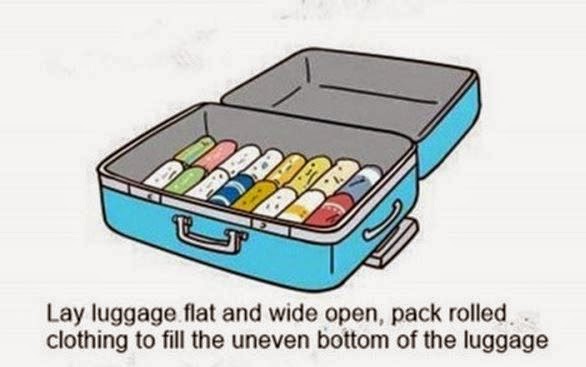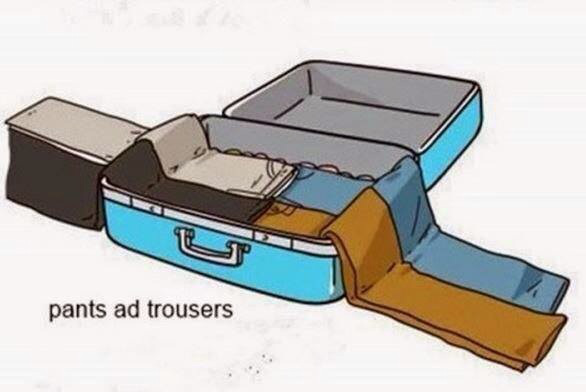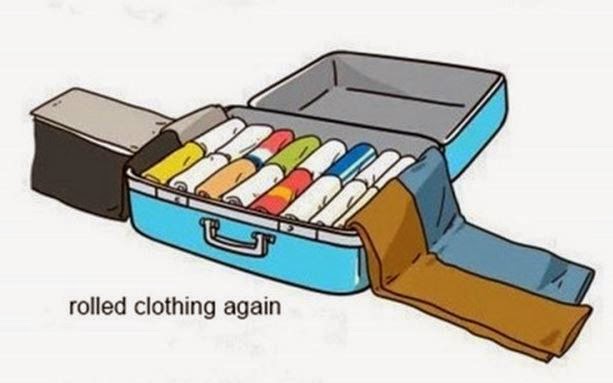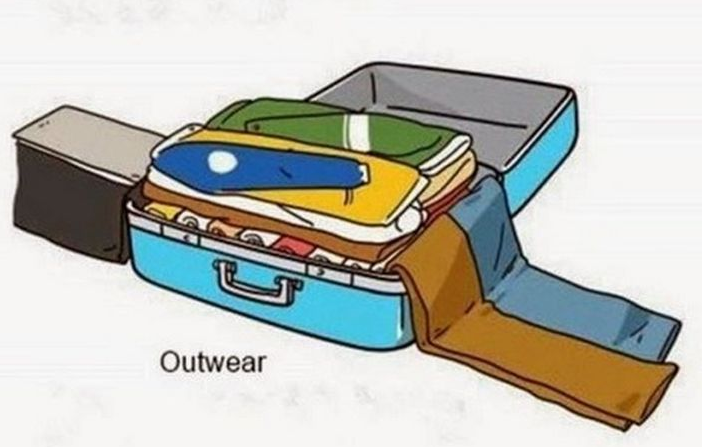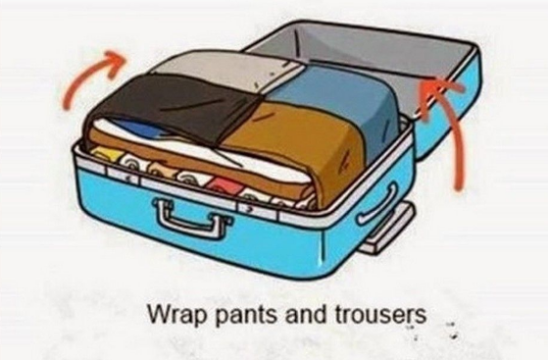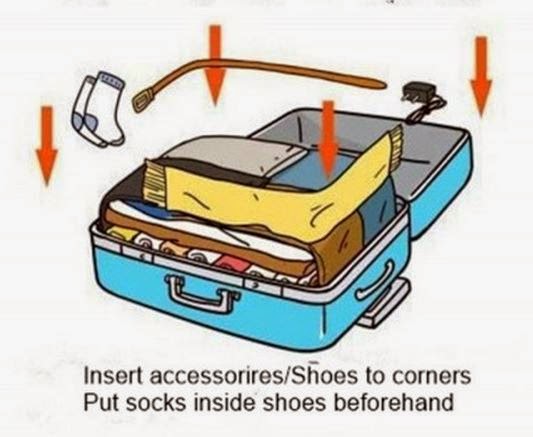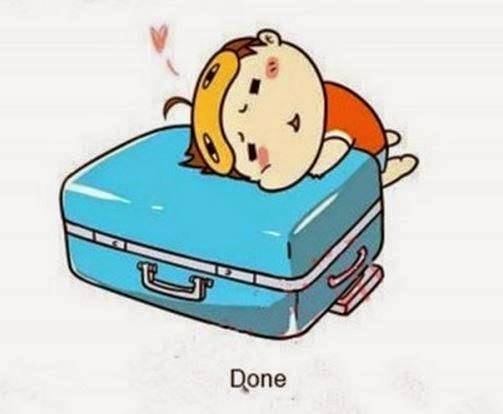 Got the basics down? Good. Now that you've got a better idea of how to best utilize your space, you've hopefully got a better idea of how much space you've got left over. If your suitcase is already full to the brim with just your clothes, odds are you either need to scale back, or bring another bag. Remember that each individual airline has their own rules, regulations, and fees — so it's also important to figure that out ahead of time, or it can quickly add up.
Because I am both cheap and relatively clever, when flying, I know that I am allowed one carry-on item and a personal item (defined, for the most part, as a purse, a backpack, or a computer bag). My backpack can easily hold my purse, as well as lots of other items, so I can fit two bags into one. Then I use the largest possible carry-on bag that I still can to bring more items for no charge (varies by airline — aka, beware of Frontier). I've managed to come to Comic-Con with just those two bags lots of times before, but on the occasions when I can't/want more room to bring things home in, I can then get away with just checking one bag. Packing for the convention is a bit like a giant game of tetris – so think about it strategically.
My other "tip" is that while I bring a sleeping bag to the convention — I don't bring it home with me. I always find some other con-goer to donate it to after I've used it. Now, that means I spend $20 every year on something I only use once — but that's less than what I'd pay to ship home the stuff I'm now able to fit in my bag. Plus, there's always someone who forgets to bring a sleeping bag or who decided last minute to do the camping out thing and just didn't bring one, so you get to make someone's long, cold night a little better.
Make sure to pack all exclusives or anything breakable securely in your bag. Bring extra packaging for it (or have it shipped). Clothes can also be a great buffer in your bag for making sure things don't move around. Also, don't forget that your line "luggage" doesn't have to be a bag at all — you can package up a box (which will take less of your weight limit than a bag) full of your exclusives to check in for your flight home instead. To maximize costs, choose a box large enough to fit your actual suitcase in for the trip over — then use both the suitcase and the box to go home.
What packing advice do you have for San Diego Comic-Con? Let us know in the comments.