[UPDATE] The Comic-Con HQ LIVE stage will be hosted by Alison Haislip and Steve Zaragoza, and will feature such highlights as:
Celebrity appearances from Nathan Fillion & Alan Tudyk (Firefly, Con Man), Rob Benedict & Richard Speight Jr. (Supernatural, Kings of Con), John Barrowman (Arrow, Doctor Who), Tatiana Maslany (Orphan Black), Clark Gregg (Agents of SHIELD), Robert Kirkman (The Walking Dead, Outcast), Dave Franco (Nerve), John Bradley (Game of Thrones), Jim Lee & Dan Didio (DC Comics), Joe Casey (Man of Action), and the new Power Rangers;
Cast interviews from Orphan Black, Archer, Rick & Morty, The Expanse, Teen Wolf, Ash vs The Evil Dead, American Gods, The 100, Power Rangers, Wynona Earp, Timeless, Prison Break, Dirk Gently's Holistic Detective Agency, Frequency, People of Earth, The Good Place, and more;
Field reports from Artists' Alley as well as booths and spectacles of all sizes on the convention floor including Marvel, DC, Warner Bros, Image, Sideshow, Hasbro, Weta, Xbox, Nintendo, and more;
Must-see events and outdoor experiences such as Entertainment Weekly's Con-X, the IMDb Yacht Party, Adult Swim on the Green, the FXhibition, Star Trek: 50 Artists. 50 Years, Neil deGrasse Tyson presents Space Odyssey, and The South Park Experience, and more;
Panel coverage from all spaces including Hall H, the Indigo Ballroom, the San Diego Central Library, and the Horton Grand Theatre;
Breaking news delivered by Comic-Con HQ's Anthony Carboni, Trisha Hershberger, and Adam Sessler, as well as industry insiders and pop culture pundits such as Carrie Keagan, Malik Forte, Jason Inman (DC All Access), Bobak Ferdowsi (NASA), Jeff Berkwits (Sci Fi Magazine), Jenna Busch (Legion of Leia), Joshua Yehl (IGN), and more.
While watching the live broadcast at the Hilton Bayfront, attendees can also enjoy a variety of other fan experiences available for free throughout the four-day outdoor event:
Interactive reddit exhibition with on-site AMAs and fan challenges;
Razer gaming stations featuring popular PC titles;
Brick & mortar showcase of Comic-Con HQ's annual pass stash, featuring free stuff and exclusive savings from DC, Dark Horse Deluxe, ThinkGeek, Kotobukiya, Hallmark PopMinded, Gentle Giant, Sideshow Collectibles, Loot Crate, TriForce, Valve, HerUniverse, Razer, Weta Workshop Collectibles, and more;
Four free Comic-Con HQ exclusive posters from top artists Hydro74, Tracie Ching, Dave Perillo, and Coby Gewertz, each honoring film classics now on the network: Star Trek: The Motion Picture, Labyrinth, Jay & Silent Bob Strike Back, and Ferris Bueller's Day Off;
Free wi-fi, charging stations, photo booths, and refreshments for all attendees;
And tons of free giveaways from featured partners throughout the week!
[PREVIOUS] This will mark the first year of Comic-Con HQ, CCI and Lionsgate's joint venture subscription streaming video-on-demand service (say that five times fast!), at the convention. Which of course means they're going all out with the previously announced offsite, as well as panels for their series Con-Man (including stars Alan Tudyk and Nathan Fillion), Her Universe, and even a panel to introduce you to the network (which will include panelists Rob Benedict, Richard Speight, Jr., John Campea, Seth Laderman, and many more).
The Comic-Con HQ Live Stage will be delivering up to 20 hours of live coverage and access, filming live from the Hilton Bayfront promenade. You can swing by from 12PM-5PM daily for interviews with celebrities and industry folks.
From the press release, here's an overview:
Comic-Con HQ Live Stage:
COMIC-CON HQ is making a huge splash at San Diego Comic-Con International 2016, delivering up to 20 hours of live coverage and unparalleled access broadcasted from the Hilton Bayfront promenade via Comic-Con HQ and Facebook Live.
Live coverage from

12pm – 5pm PST

each day.
Hosted by Alison Haislip & Steve Zaragoza and featuring your favorite Comic-Con HQ personalities, industry stars, celebrities, and a slew of panelists
Comic-Con HQ Live will feature interviews, the biggest spectacles on the show floor, nonstop Comic-Con action all over town and breaking news from Hall H, Ballroom 20 and beyond.
Big names in comics, film, gaming, and pop culture will join Comic-Con HQ hosts on stage to break news, share big announcements, talk trailers, find incredible costumes, and more.
Reddit willl also be on site with an interactive activation that will give fans the opportunity to experience reddit in real life.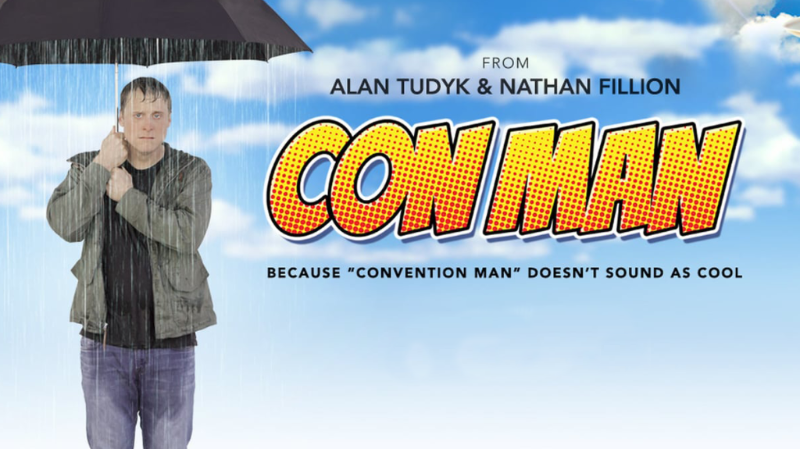 And because even Comic-Con HQ can't wait for CCI next week to announce the full schedule (and nor should they!), here's a look at what panels they're bringing inside the convention center:
Meet Comic-Con HQ: Thursday, July 21st 2:00pm at the Indigo Ballroom, Hilton San Diego Bayfront
Meet the family: learn what you can expect from Con Man, Kings of Con, Pop Culture Quest, Her Universe Fashion Show, Impossible Science, Film HQ, Mostly Harmless, and What's News?.
Panel includes Rob Benedict (Supernatural, Kings of Con), Richard Speight, Jr. (Supernatural, Kings of Con), Trisha Hershberger (SourceFed, What's News?), Anthony Carboni (Discovery, What's News?), Steve Zargoza (SourceFed, Mostly Harmless), Adam Sessler (G4, X-Play, Adam Sessler & The Interesting People). John Campea (Collider, AMC Movie Talk, Film HQ), Jon Schnepp (Metalocalypse, The Death of Superman), Jason Latimer (Impossible Science), Seth Laderman (SVP & GM, Comic-Con HQ), and surprise guests.
The Core of Collecting: Thursday, July 21st 5:45pm in Room 6DE
From scale replicas to the rising tide of tiny treasures, join leading industry experts from Slideshow Collectibles, Gentle Giant, Loot Crate, Project Triforce, DC Collectibles, ThinkGeek, WETA, and Dark Horse Collectibles as they dive into their process, reveal upcoming collectibles, and explore just how they navigate the sea of props, characters, vessels and more to create the compelling collectibles we all crave.
Panel includes Steve Zimmerman (Slideshow), Dev Gilmore (Gentle Giant), Matthew Arevalo (Loot Crate), Jason Torre (Project Triforce), Sara Ruiz (DC Collectibles), Chris Berejik (ThinkGeek), Sir Richard Taylor (WETA), David Scroggy (Dark Horse Collectibles), and surprise guests.
Her Universe Fashion Show: Thursday, July 21st 6:00pm at the Manchester Grand Hyatt Hotel
Her Universe's third annual Comic-Con fashion show, hosted by Ashley Eckstein (voice of Ahsoka Tano in Star Wars: The Clone Wars) returns as aspiring designers, from a variety of backgrounds and experiences, will present their original geeky designs down the runway. This year, the Her Universe Fashion Show will be filmed for the exciting finale episode of the Comic-Con HQ docu-series of the same name in which three winners will be named – two selected live at the event, and one chosen by viewers at home. The docu-series will premiere it's first 2 episodes on

June 30th

with additional episodes airing every

Thursday

until

July 28th

.
Three designers will win the the opportunity to design a fashion collection with Her Universe, which will be sold at Hot Topic.
Alan Tudyk and Nathan Fillion's Con Man: Friday, July 22 10:30am in Hall H
Join the cast as they dive into their wild ride on season two of Con Man, with plenty of surprise guests, giveaways, and one special sneak peek!
Panel includes Alan Tudyk, Nathan Fillion, PJ Haarsma, Felicia Day, Nolan North, Mindy Sterling, Lou Ferrigno, Alison Haislip, and more.
The Eisner Awards: Friday, July 22 8:00pm at the Indigo Ballroom, Hilton San Diego Bayfront
The Will Eisner Comic Industry Awards are considered the "Oscars" of the comics world. Named for the pioneering comics creator and graphic novelist Will Eisner, the awards are given out in more than two dozen categories during a ceremony each year at Comic-Con International: San Diego.
For the first time ever the ceremony will be made available to the public, as Comic-Con HQ will be streaming the entire show.
This year's show will be hosted by Doctor Who's John Barrowman