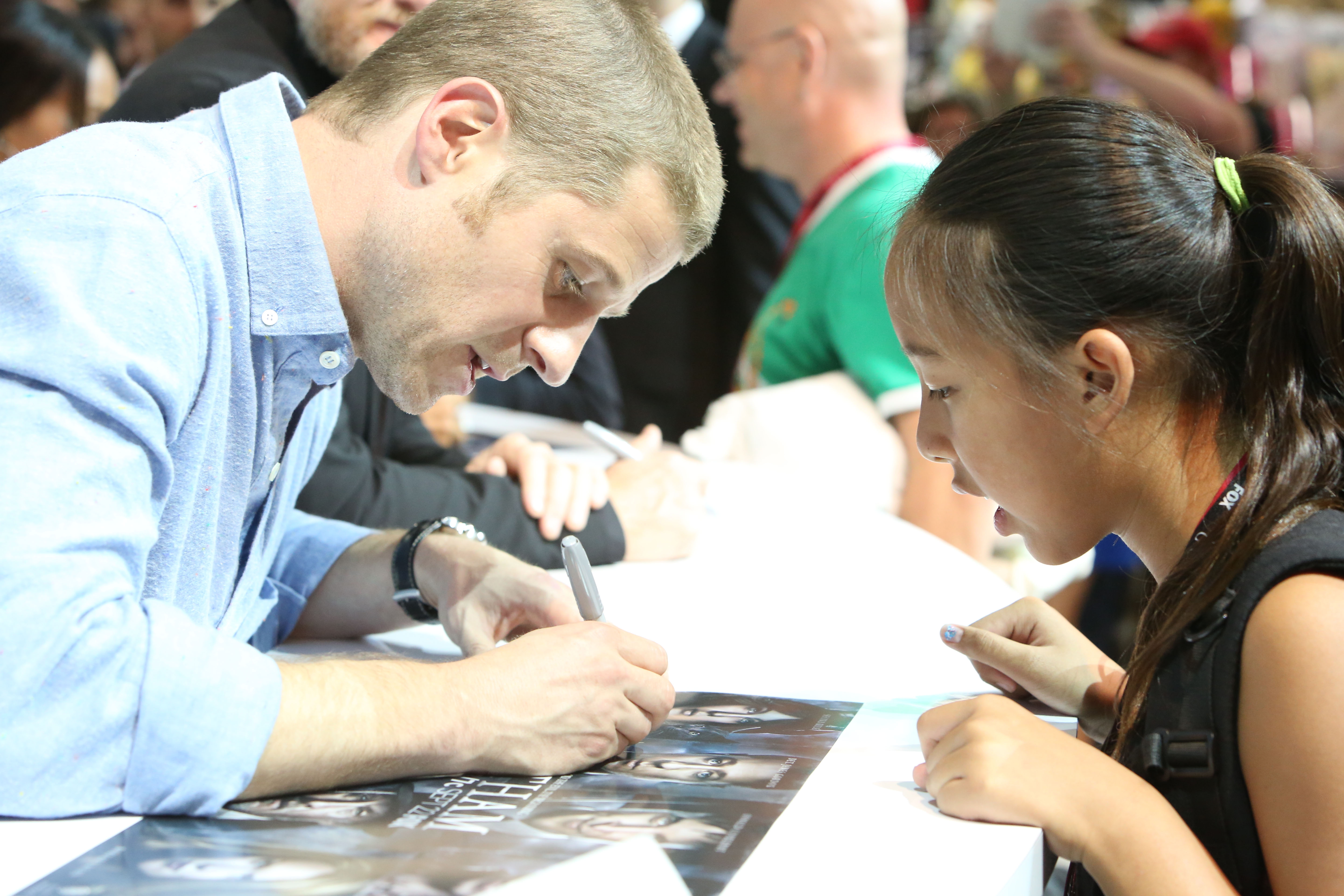 We get a lot of questions about autographs, and the sad truth is, there is no easy answer. Almost every autograph session and booth has their own rules for how the autographs are run — including Comic-Con International, with their group, individual, and limited autograph signings. These are all signings either taking place up in the Sails Pavilion, or with ticket drawings in the Sails Pavilion (as well as some other drawings).
Let's break CCI's autographs up into two groups. The first, group and individuals, are exactly what they sound like. It's people like Richard Hatch, Nichelle Nichols, Steve Blum, Andy Weir, Stan Lee, Carrie Henn, J. Michael Straczynski, Patrick Rothfuss, Elvira, and Matt Fraction. Plus groups such as Power Rangers, Torchwood, as well as panelists from Empower: Fight Like a Girl,  Disney XD's Penn Zero: Part-Time Hero and The 7D, and many more. And that's just to name a handful.
Some of these, though not all, will charge a fee for an autograph. You may not know until you physically get to Sails, where they'll be signing at their given time — but all of them are required to sign one copy of the Souvenir Program book for any fan at no charge. If there are any special rules for the signing, they will be listed, so read carefully.
Then there are the limited signings — which is where things get a little more complicated. These signings and booths basically require you to have/pull a ticket in order to either come back for a signing later in the day, or to be eligible to purchase something at their booth. We did an entire guide on exactly how that process works, so if you're confused, that's a good place to start.
Warner Bros. and Fox are both back with their ticket draws (which is mostly what the guide above covers), and Bandai, Hasbro, and LEGO also require attendees to snag a line ticket, often with a time to return to the booth to purchase. Neither WB nor Fox have unveiled their complete autograph line-up yet, but as always, you can find everything we do know in our Announced Autograph Master List.
Then there are other limited signings, which also require ticket drawings, such as for the cast of The Man in the High Castle, Steven Universe, Thunderbirds Are Go, Kareem Abdul Jabbar, Adam Savage, Stan Lee, and more. For all of these, you'll need to head to Sails first thing in the morning to draw for a ticket, but then the signing will happen later in the day.
There's also the drawings for the Horton Grand panels. It's the same general process: Arrive early, draw ticket, and if you're a winner, you get two assigned seats at the Horton.
Just to re-emphasize, here's our resources for autographs:
Official Comic-Con Autograph Information
Non-Sails Signings List of Announced Autograph Signings
Guide to Ticket Draws in the Sails Pavilion for Autographs
Good luck!