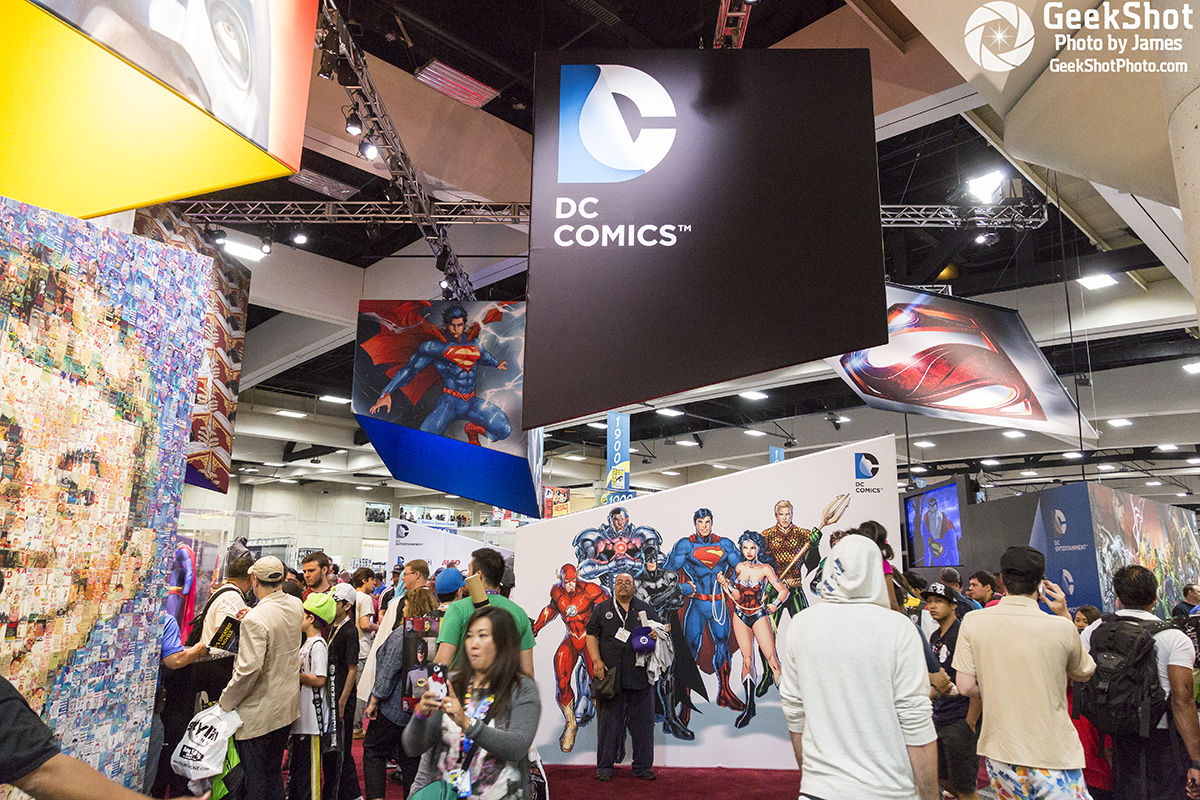 If you thought DC's presence ended with the Hall H Warner Bros. presentation on Saturday morning – think again.
They'll be back again this year at Booth #1915, where they'll have rare Wonder Woman costumes and props on display in the booth, including the original costume worn by Lynda Carter in the 1970s Wonder Woman TV series, as well as the costume donned by star Gal Gadot.
There will also be signings at the DC Booth (with ticket draws to be done upstairs in Sails Pavilion for the WB booth on Saturday morning – you can read more about the process here) on Saturday from 12:15-1PM with Gadot, Chris Pine, and Connie Nielsen – or Saturday from 1:15-2PM with the cast of Suicide Squad, including Margot Robbie, Will Smith, Jared Leto, Joel Kinnaman, Viola Davis, Jai Courtney, Jay Hernandez, Adewale Akinnuoye-Agbaje, Scott Eastwood, Cara Delvinge, Adam Beach, and Karen Fukuhara.
Also at the booth, there will be a hands-on demo of the Batman: Arkham VR, a virtual reality experience that allows players to put on the cape and cowl of Gotham's Dark Knight like never before as it takes you into the world of Gotham City. To participate, you'll need to require a wristband up in Sails Pavilion beginning Thursday morning. There will also be a life-size LEGO Batman statue on display. The DC booth will also include a green screen where fans pose in backgrounds from their favorite DC comic characters, films and games, including the Suicide Squad movie, the Wonder Woman comic, DC REBIRTH, DC Super Hero Girls and the Injustice video game.
DC Super Hero Girls also get some love, with the girls on hand to pose for pictures and give autographs for fans throughout the weekend. Katana will dazzle fans at the booth with exhibitions of expert swordplay.
And for cosplayers, there's plenty of meet-ups at the booth, with cosplayers who attend awarded a special custom DC Fans medal for participating (while supplies last). Here's the full schedule:
Thursday, July 21, 2:30pm – DC Comics Bombshells cosplay celebration

Friday, July 22, 5pm – Suicide Squad "Squad Up" cosplay celebration (Location: Island and 6th Avenue, near Invisible Jet display)

Saturday, July 23, 5:00pm – Wonder Woman cosplay contest

Sunday, July 24, 2:30pm – DC Super Hero Girls cosplay contest
Outside the convention center, beginning Wednesday evening, fans will also have a one-of-a-kind opportunity to take a photo in the cockpit of Wonder Woman's iconic invisible jet, located on the corner of Island and 6th in the Gaslamp.
And that about does it for the news we didn't know! DC should have a packed schedule.