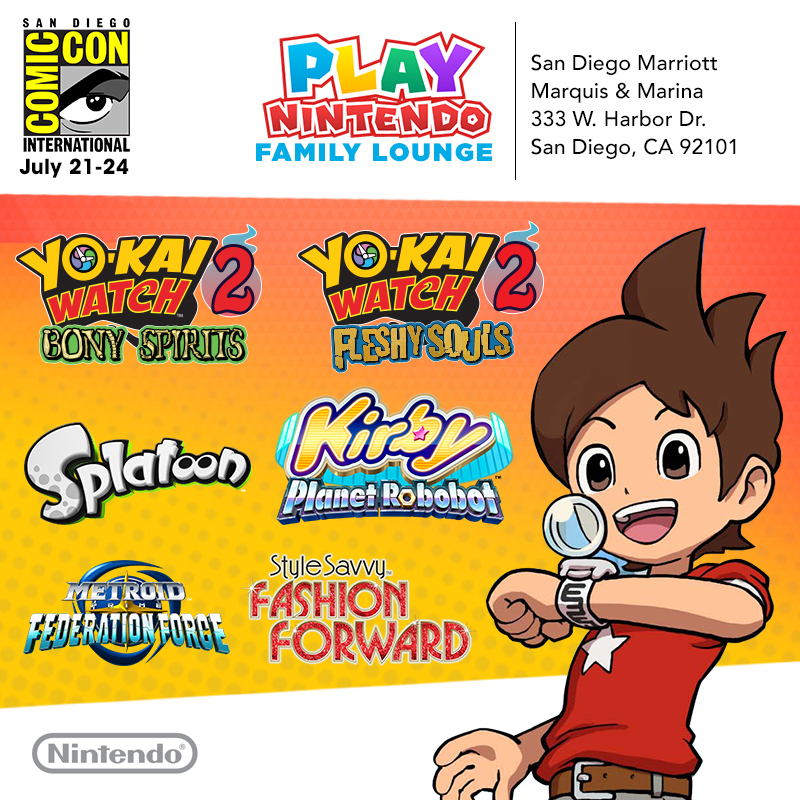 Gaming giant Nintendo has had a strong presence at San Diego Comic-Con for years, with its Nintendo Gaming Lounge on the first floor of the Marriott Marquis & Marina. Attendees will be pleased to learn that it's coming back, and Nintendo plans to power up several of their most popular games.
Fans can stop by the Nintendo Gaming Lounge on Thursday, July 21 – Sunday, July 24 from 10AM-7PM on Thursday-Saturday, and 10AM-5PM on Sunday, to partake in the festivities.
At The Play Nintendo Family Lounge, fans can look forward playable games, as well as:
Super Smash Bros. for Wii U 12 & Under Tournament (July 23): Nintendo fans that are 12 years old or younger and have parental consent can participate in a Super Smash Bros. for Wii U tournament at 2 p.m. on July 23. The tournament will be live-streamed on the Nintendo Twitch channel, so even people that can't be there have a chance to keep an eye on the action. Tournament slots are limited for the one-day event, and fans will be able to sign up the day of the event on a first-come, first-served basis. The Grand and First Prize winners will each receive a prize pack filled with Nintendo products and merchandise.
The Play Nintendo Challenge (July 21-22, July 24): Play through three elimination rounds composed of three different Wii U games (Splatoon, Mario Kart 8 and Pokkén Tournament) in a group to see if you can emerge victorious! Participation will be on a first-come, first-served basis. The Play Nintendo Challenge runs all day and takes less than 30 minutes to complete. Winners will receive an exclusive champion Nintendo T-shirt. Players who participate may receive other giveaways while supplies last based on how far they make it in the challenge.
YO-KAI WATCH Voice Actor Event (July 22): Actors Alicyn Packard, J.W. Terry and Melissa Hutchison, who provide the voices for Jibanyan, Whisper and Komasan, respectively, in the YO-KAI WATCH video game and animated TV series, will be conducting a Q&A session, doing live voice demos and a table read of a scene from Season 2 of the animated TV series from 3 p.m. to 4 p.m. PT. Select attendees will also have an opportunity to receive an autograph or take photos with the actors.
Pokémon Fan Gathering Area (July 21-24): Meet up with fellow Pokémon fans to trade Pokémon, pick up some cool swag (while supplies last) and relax in a Pokémon gaming zone. The gathering area will be open during show hours.
Photo Opportunities (July 21-24): At various times during all four days, popular characters like Mario, Luigi, Pikachu, Kirby and Jibanyan from the YO-KAI WATCH series will make surprise appearances to take photos with fans.
Playable games at the event include Nintendo 3DS' Monster Hunter Generations, YO-KAI WATCH 2: Bony Spirits and/or Fleshy Souls, Metroid Prime: Federation Force, Style Savvy: Fashion Forward, New Super Mario Bros. 2, Kirby: Planet Robobot, and Pokemon Omega Ruby/Pokemon Alpha Saphire — as well as Nintendo U's Splatoon, Mario Kart 8, and Pokken Tournament. Visitors to the Lounge who play either upcoming YO-KAI WATCH 2 game will also receive special bonuses depending on whether they buy the physical or digital versions. Picking up a physical version in stores will net you an exclusive Yo-kai Medal from Hasbro that gives Jibanyan a powerful new in-game Soultimate Move when scanned into the game. Meanwhile, downloading the digital version will allow players the opportunity to battle and befriend new Yo-kai: Sailornyan or Robonyan F. The Yo-kai and Medals will also be different based on the version of the game purchased.
On the show floor at Nintendo's booth, players can also play various modes in the Splatoon game.
Are you excited about the return of the Nintendo Lounge at San Diego Comic-Con? Let us know in the comments.