The Petco Interactive Zone (and the rest of Petco) have a lot going on this week, with activations for Ash vs. Evil Dead, The Walking Dead, Cartoon Network, the Gishbus, TBS Snickers, Yo-Kai Watch, and more. Plus, there's the usual food trucks.
Let's start with the Interactive Zone, which is open Wednesday from 5PM-9PM, Thursday-Saturday from 9AM-9PM, and Sunday 9AM-7PM. Here's a look: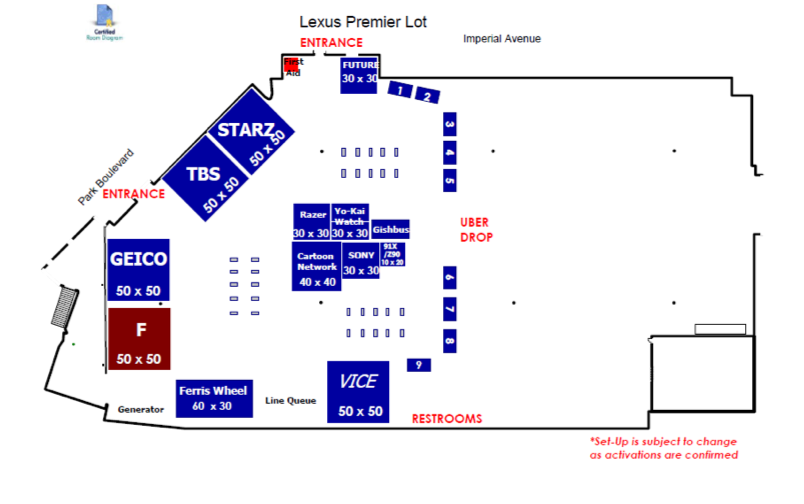 ASH VS. EVIL DEAD ACTIVATION (Starz Entertainment)
What We Know: The cast will be signing autographs on Saturday from 2PM-3PM.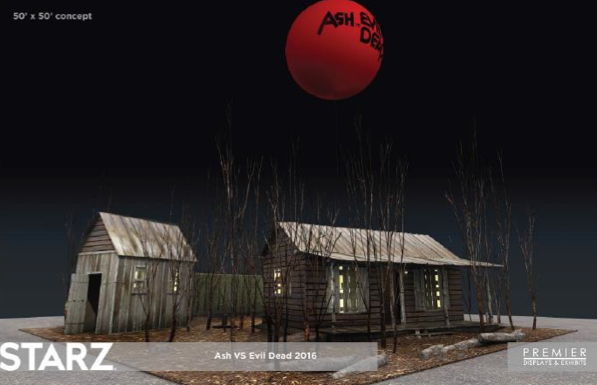 FERRIS WHEEL
What We Know: Not much – but until someone can prove to us this isn't Mr. Robot, we're choosing to believe that it is.
FUTURE, SKYBOUND, THE WALKING DEAD ACTIVATION
What We Know: Come snap a photo with a real life zombie at a Walking Dead themed Jack in the Box drive thru; participate in social giveaways; pick up exclusive Jack In the Box and The Walking Dead: Road to Survival coupons and hang with Jack!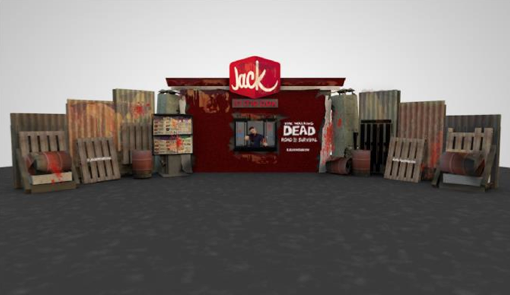 GEICO ACTIVATION
What We Know: Not much.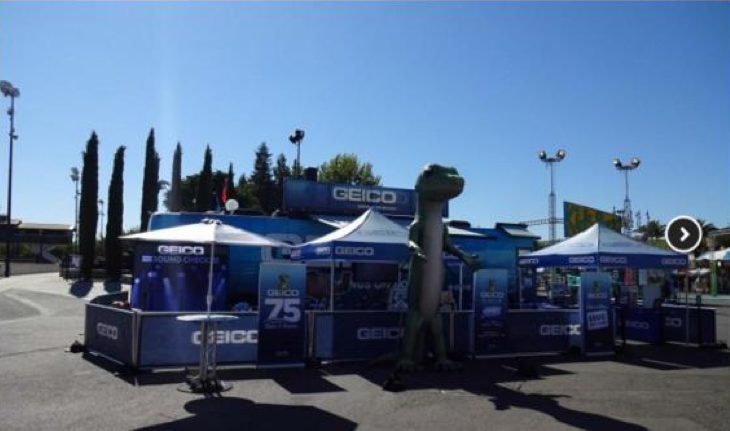 GISHBUS ACTIVATION
What We Know: This is only open to certain GISHWES members who have certain points. Don't know what we're talking about? Not for you!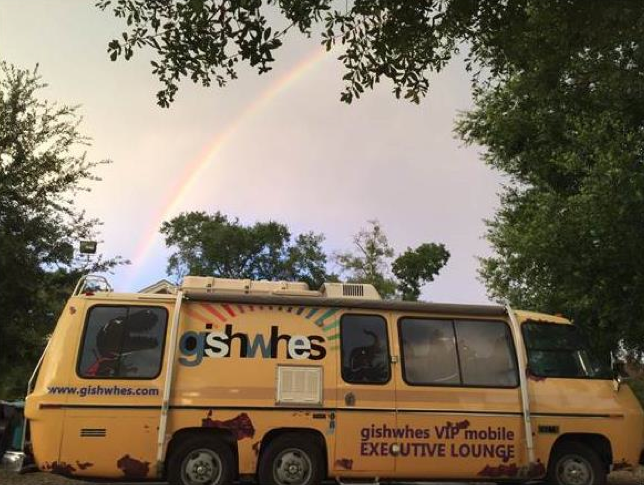 PIE FACE ACTIVATION (Cartoon Network/Hadley Media)
What We Know: It looks like Cartoon Network will be playing Pie Face on a stage at Comic-Con. So come get a pie in your face!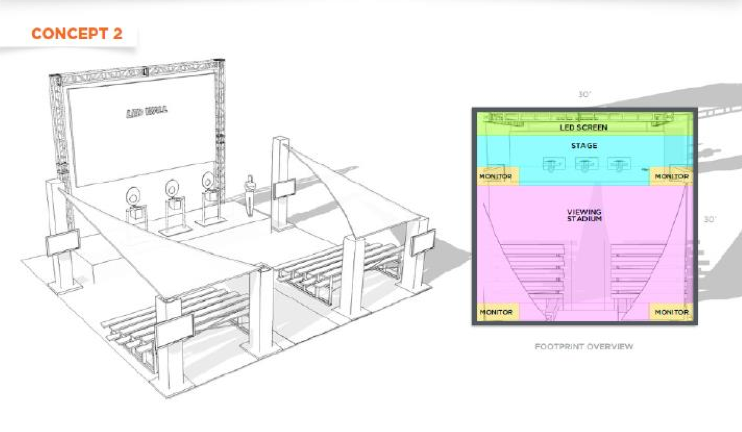 RAZER COMPUTERS SUMMER TOUR ACTIVATION
What We Know: Check out the insanely thin Razer Blade Stealth laptop and Razer Core external graphics from Razer in the Interactive Zone at Petco Park during Comic Con! Swing by to try out all the latest gaming gear and enter to win a new Razer Blade Stealth notebook, along with a ton of other prizes during the weekend. Check them out online at razerzone.com!

SONY ELECTRONICS ACTIVATION (Sony Electronics)
What We Know: Literally nothing.
TBS SNICKERS ACTIVATION (Creative Riff)
What We Know: Basically just what's in the photo below – but looks like you'll potentially be able to grab a Snickers bar, thanks to TBS.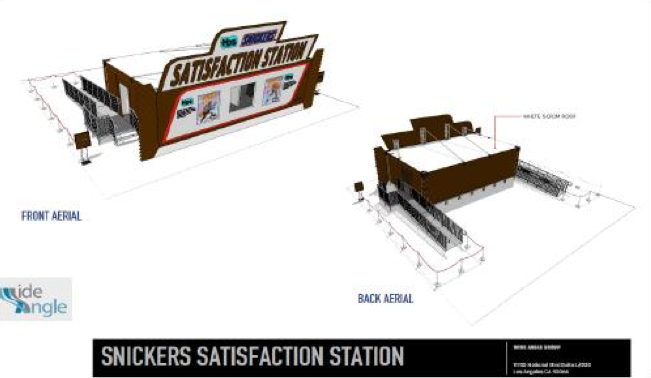 YO-KAI WATCH ACTIVATION (Level 5)
What We Know: There will be bean bags, an inflatable character, and a stage.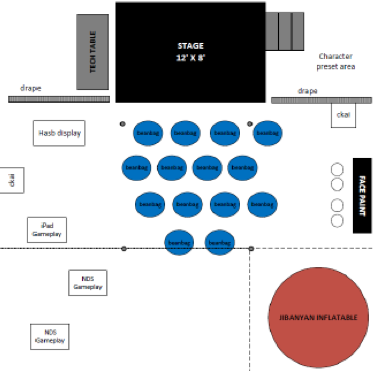 91X AND Z90 LIVE RADIO BROADCAST & STREET TEAM ACTIVATION
What We Know: Nothing.
Now, let's look at the food trucks:
CURRYWURST FOOD TRUCK
Description: Typical German food, modern & light fast food experience, grilled, organic, and the best ingredients!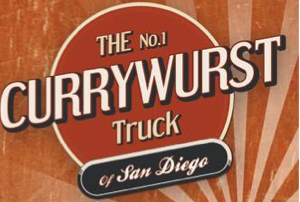 GREENSPAN'S GRILLED CHEESE FOOD TRUCK
HELLO KITTY CAFÉ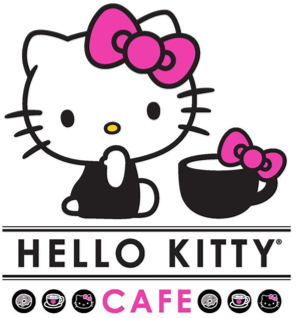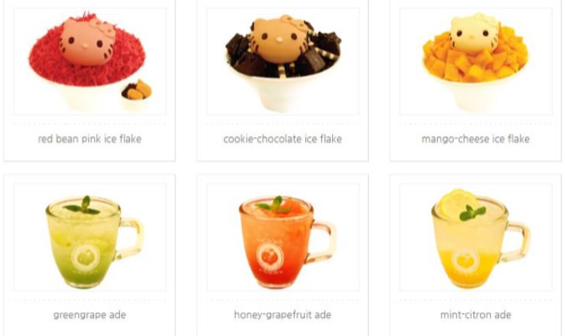 MASTIFF SAUSASE
SALT + LIME FOOD TRUCK
Description: Modern Mexican cuisine!
SOUTHERN FRIED VEGAN FOOD TRUCK
Description:
STUFFED! SD FOOD TRUCK
Description: Stuffed believes "it's what's inside that counts!" Stuffed features a burger menu that shoves all kinds of goodness inside their patties, including American Cheese, Pepper Jack Cheese, Bacon, and even Mac N' Cheese. They offer tater tots, deep fried Oreos, and a build your own Mac N' Cheese with an impressive variety of toppings.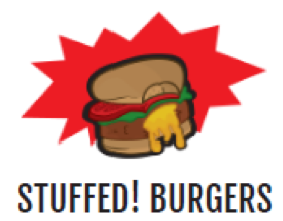 SUPER Q FOOD TRUCK
Description: SuperQ Food Truck brings to San Diego the best hickory smoked good BBQ this side of the Mississippi! All-American BBQ with elements of North Carolina, Texas and St. Louis style flavors and influence.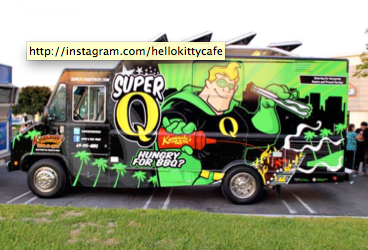 URBAN PIE FOOD TRUCK