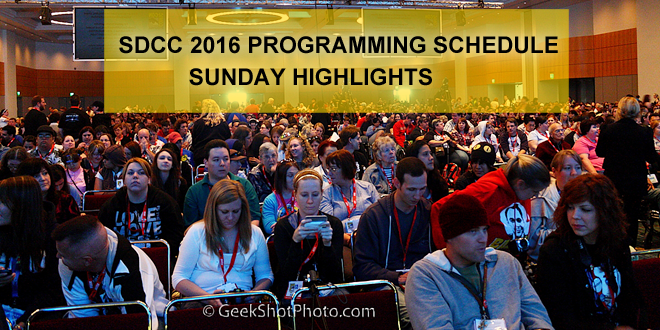 Baring any last minute schedule changes, we now have the full San Diego Comic-Con 2016 programming schedule.
We'll also be discussing our thoughts on this year's lineup, including our top picks, in a special series of live podcasts this weekend. The first of which covered Preview Night, Thursday's and Friday's lineup, and the second segment — in which we break down Saturday and Sunday — will be on Sunday, July 10 at 2PM PT / 5PM ET.
With that said, let's dive right into Sunday.
As always, TV and comics are king at Comic-Con, with the former once again taking over Hall H all day. The day kicks off with Sherlock, which gets a major room upgrade. The panel will feature Amanda Abbington, Mark Gatiss, Steven Moffatt, and Sue Vertue — and though there's no mention of Benedict Cumberbatch, if he's in town for Doctor Strange, we wouldn't count him out just yet. Then it's the annual Supernatural panel, followed by a FOX split panel for Prison Break and 24: Legacy, in what makes a really short day in Hall H. All of the programming this year just feels much lighter than normal.
Outside of Hall H, there's also panels for LEGO Ninjago: Masters of Spinjitzu in 7AB, LEGO Nexo Knights: Behind the Scenes in 5AB, and Animaniacs Live! in 6DE — all of which are also perfect for Kids Day at Comic-Con.
Sunday is also a great day for jumpstarting your kid into a love for comics, or fanning the flames that are already there. Our picks include a look at the final chapter for Emily the Strange  in 32AB, IDW: Kids Rule for obvious reasons in Room 4, Avatar: The Last Airbender with Eisner award-winner Gene Yang in 24ABC, and a look at the Disney Kingdoms imprint from Marvel Comics in Room 8.
There are plenty of other amazing comics panels to attend all day, including the Spotlight on Hawkeye writer and Sex Criminals creator Matt Fraction in 7AB, an in-depth look at the Eisner award-winning (and awesome) BOOM! Lumberjanes in 25ABC, the annual tribute to legendary Jack Kirby (with Kevin Eastman in attendance) in 5AB, and the annual Skybound Comics catch-up overview in 7AB. Plus, we're pretty exited about the 20th Anniversary of DC's Birds of Prey in 28DE.
Other standouts on the schedule include the world premiere of DC Super Hero Girls: Hero of the Year with voice cast also present in Room 6BCF at 10AM, Sailor Moon with VIZ Media in 6A, a discussion with children's book authors about how they succeed at making both kids and adults laugh at 11AM in 25ABC, the annual Browncoats panel in Pacific Ballroom 24 at the Marriott to discuss Firefly news with Firefly fans, a LEGO Dimensions panel with the development team and voice talent where everyone walks away with a limited-edition LEGO Green Arrow minifigure, a talk with NASA to hear "stories from the trenches of the heartbreaks, close calls, and adventures of real-life solar system exploration" in 32AB, and a celebration of cartoonist Rube Goldberg in 29AB complete with home movies and rare never-before-seen-images from the family's archive. And most importantly, there's The Cult of Adult Coloring Books, because, why not? You walk away with free coloring pages. There's also the (mostly) annual Anything Goes with John Barrowman panel at 2PM in 6BCF, which is always a lot of fun.
Everything winds down at 5PM, but for your final stop, consider the Comic-Con Talk Back at 3:30PM, the annual town hall like meeting where CCI's upper echelon are present to hear your concerns, answer your questions, and give you insight into the convention.
You can view the full Saturday programming schedule on the MySched website.
What will you be lining up for at Comic-Con? Let us know in the comments.