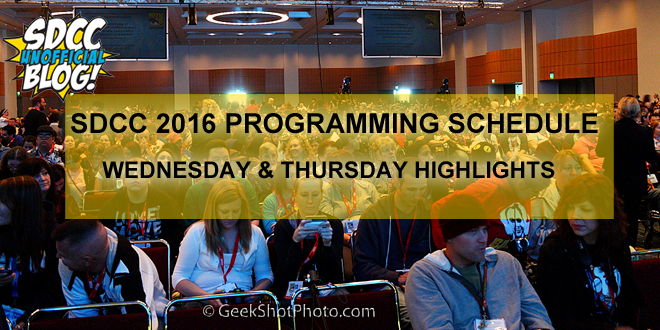 It's two weeks away from Comic-Con, and CCI is releasing the programming schedule for Comic-Con 2016 in its annual fashion. We'll be bringing you the highlights of each day as they're announced.
We'll also be discussing our thoughts on this year's lineup, including our top picks, in a special series of live podcasts this weekend. The first of which will cover Preview Night, Thursday's and Friday's lineup, and will be on Friday July 8 at 9:30PM ET/6:30PM PT.
Since we already know the Wednesday sneak peek pilot screening schedule, it's a simple choice: Catch some cool television pilot episodes, or fight the crowds on the exhibit floor for that must-have exclusive? Having said that, bring on Thursday!
Let's just call this for what it is – maybe the weakest Hall H programming we've ever seen. Sure, there's the long-foretold Dreamworks Animation panel for Trolls and we're sure we'll get some cool cast for that (including maybe Anna Kendrick, J Timberlake, and Zooey Deschanel), and Luc Besson's Valerian and the City of a Thousand Planets, and even Oliver Stone in town to discuss Snowden, but with DreamWorks basically representing the largest studio of the day, it's… weak. We suspect this means no Paramount panel and that Lionsgate will be Saturday, making it a truly jam-packed day, but we shall see… in exactly two days!
But, outside of that, there's lots of stuff we are excited about! Truthfully, the movie panel we're most excited about isn't in Hall H at all – and that's the annual Disney Animation "Art of" panel for the upcoming Moana, over in 6A. And, at 5:45PM over in the Horton Grand, you'll be treated not only to a talk with Sausage Party filmmakers Seth Rogen and Evan Goldberg – but also a screening at Horton Plaza.
On the TV side, which tables up a huge portion of the schedule, there's a million things we're pumped for. Over in Ballroom 20, there's Netflix's first appearance with Luke Cage and Teen Wolf, in Indigo we get Kristen Bell and the world premiere screening of her new series The Good Place as well as Silicon Valley and Drunk History, those headed to 6BCF will get both Colony and Mr. Robot, and 6A will have The Last Ship and The Man in the High Castle. Plus, there's also the Nickelodeon 90's retrospective panel with talent from Hey Arnold, Rugrats, and more – and even the world premiere of a TMNT animated short. And don't forget about Voltron in 7AB, which if WonderCon was any indication – will be a huge hit.

There's also the now-annual Cartoon Network Costume Ball & Screening at 8:30 at night in 7AB, where you'll get the world premiere look at the upcoming Ben 10 series, and a costume contest.
Into comics? There's a lot going on on Thursday, and it's all great. Check out Grant Morrison discussing his latest project in 24ABC, party with Viz Media and all of their franchises in 7AB at 4PM, get the scoop on Vertigo in Room 8 at 4:30PM, learn about Dark Horse's Whedonverse series over in 23ABC at noon, learn what The Simpsons comics world is up to in 23ABC at 1PM, Get your Marvel fix with a look back at 75 years of Captain America with the son of original creator Joe Simon or the Marvel: Death of X panel covering all the latest X-Men news, or your DC hit with a Spotlight on Jim Lee or the DC Rebirth: Young Gotham/Young Metropolis panel with a slew of DC talent.

In the wonderful world of video games, you can catch Call of Duty: Infinite Warefare in B6CF at 1PM along with voice actors and talent (plus, you'll get a Mondo poster, so score!), or Gears of War 4 in 6BCF immediately after with cast and "surprises". There's also a Dark Horse panel at 5PM in 23ABC, where you'll learn about all the comics for your favorite video games, with talent on hand from Blizzard, BioWare, and more.
There are plenty of other exciting things happening all day. For something off the beaten track that we totally love, Grant Morrison and Kevin Eastman head to 7AB at 7PM to discuss Heavy Metal, or a behind-the-scenes look at the special effects from Alice Through the Looking Glass in 6A at 10AM. Get the scoop on Kotobukiya's going-ons with their first-ever panel at 5:30PM in 26AB.

You can view the full Thursday programming schedule on the MySched website.
What will you be lining up for on the first full day of Comic-Con? Let us know in the comments.