Toymakers Super7 is returning to San Diego Comic-Con and they're bringing a slew of exclusives with them. You can find Super7 on the exhibit floor at Booth #4945.
Super7 is focusing on three different properties this year: Masters of the Universe, Aliens, and The Worst. We'll be updating this master post with their exclusives as they get revealed, but for now, here's a look at what they'll be bringing to the convention:
[UPDATE July 15]
Super7 unveiled a series of The Worst figures headed for the convention, as unpainted white debut samples. The pieces – which include Batula, Black Falcon, Gas Phantom, Robot Reaper, Snake Tut, and X-2 (The Unknown) – come with cardback art by Ed Repka. Grab these at Super7's Booth #4945.
[UPDATE July 14]
Just in case your entire wardrobe wasn't already figured out thanks to Super7's booth offerings, they've just gone and announced all of the apparel for Skeletor's Lair. You'll need a token from the booth to gain entry – and trust us, you're going to want to.
[UPDATE July 12]
Super7 just dropped photos of your entire wardrobe for the three weeks following Comic-Con. They'll have all these shirts and sweatshirts featuring Stars Wars to Mega Man at their booth. Prices range from $25-45.
[UPDATE July 11]
Super7 just unveiled a ton of vinyl friends that will also be heading to the convention, available only at their booth.
[UPDATE July 7]
Super7 has barely scratched the surface of their Comic-Con exclusives, and today we've got two more items heading to the Skeletor's Lair offsite. Attendees will be able to pick up M.U.S.C.L.E. 24-Packs featuring exclusive packaging and colorways for Wave 1 characters and the debut of new Wave 2 figures (He-Man, Stratos, Sorceress, Orko, Fisto, Battle Cat, Grayskull, Skeletor, Evil-Lyn, Kobra Khan, Spikor, and Stinkor).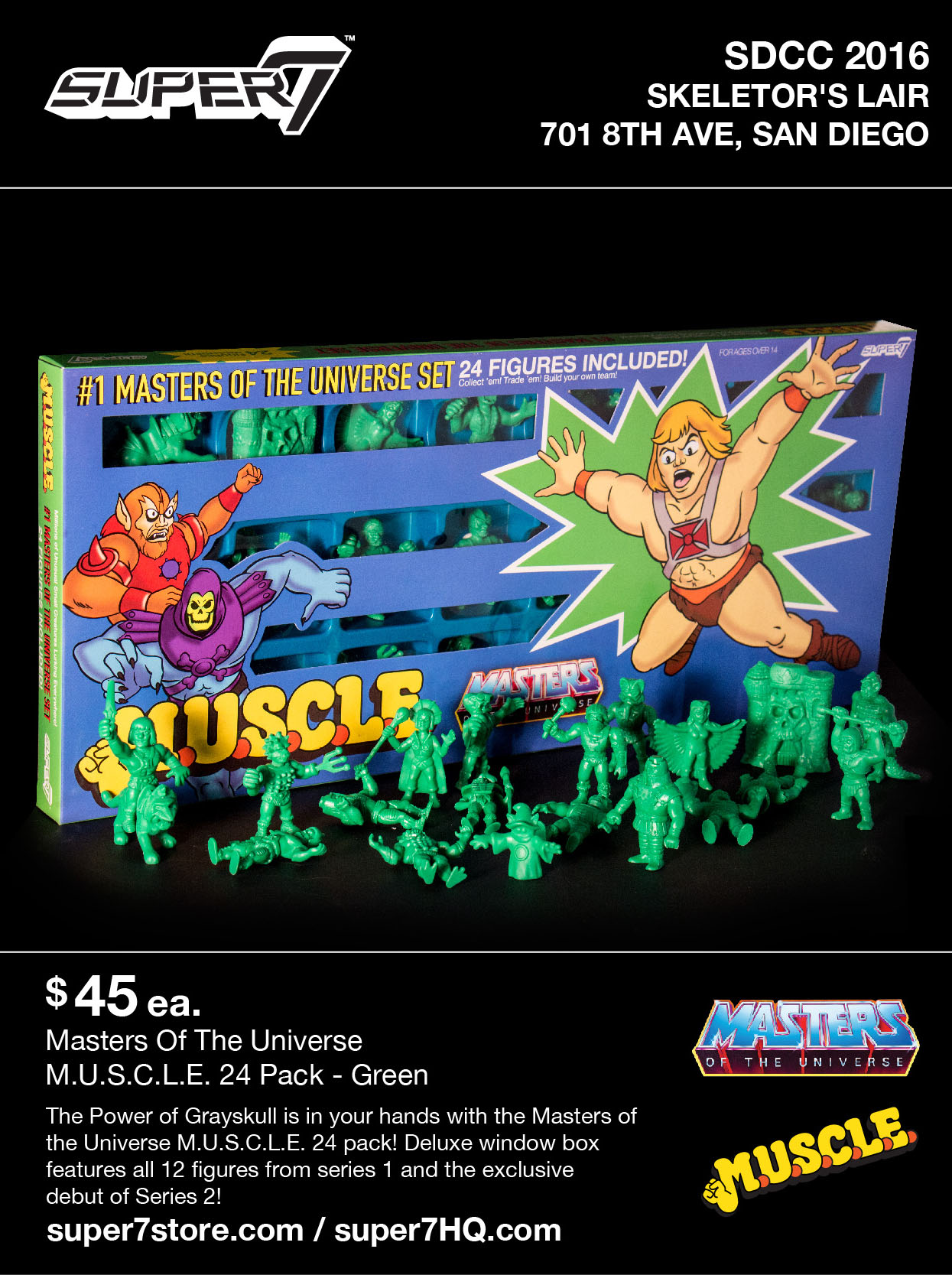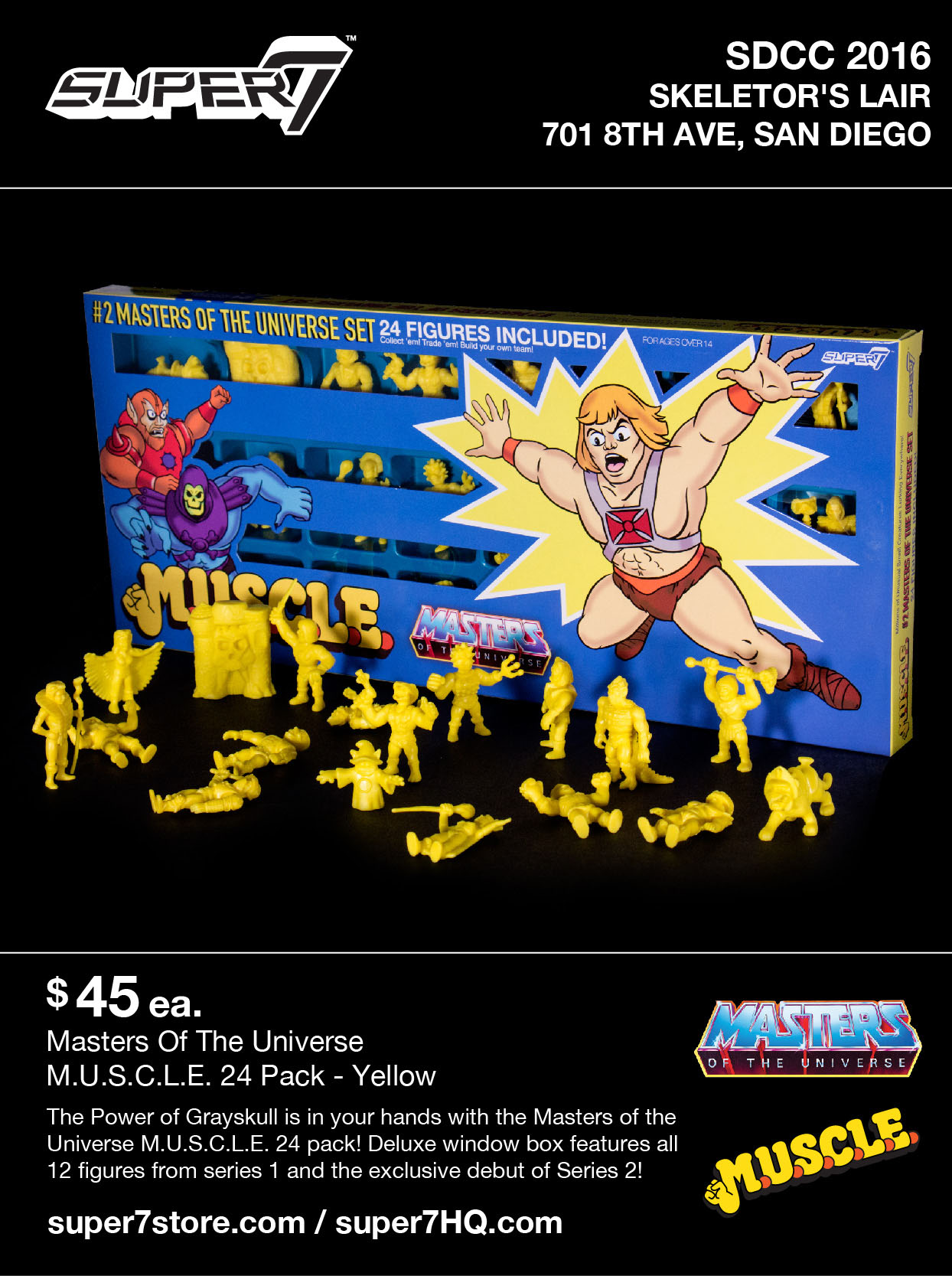 [UPDATE July 6]
Super7 has shared the next in their San Diego Comic-Con exclusives – Masters of the Universe 3.75″ Action Figures, which will retail for $15 each. You'll be able to score Tri-Klops, Trpa Jaw, Man-At-Arms, and the Sorceress – all at their offsite Skeletor's Lair.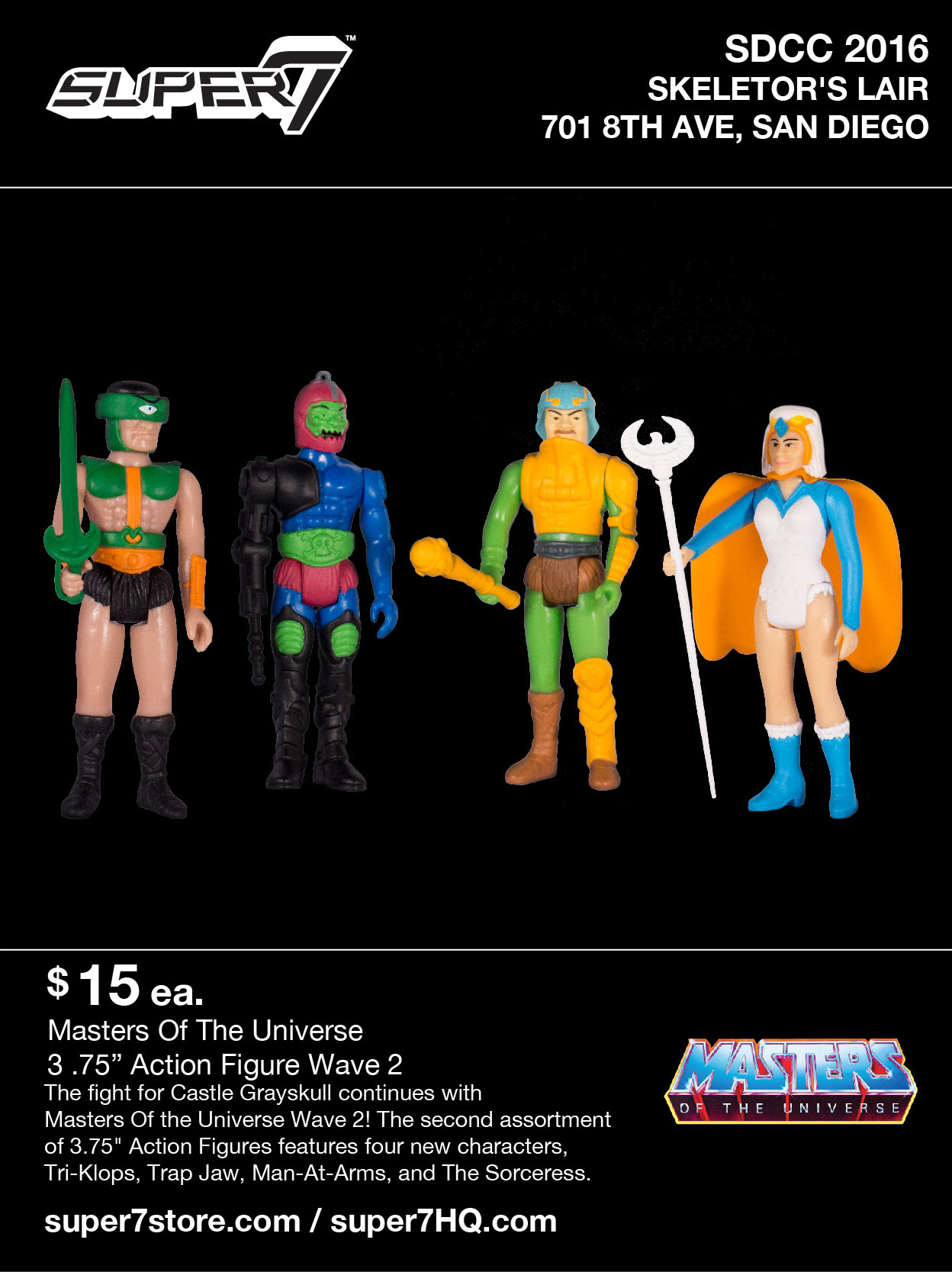 [UPDATE July 4]
Action Figure Insider has the scoop on one of the coolest Super7 exclusives at this year's convention: an 18″ Alien Warrior figure, designed to look like a prototype similar to the 1979 Kenner Alien 18″ cancelled action figure… only this figure never existed. They've had fun with the theme though, as the packaging include mock design notes. The figure is articulated at the hips, shoulders, wrists, and tail – and the jaw is spring-loaded to release the inner jaws.
No word yet on pricing, but from AFI, here's a look:
[UPDATE July 1]
Masters of the Universe Power Taken: The Power Taken allows the bearer entry into the Skeletor's Lair Pop-Up Shop, to barter for their share of the spoils and treasure within. AKA, you'll collect this token at the Super7 booth to gain entry to their downtown store… where there will be awesome things awaiting.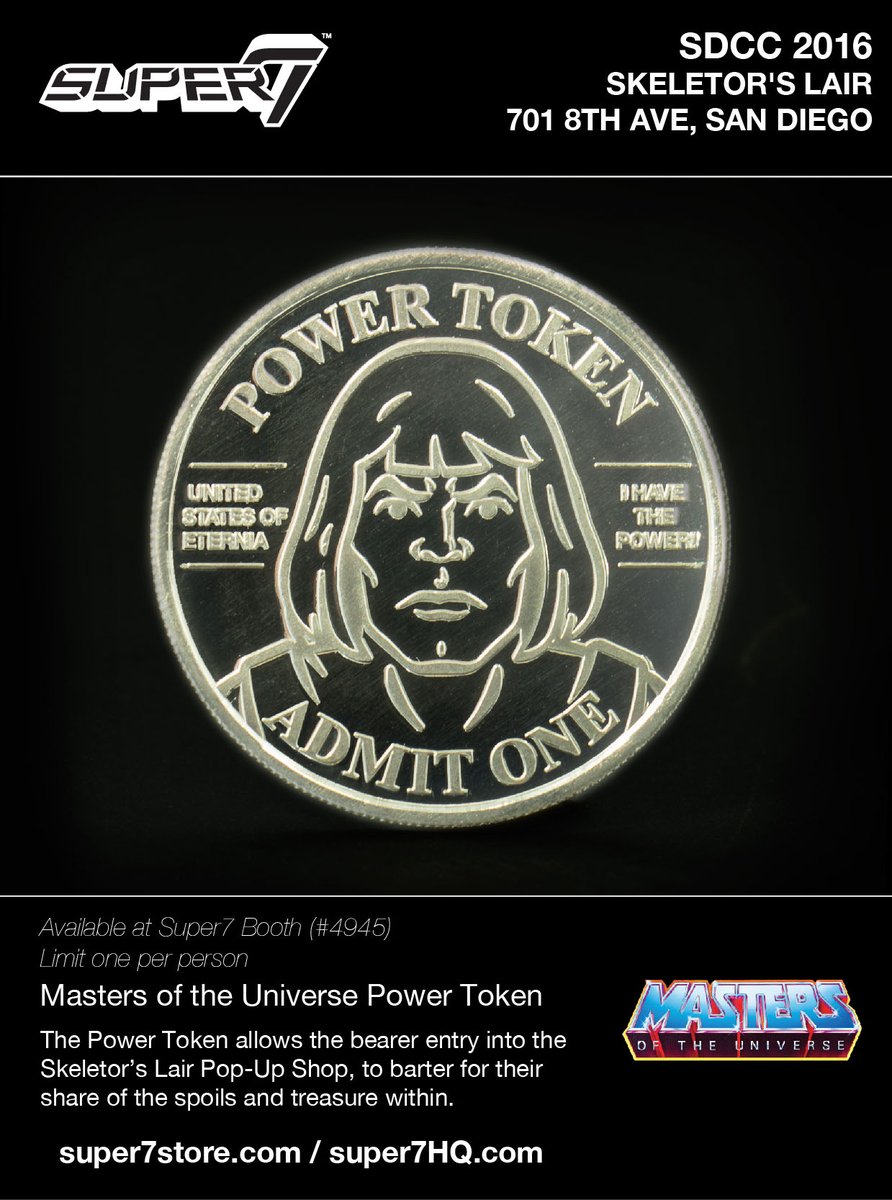 [UPDATE June 30]
M.O.T.U.S.C.L.E. Multi-Color Trash Can Assortment ($20): This new Trash Can features Skeletor's face on the molded lid will bring vintage M.U.S.CL.E. fans right back to the post. Each trash can pack will contain all of Wave 1 in multiple colors, including He-Man, Skeletor, Mer Man, Buzz Off, Man-E-Faces, Ram Man, Teela, Tri-Klops, Trap Jaw, Man At Arms, and Beast Man.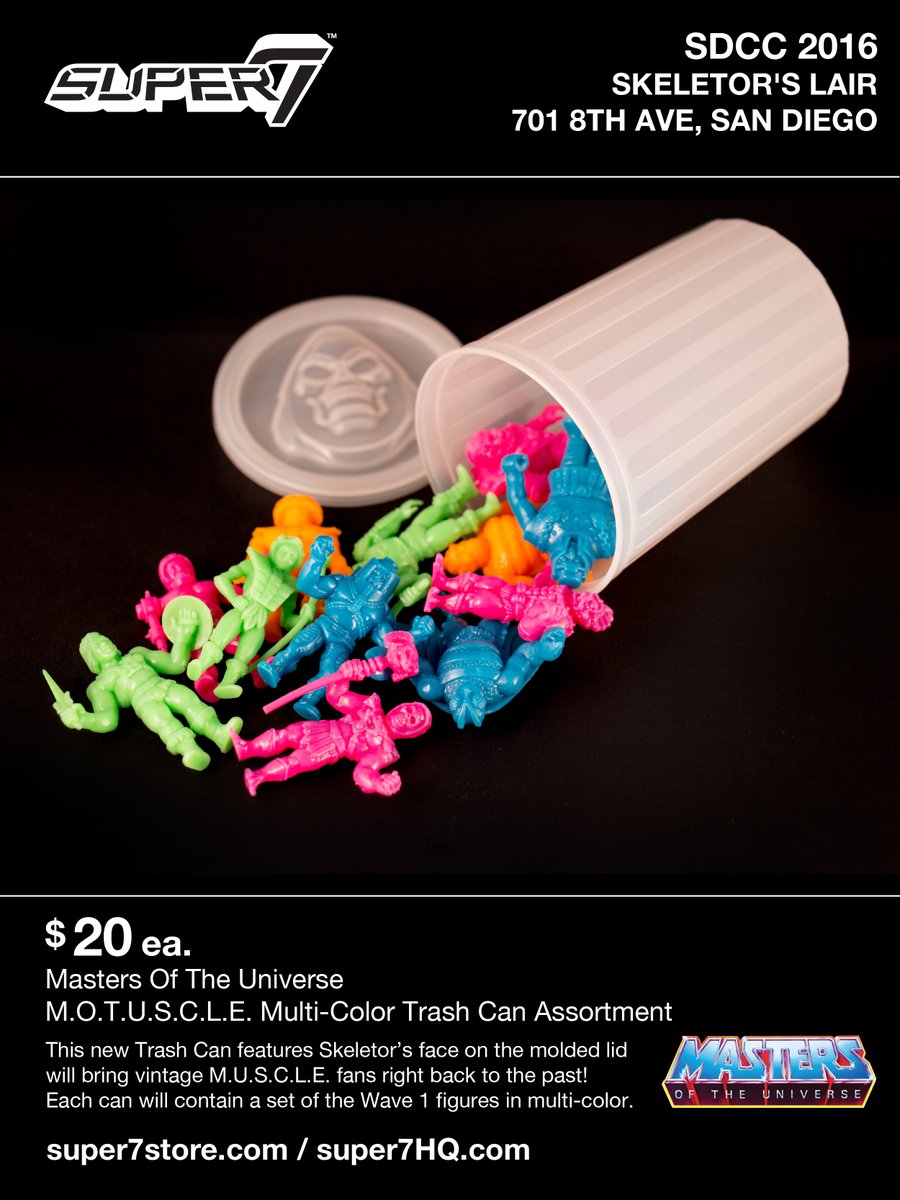 What are you hoping to grab from Super7 this year? Let us know in the comments.