It might seem like a slow news day – but we've got enough San Diego Comic-Con news to fill two Under the Tents editions today! So here's your first one.
Here's a look at the news you might have missed:
Greg Ruth recently took to Twitter to show off his work in progress Finn. The popular former member of The First Order is bound to be every where at SDCC including booth #4701-#4705 to pick up this art.
WIP of "Finn 2" exclusively for SDCC booth numbers 4701-4705. Come by and free yourself from The First Order pic.twitter.com/mS0fyaAdh1

— Greg Ruth (He/Him) (@GregRuth) June 29, 2016
Fans of the Power Rangers should be excited for this next bit of news. as Power Morphcon posted on Instagram about signings at SDCC. This includes Ciara Hanna, Jason Ybarra, Jason Faunt, and Andrew Gray  who will all be signing at the Power Morphcon table (#A-09) at various times.
Heads up if you're attempting to make a purchase at the NECA booth this year. The action figure company was recently asked if they would ONLY be taking cash at their booth and the answer? YES.
— NECA (@NECA_TOYS) June 29, 2016
Mysterious Galaxy Books will be bringing a few creators to their SDCC booth for presumably a signing. You can meet Josh Finney and Patrick McEvoy, creators of World War Kaiju and Casefile: Arkham. According to the tweet, you can find Josh and Patrick at booth #1119 on Thursday, July 21 at 4PM.
#SDCC2016 Meet the creators of #WorldWarKaiju and #CasefileARKHAM thanks to @MystGalaxyBooks pic.twitter.com/mdbSwQFn0C

— 01Publishing (@01Publishing) June 29, 2016
Beware of Skeletor's Lair! The mysterious lair will be open during Wednesday – Sunday during SDCC according to the video Super7 tweeted out on 701 8th Ave.
#MOTU #SDCC2016 #SDCC #SKELETOR pic.twitter.com/nYVVLi3Wf6

— Super7 (@super7store) June 29, 2016
HBO is bringing back the Game of Thrones with their Hall of Faces exhibit during SDCC. No further details from the HBO tweet but in years past has been held at the Omni Hotel. A SDCC attendee has no name…
Send a raven.#GameofThrones is headed to #SDCC. Visit #TheHallofFaces from 7/21-7/24: https://t.co/DAyVv7jVJ3 pic.twitter.com/dURgjBvW0J

— Game of Thrones (@GameOfThrones) June 29, 2016
Production manager Rick Tunell recently tweeted out a photo of his July calendar and it included something of interest. A note on July 21 reads "Dani + Eco comic-con". Sounds to us like Daniela Ruah and Eric Christian Olsen from NCIS: Los Angeles might be appearing at SDCC, possibly for a signing? It's happened before…
We have a plan. Prep at full speed. Some new faces and surprises. Photos coming soon. #ncisla pic.twitter.com/AEcb4geg9n

— Rick Tunell (@rtunell) June 29, 2016
Our buds at The Ninjabot have opened up their commission list for San Diego Comic-Con – and you should 100% jump on that. Because who wouldn't want their favorite pop culture character in cat form?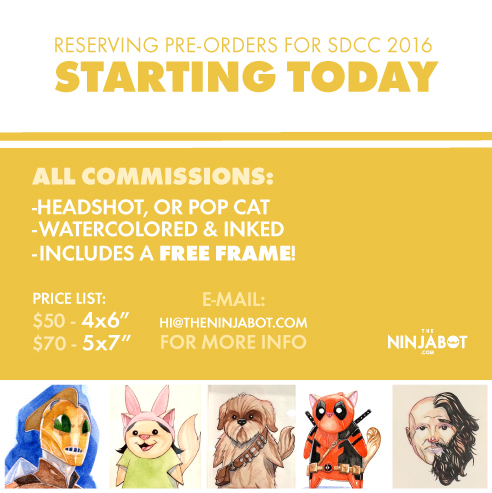 Top Cow showed off an exclusive print headed to their booth this month.
Sadly, @stjepansejic can't go to #SDCC this year. But this exclusive print will be available at the Top Cow booth. pic.twitter.com/SvzZlXUL1b

— Top Cow (@TopCow) July 1, 2016
Anything we missed? Let us know in the comments, drop us a line or tweet us at @SD_Comic_Con.