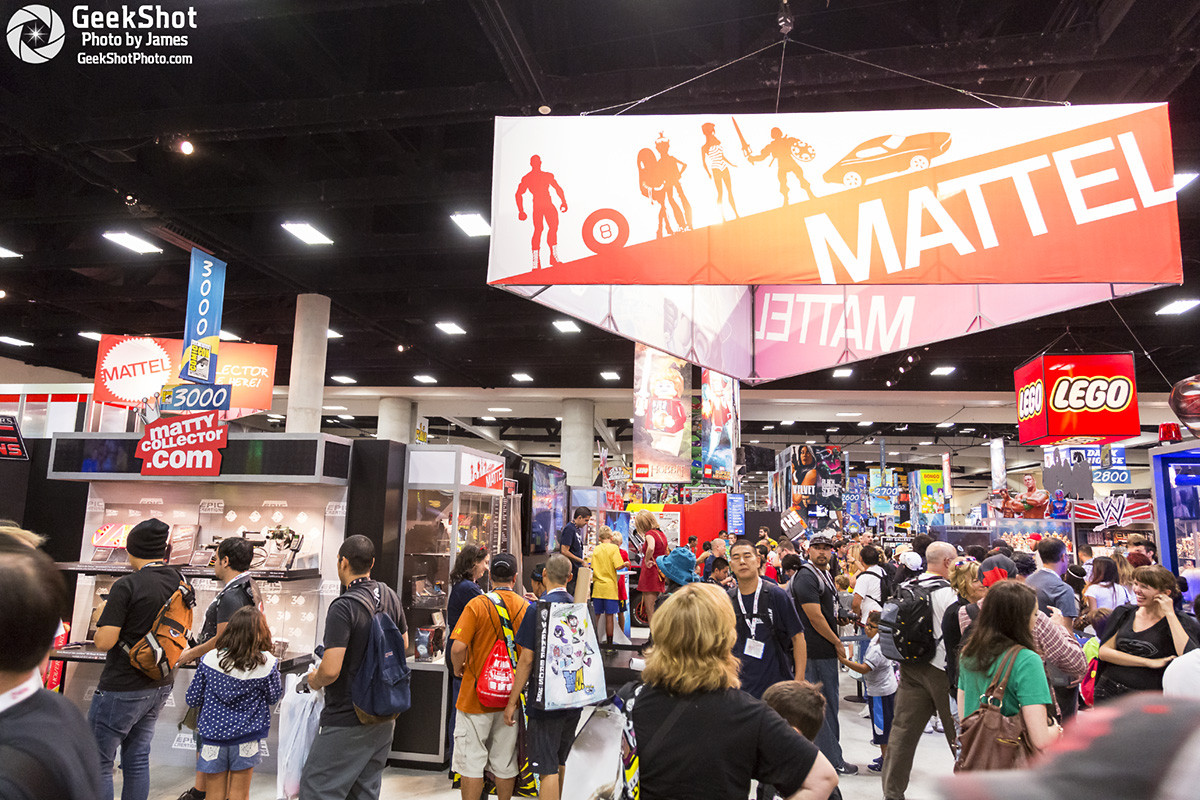 Just like Hasbro (whose online sale launches August 9) – Mattel is bringing back their After Party Sale, where anyone who wants to purchase select San Diego Comic-Con exclusives can. The sale will open at 9AM PT on Monday, August 15.
Here's the full list of products available:
DC Comics™ Multiverse Suicide Squad™ The Joker and Panda 2-Pack — $40
DC Comics™ Multiverse Wonder Woman™ Figure + Invisible Jet – $15
DC Super Hero Girls Katana – $40
Disney•Pixar Cars Precision Series Die-Cast Dirt Track Fabulous Hudson Hornet Vehicle – $25
Ever

After

High® Cedar Wood® SDCC 2016 Exclusive Marionette Doll – $30
Ghostbusters™ Lights & Sounds Multi-Pack – $24.99
HALO® Spartan Helioskrill – $25
He-Man and the Masters of the Universe® She-Ra® – $75
Kubros TMNT – Leonardo™ vs. Bebop™ Special Edition Set – $25
Kubros TMNT – Michelangelo™ vs. Rocksteady™ Special Edition Set – $25
Minecraft Survival Mode Player One – $15
Monster High® Ghostbusters Frankie Stein® Doll – $25
Monster High® Robecca Steam® & Hexiciah Steam™ Dolls – $40
Thomas & Friends™/DC Super Friends™ MINIS – $19.99
ThunderCats™ WilyKit & WilyKat™ 2-Pack – $60
WWE® Elite Figure Shockmaster™ Limited Edition – $30
They do caution that "some of them are down to very limited quantities, so make your wish list and get ready to shop early".
You can find the full list of Mattel's San Diego Comic-Con exclusives here, and be sure to keep an eye out on Monday morning, as this is your last chance to snag Mattel SDCC items.
This will also be one of the last times to experience MattyCollector.com as you know it – as as of December 31, 2016, the website will be going away. Super7 will be taking over the manufacturing and delivery of Masters of the Universe and other collector lines – and they'll also unveil the expanded line for MOTU at SDCC 2017.