We're still not recovered from San Diego Comic-Con 2016 – but it seems we've got our first bit of news about San Diego Comic-Con 2018.
As first reported by An Englishman in San Diego, it's entirely possible that we have San Diego Comic-Con 2018 dates: July 19-22, 2018.
For the last few years, the dates for future conventions have been quietly revealed on the San Diego Convention Center's website, well ahead of an official announcement from Comic-Con International. Back in October, we shared 2017 dates, which were later confirmed by CCI last month. And now, the Convention Center has quietly added a new entry that looks very familiar to SDCC attendees: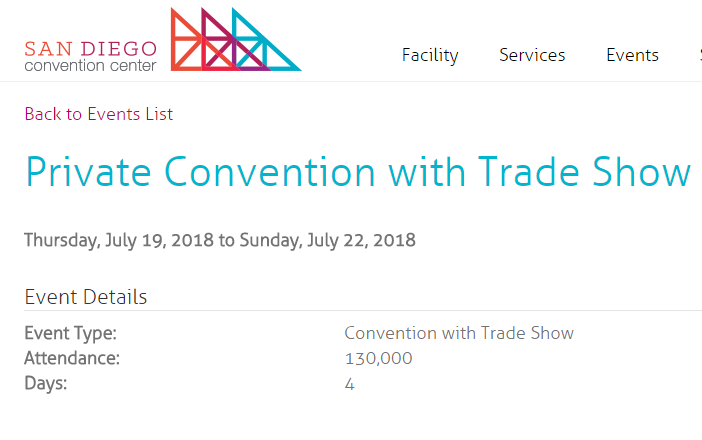 130,000 attendees? A Thursday-Sunday convention, in the exact same week as the convention was held in 2016 and will be held in 2017? Not much else that could be.
Historically, the San Diego Convention Center leaves off Wednesday's Preview Night date from their calendar, which would set the convention at July 18-22, 2018 for all four and a half days.
Currently, 2018 is the last contracted year for San Diego Comic-Con to stay in, well, San Diego – but negotiations are ongoing for future years. Hopefully we'll have some news on that front sooner rather than later.
Will you be checking hotel sites now? Let us know in the comments.