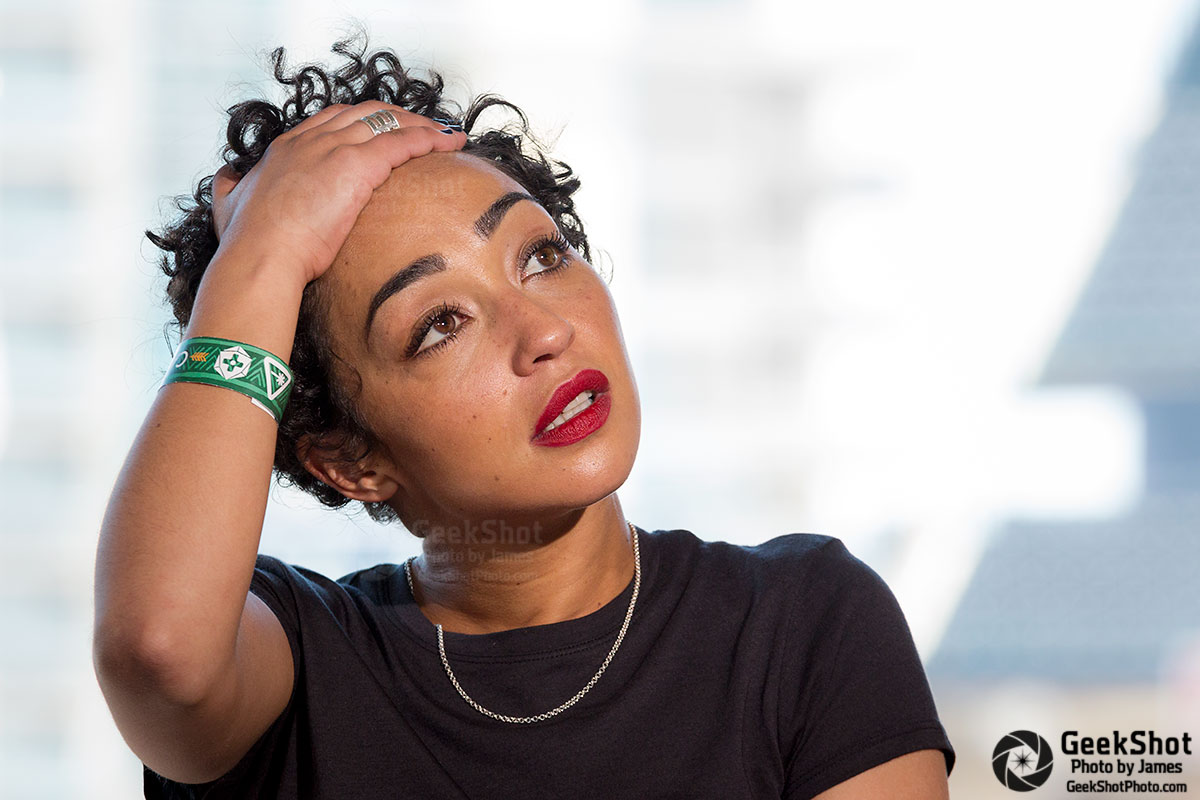 Welcome to the GeekShot Photo Exclusive Series. This will be a weekly post featuring cool, interesting, or just plain awesome moments we have captured during San Diego Comic-Con and WonderCon. Each week we'll post a photo by Beth or James of GeekShot Photography. We may include a short story about the photo, but sometimes we'll just let the photo speak for itself.
About This Photo
Ruth Negga at the Preacher interview at (the outdoor) Camp Conival during San Diego Comic-Con 2016.
Can we talk about how hot and humid it was this year? It was hot. And humid. There, that's done. Let's speak of it no more.
The expansion of SDCC to the "Comic-Con Campus" over the last few years has allowed for more, interesting, and different photos of guests and panelists. Instead of photo after photo that includes the SDCC logo, water bottle/pitcher, and microphone we can now capture a variety of scenes and backdrops. There's Conan, Nerdist and Geek & Sundry's Conival, EW's Con-X, Comic-Con HQ's live stage, Nerd HQ, SyFy's Live from Comic-Con, and all the other specific themed offsite activations.
You now have a chance to capture your favorites in more than one place and that means you have a choice where you see them. That's a very good thing. If you have a scheduling conflict that would make you choose between the Preacher panel inside the con and something else, knowing you can see some, if not all, of the same panelists at one of the offsites will make your decision a bit easier. It creates a need for advance schedule tetrising skills, but that's nothing compared to not having a choice. In past years, there was no choice.
For myself, this created a much more relaxed con. I wanted to spend more time photographing and less time waiting to do it. Knowing I could get shots at all these different events allowed me freedom to move around and make decisions I normally wouldn't.
Did you take advantage of offsites more than before? Let us know in the comments.
You can see all of the previous posts in this series here.
This photo is copyright (All Rights Reserved) by Beth and/or James Riley of GeekShot Photography. It may not be copied, reposted, published, or used in any manner without their written permission.