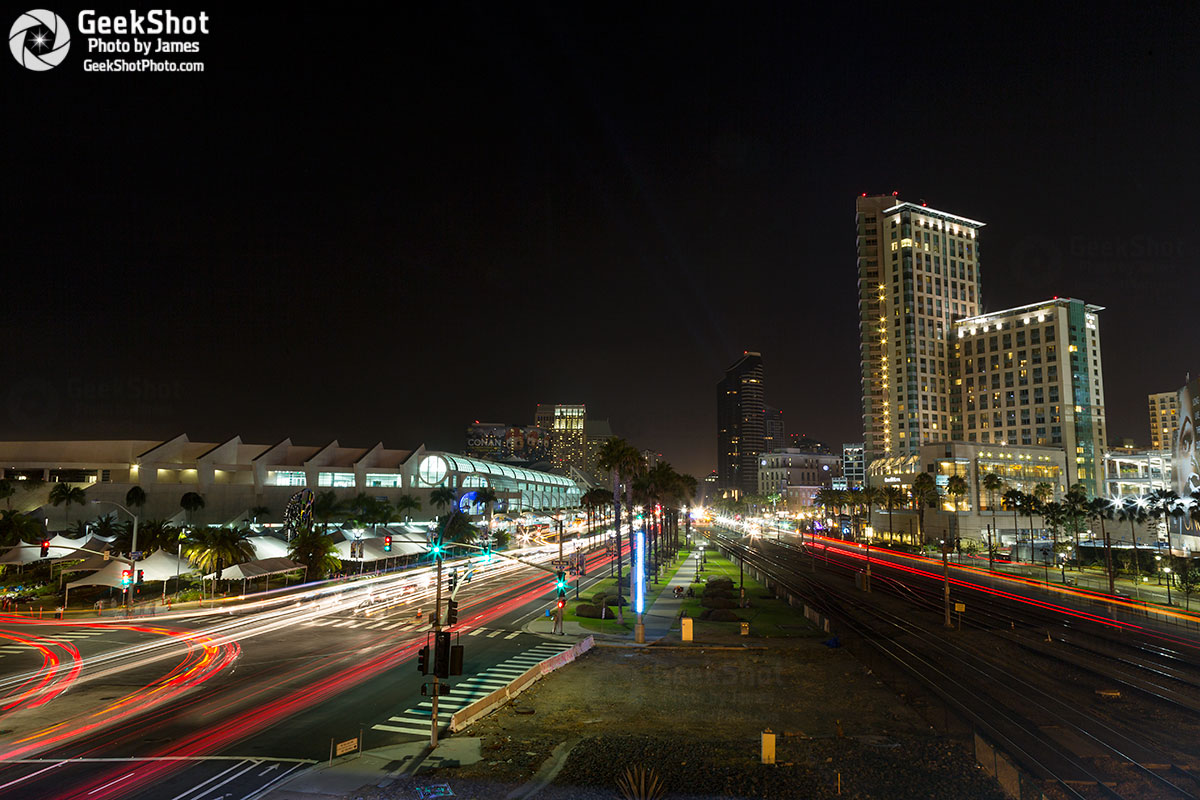 Welcome to the GeekShot Photo Exclusive Series. This will be a regularly recurring post featuring cool, interesting, or just plain awesome moments we have captured during San Diego Comic-Con and WonderCon over the years. Each post will include a photo by Beth or James of GeekShot Photography. We may include a short story about the photo, but sometimes we'll just let the photo speak for itself.
About This Photo
San Diego at night during SDCC 2016.
We're back with Volume Four! We took an extended break because, well, we needed it. We hope you'll enjoy this coming year of photos as we show the variety that Comic-Con offers.
The last couple years have started off with a bit more muscle, but we felt showing off the city and convention center at night was a good way to come back after our break. Also, no one removed their shirt at any of the panels we attended last year.
I took this on the bridge over Harbor close to midnight on Saturday night last year. I spent about an hour taking long exposures. This one is a 30 second shot at f18 and ISO 100. I wanted to capture the light trails from the cars and trolley, so it took some time and multiple shots to time it just right.
Taking time out for photos around the Gaslamp instead of running around to panels and events was one of the things I wanted make sure I did last year. I did manage it as you can see, but only for a few hours out of the entire weekend. Maybe this year I'll manage a few more hours and find somewhere new and interesting to take another long exposure.
Did you take time out for something different last year? Let us know in the comments.
You can see all of the previous posts in this series here.
This photo is copyright (All Rights Reserved) by Beth and/or James Riley of GeekShot Photography. It may not be copied, reposted, published, or used in any manner without their written permission.