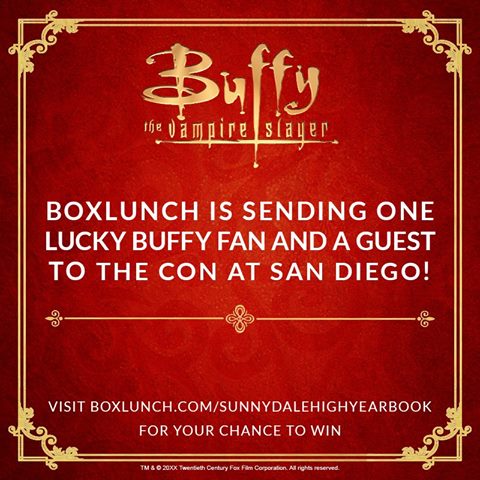 It's been 20 years since Buffy the Vampire Slayer first staked a claim on your heart – and this year you can celebrate in a big way. In addition to all sorts of new merchandise, comics, and more to celebrate the anniversary, Buffy is teaming up with BoxLunch to send one lucky winner to San Diego Comic-Con 2017.
Between now and March 24, 2017 at 11:59PM PT, you can enter for a chance to win badges, airfare, a hotel room, and more. As any Comic-Con attendee hopeful knows, that's a big deal.
Here's a complete look at what the grand prize includes:
Two (2) 4-day badges to San Diego Comic-Con 2017
Two (2) Round trip economy air fare tickets to San Diego
A 3-night hotel stay
$500 spending money
So how do you enter? Just click the link and enter your information, and upload your high school photo for a chance to win. A panel of judges will select a winner based on creativity and originality, and the winner will be notified around April 3, 2017. You must be 13 years or older to enter – and unfortunately, it's only open to US residents.
While this doesn't mean that we'll see a Buffy reunion at Comic-Con this year, if ever there was a year to do it, this one would make sense. Contests don't always indicate that a panel will follow (for instance, Bates Motel gave away a trip to SDCC in 2015, then skipped out on the convention), but Fox seems to be going all-out on this reunion. We're cautiously optimistic that we'll see them back on a Comic-Con stage this year.
For now, here's a look back at their 1999 panel appearance, from Eric Goldman of IGN:
#20yearsofBuffy #FBF to the #Buffy panel at #SDCC 1999. pic.twitter.com/8KtgGaRYHp

— Eric Goldman (@TheEricGoldman) March 10, 2017
Will you be entering this contest? Do you think we'll see Buffy back at Comic-Con? Let us know in the comments.