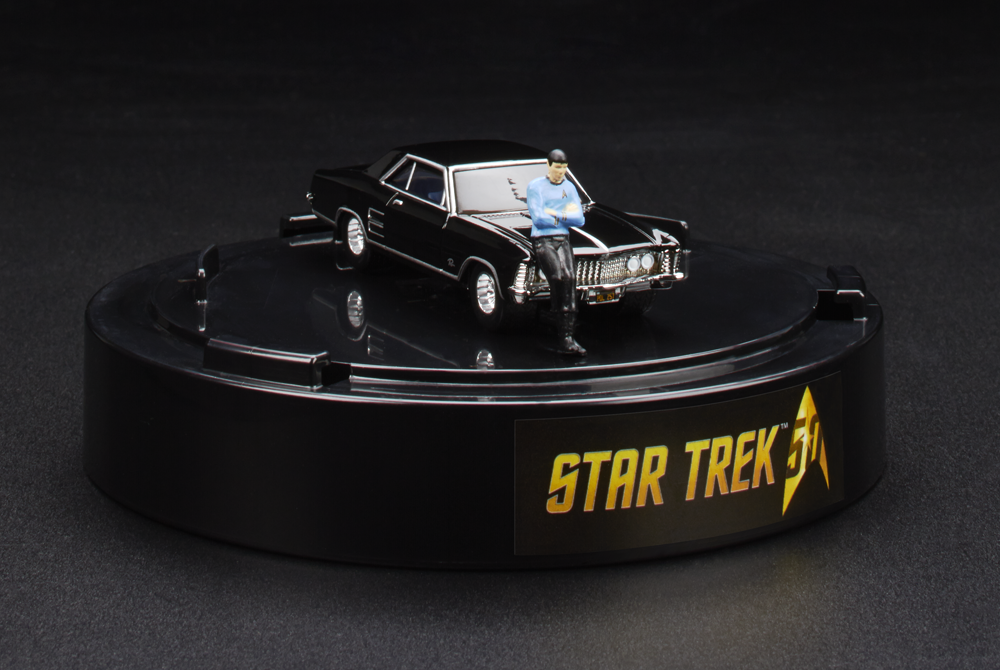 MattyCollector, what have you done to me?
Last year, you seduced me with your wares, and I dove head-first into the world of Comic-Con exclusive pre-orders. I was nervous and trembling, but you took my hand and led me through the process so gently. Then, I found it: Leonard Nimoy in his Spock costume leaning against his 1964 Buick Riviera. Even at 1:64 scale, he looked so cool and confident. My eyes dilated, my breathing became heavy, and my heart began pounding. I reached for my debit card, and in just a few clicks, it was done. I treasured your confirmation e-mail like a next-day "thinking of you" text.
When July finally came, I eagerly made my way to Comic-Con to see your promise to me fulfilled. I had your e-mail and your schedule, so I knew where to meet you. I walked into the hotel and made my way to your room, but you weren't there. I double-checked the time. I double-checked the room number. I checked your schedule and resolved to come back again later.
After several other tries that week, I took the hint. You weren't going to show. I saw from others that your appearances were brief, infrequent, and fleeting. You promised so much to so many of us, but unlike before, you didn't deliver. You had changed. You weren't yourself anymore. I thought that we were exclusive, but you began offering your wares to every Tom, Dick, and Harry online. I was devastated. I thought we had something special, something unique to our time at Comic-Con, but it turned out to be something else.
In all seriousness, when it comes to Comic-Con pre-orders and/or exclusives, I had a lot of faith in Mattel. I grew up with a huge Hot Wheels collection. I cried when my wife sold my Masters of the Universe action figures a few years ago. Mattel's reputation at Comic-Cons past was exemplary. For such a Comic-Con mainstay to change as drastically as they did surprised a lot of us.
But something did change. Last year, MattyCollector changed their online pre-order game. Instead of offering a Comic-Con-only exclusive sale, they opened up their "exclusives" to anyone who wanted to order online. Those of us who participated in the "exclusive" pre-order expected to pick up at the Marriott, but when many of us tried to cash in, we found empty chairs at empty tables. The MattyCollector table left many Comic-Con goers disgruntled on Thursday and into Friday.
https://twitter.com/M_Annetta/status/756673001605763072
During this time, when MattyCollector did show up, they managed to keep people waiting up to 2-3 hours to redeem their orders:
Pretty rough at @MattyCollector pick-up. Longer lines than we'd suggest waiting on & funnels to 1 table #SDCC pic.twitter.com/epfBAZVkU6

— Parks And Cons (@ParksAndCons) July 21, 2016
Several say 2-3 hrs to pick up @MattyCollector. As of 5PM they're warning you can wait but they may close on you https://t.co/Vh8xW1qCXi

— Parks And Cons (@ParksAndCons) July 22, 2016
If you waited those 2-3 hours and didn't have all of your paperwork IN HAND, there was potentially more frustration.
now they're saying they will pull you from line if you don't have ALL your paperwork READY. 2hr wait

— LBG (@tishamillar) July 22, 2016
In what could only be explained as poor timing, MattyCollector also announced just as Comic-Con was getting underway that they were shutting down as of December 31. Super7 would still carry MOTU and "adult collector lines", but that was it. They also shut down the "Ask Matty" customer service line.
https://twitter.com/MeisterShake/status/756529858646253572
As Friday during the convention progressed, however, they seemed to get things figured out at their table in the Marriott. Reviews began to mix, and people were starting to post positive news. Either someone at MattyCollector was reading our angry tweets, or they were getting tired of hearing us complain in person. Either way, it was a refreshing change for all those involved. The transition was slow and staggered, but improvements were made and welcomed with open arms.
@SD_Comic_Con Mattel pickup line is moving fast. Only 30 or so ppl in line right now, just got my order!

— Ashley Ruhl (@ashleyruhls) July 22, 2016
@SD_Comic_Con If anyone is picking up preordered Mattel items at the Marriot, at the moment no line, few people waiting for pickup

— turtlemau5 🐢 (@TurtleDude310) July 22, 2016
https://twitter.com/CaustikGrip/status/756575280005718016
Current Mattel line with 80 minutes to go. It's short. #SDCC pic.twitter.com/Ifof6uoAun

— SDCC Unofficial Blog (@SD_Comic_Con) July 23, 2016
By Saturday, things seemed a lot more positive and upbeat. MattyCollector seemed to get things together and was able to fill everyone's order who came by the Marriott. Feedback coming from customers did a complete 180. The staff manning the Marriott rooms was beefed up, which helped tremendously.
It's been pretty short since Thursday. They added more staff https://t.co/jKPxI1t5yB

— SDCC Unofficial Blog (@SD_Comic_Con) July 23, 2016
https://twitter.com/Clark_Ken_T/status/756920395727601664
For me, it was too little, too late. My attempts on Thursday and Friday left a bad taste in my mouth. Since Friday and Saturday are my big panel days, I decided to skip Mattel from then on and just try to get my money back. I was disappointed, but I would live.
As a last ditch effort, some of us tried on Sunday to swing by the Mattel booth on the Exhibit Room floor. The staff there was extremely helpful and patient. By the time I got there, my tale of woe was all-too-familiar to them. Denise, the booth manager, was especially helpful and went above and beyond to fill our orders. All I had to do was show her my confirmation e-mail. She was definitely not paid enough for her job that weekend, which should not have included listening to angry, disgruntled nerds vent their frustrations. I hope she got a substantial raise and extra vacation time. She deserved both!
HUGE shout-out to the @MattyCollector #SDCC booth staff for helping with an order issue. Thanks to Denise!! Made my #ComicCon

— Martin B. 2 (@KryptoKid509) July 24, 2016
Thus, MattyCollector's end for me at Comic-Con 2016 was met not with a bang, but with a whimper. OK, a lot of whimpers from a lot of angry, disappointed customers (myself included). With MattyCollector now defunct, we're not sure what Mattel's presence at San Diego Comic-Con will look like in 2017 – or whether Super7 will be taking over that side of things at the convention.
For me, I'm happy to say that Leonard Nimoy looks awesome leaning against his 1964 Buick Riviera on my entertainment center. After all I went through to get it, I think I'll stick to eBay or Kobey's Swap Meet to look for SDCC "exclusives" this year.