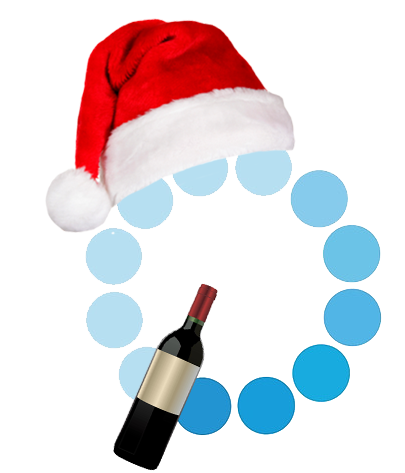 'Twas the Night before Comic-Con Online Open Registration and all through the net
People were stressing
On that you can bet!
Welcome to our prep tip guide for the night before San Diego Comic-Con Online Open Registration.  For years we have been stressing (no not that kind of stressing — well that too — but that's not what we mean here) the importance of being prepared for SDCC badge sales.
Here at the Ublog, we post many different tip guides on what needs to be done to prepare yourself for the big sale.  However, sometimes those little last minute details can cause havoc come badge sale morning.  We are already stressed, but add on top of it last minute things that we forgot to do, and our morning can turn into a mess.
So we've put together our 'Twas the Night Before SDCC' guide.  It's a basic breakdown of what you should get done the night before Comic-Con International Online Open Registration.  So get your list ready, this is what we think you should be working on the night before that Cheerio spoon in the sky drops into your cereal bowl.
Con Sale Area Set-Up:  To ease some of the morning routine stress (especially if you happen to wake up late), try prepping a spot for your computer(s) and written info.  Make this a do not disturb area and if you need to, inform the family not to disturb it.  Did someone say panic room?  Yeah, you can call it that.  You can even include an area for snackage…which brings us to the next tip.
Snackage:  Gather up those snacks. You might be staring at that screen for a bit and you really don't want to be fumbling in the kitchen to grab snacks when suddenly your screen pops open to the purchase page.  Get your store run done the night before and have those snacks handy.
Drinks:  Some of us may prefer the stronger elixr, if you know what I mean.  [Editor's Note: Wine. Definitely wine] Keep those drinks within reaching distance of your con sale area, but not too close.  Last thing you want is spillage and sparks.
Info Gather:  Make sure you have all the info you need gathered in one spot. Some of the information you will need is:

Last name -yours and anyone you're attempting to purchase a badge for
Member ID – yours and anyone you're attempting to purchase a badge for
Registration code – Only yours, do not share this.
Credit Card payment information – card number, expiration date, code, name on card, and billing address.
Link to the waiting room  – preferably added to bookmark bar – quick and easy
Apps – If communicating with a group have it downloaded and ready to go, or any other means of communication that you will be using if working with a group.

Print it Out – Print out all the above information to have as a handy dandy list.  So that way there will be no need to search for it.  Or, if you prefer, have it loaded and ready on your computer.  Whichever floats your boat.
Know Your Stuff – Read through Comic-Con International's helpful Toucan Blogs and Open Registration information, as well as our own Visual Guide one last time. You'll feel calmer, knowing that you have studied up.
Set Alarms – We've said it before and we'll say it again, set those alarms.  You do not want to sleep through the waiting room queue during entry time. If you're sitting there wondering how anyone could let that happen — just look at Twitter after the sale. It's happened before and it will happen again.  Be the one alarm to rule them all!
Wake up that Computer!  Not only do you want to make sure you're not going to sleep through the sale, you want to make sure your computer doesn't take a nap at the wrong moment either.  Turn off the sleep mode.
The Final Countdown Check:  Last check of computer is always good: Links, Java, cookies.
Browsers:  Any additional browsers you will use already downloaded, installed, ready and tested.  Remember no multiple tabs.
Stress Tweeting:  Stress tweeting, it helps.  Or if you wish to be extra clever, have some of those witty twitter comments pre-written, that helps too.
Prep Thyself for a Staring Contest:  Be prepared to stare at that spinning circle of doom. Learn it, love it, stare at it!
Do you have any of your own SDCC night before prep traditions that you do to get ready for Online Open Registration?  Feel free to comment and let us know what you do to prepare the night before the big sale.
Good luck to all and to all a good night!