Welcome to another edition of Con Flashback where the staff of the San Diego Comic-Con Unofficial Blog take a look back at various moments from SDCC over the years. This week's topic comes internally and a few us discuss some of our favorite sketches and commissions from SDCC. Do you have any sketches or commissions from San Diego Comic-Con? Share yours in the comments below!
---
Kerry Dixon
I always come home from San Diego Comic-Con, or any con, with more art than I have wall space for, which is where most of my money at conventions goes. My favorite pieces, though, are from/about Comic-Con — including two older Extracurricular prints (I miss them!) and that awesome Matt Needle Guardians of the Galaxy print they gave out in Hall H a few years ago (a panel I didn't even go to, but it reminds me of the con, my favorite con roommate gave me hers, and it's awesome, so whatever!).
I've had things commissioned before, but it never occurred to me until last year that I should have something created specially that reminds me of San Diego. So I asked one of my favorite artists, the intrepid Patrick Ballesteros, to come up with something that included Tony Stark and Steve Rogers, and Comic-Con. He came up with the concept himself — Hulk as a security guard, not totally buying Tony and Steve's badges. Just who did these kids think they were?
I love it. It was everything I could have hoped for and more. And the only thing I'm possibly more excited about are two SDCC-related commissions I'm having made this year.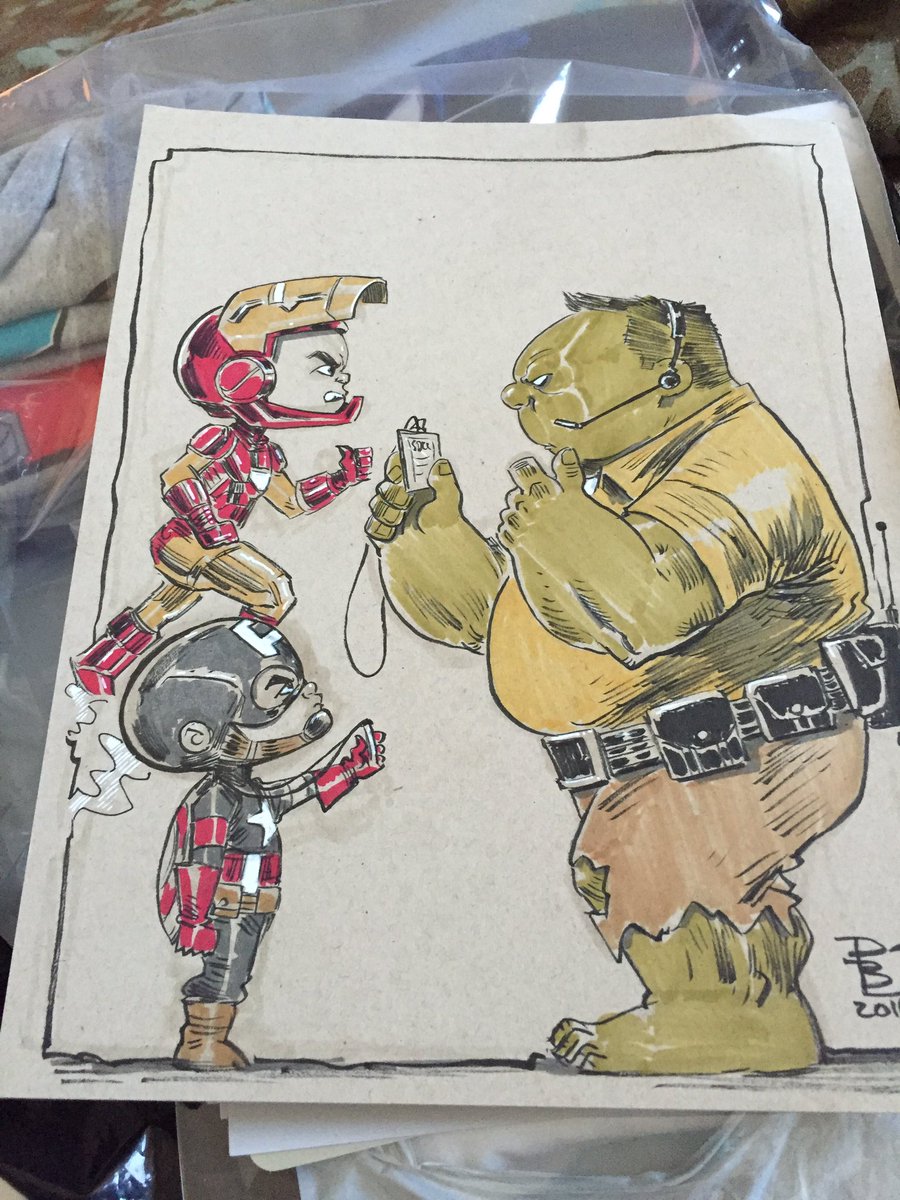 Andrew Wagner
My favorite SDCC artist's sketch is actually a twofer. Last year, I had the pleasure of coming across Amy Mebberson, the genius behind Disney's Pocket Princesses, among others. She had small headshots of the various Disney Princesses for sale. Every year, I look for gifts I can find for my wife, who is a huge Disney fan, and I thought these would be perfect.
For those of you not familiar with Sleeping Beauty, Disney often markets Princess Aurora wearing a pink dress. However, in the original film, she's seen wearing a blue dress. My wife, being a Disney purist, prefers to collect anything Aurora in a blue dress. These have become increasingly difficult to find, so when I found Aurora in a blue dress on Amy Mebberson's table, I got excited.
Not only that, but she even had a headshot of Princess Aurora in her peasant dress! At that point, I was hooked. Amy Mebberson is someone who takes her Disney art seriously. Not only that, but when I told her why I was buying them, she even signed Aurora in her pink dress. These two headshots are featured prominently in our living room with the rest of her favorite Disney collectibles.
I am very excited to see Amy Mebberson at SDCC again this year. She always has something great at her table. Plus, I believe she's still taking commissions. You can find her on Twitter @amymebberson.
Lisa McDowell
Every year at San Diego Comic-Con it's easy to walk away with some amazing sketches and art. I have to say one of my favorite pieces that I've ever acquired at SDCC might come as no surprise to those who know me. My favorite by far is a piece by the very talented John Picacio — a print of 'A Song of Ice and Fire' – Eddard Stark.
What I love best about this print is not just the fact that it's my favorite character from my favorite book series, but it's the beauty and experience of it all. John Picacio has been able to capture the George RR Martin book characters so well that from the moment I saw his work I was hooked. He has been drawing these characters since before the story spun it's way to t.v. and popularity. Every detail in his work is amazing. It's as if he took what I saw inside my own head and brought it to reality. Then, finally getting the chance to meet John Picacio after years of loving his work, well that was an amazing experience that was icing on the cake.
If you have never seen John Picacio's work, It is absolutely fabulous and you can view it on his website.