We've always said, sometimes the most memorable moments of San Diego Comic-Con are the ones you accidentally fall into. Maybe you were supposed to line up for Hall H on Saturday but overslept, and ended up walking the Exhibit Floor and ran into your favorite celebrity. Or maybe the line for that panel you wanted to go to was way too long, and you ended up walking into the room next to it, and ended up having the time of your life. It happens, and it's why Comic-Con is so special for so many people.
We get that feeling writing for the site as well. We dig up tons of information each day to present to our readers, and every once in a while we find something that took us by surprise – a real diamond in the rough that might have passed us by in favor of the big Hollywood news which usually overbears everything else.
That's how we felt when we found this poster-in-progress on Instagram: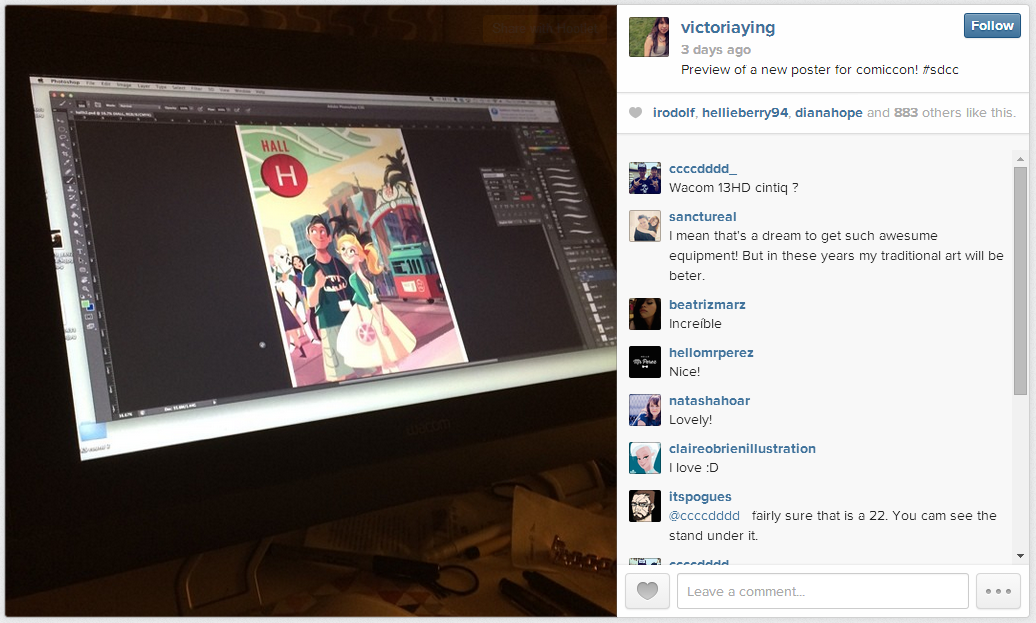 We dug a little deeper and discovered the artist of the poster, Victoria Ying, is half of the husband-and-wife team who started Extracurricular Activities, an L.A.-based art studio. The other half of the duo is Michael Yamada, and the two are artists in the animation industry and have worked on projects for Disney and DreamWorks Animation.
Some of you may already know of ECA's work, and in fact our own Shawn "The Con Fluence" Marshall has their previous poster, a customized-to-order Comic-Con print available now via the ECA website.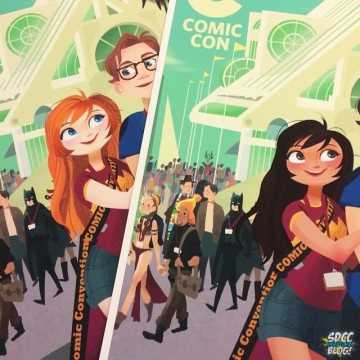 But we'll be honest, this is the stuff you miss when you're spending all day in Hall H; and it goes to show that wherever you look, you're bound to find something interesting at Comic-Con. That's where we're happy to help our readers.
Thanks to Ying, we now have details on the "Hall H" Comic-Con poster, new for 2014, and shown below as a work-in-progress.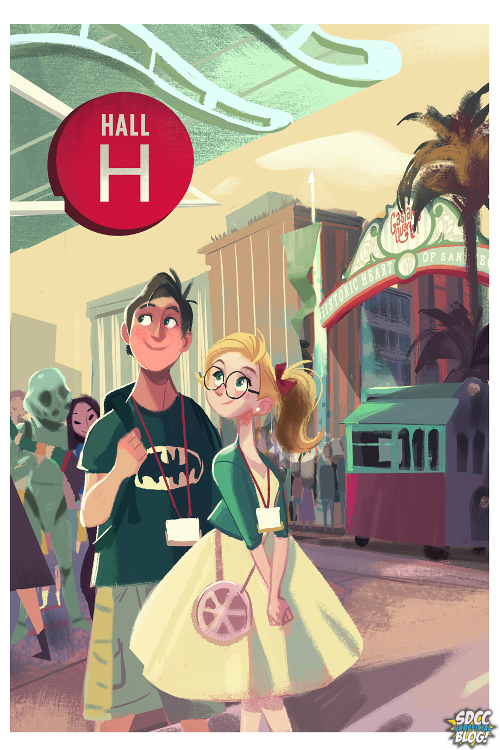 The poster will measure 12×18 and will be printed on archival quality matte paper. It will be available for $25 at the Extracurricular Activities booth during the convention. Pre-stamped postcards of their prints will be on hand at the booth, and – as a neat perk for those who stop by – a mailbox they'll drop off each night so attendees can send them to friends and family to say, "wish you were here."
The Extracurricular Activities booth is #1734 on the exhibit floor, located behind the Peanuts booth by Small Press. You can check out their available prints, including the Custom Comic-Con poster above, by visiting the ECA Website. 
Will you be stopping by the ECA booth on the exhibit floor? Let us know in the comments. And tell them we said hello!