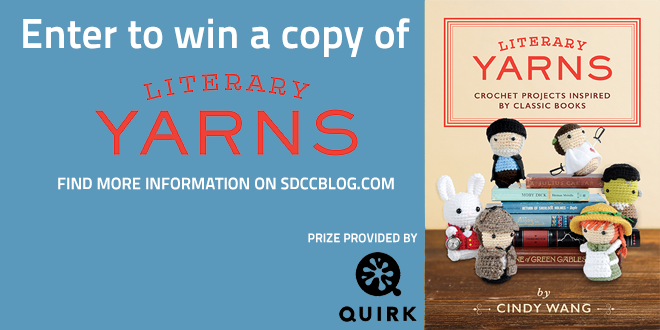 If you're anything like us, you absolutely love Geeky Hooker's crocheted critters, which she hides around the convention center for attendees to find and take home (and make sure you're following her on both Twitter and Facebook for information on the drops!). She creates adorably geeky creations, ranging from Deadpool to Batman and more.
What you may not know, though, is that Geeky Hooker herself — Cindy Wang — has a book out that will teach you how to create your own adorable crocheted critters from the literary world. Ever wanted to have tea with your very own Elizabeth Bennet? Want to tackle a puzzle with the aid of Sherlock Holmes? Longed to have your own Anne of Green Gables to go on long walks with?
Now you can, with Literary Yarns. And there's two ways to get your hands on a copy of the book. You can grab your own copy in hardback or digital format — or you can sign up below to win a copy, courtesy of Quirk Books.
Simply follow the instructions below by Sunday, May 28 at 11:59PM PT. We'll alert the winner, who will have 24 hours to claim their prize.
You can find more information on Literary Yarns on Quirk Books.