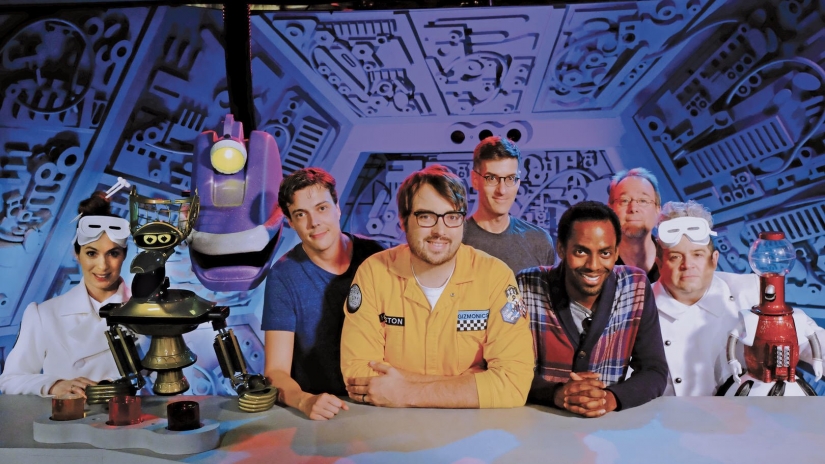 MST3K fans rejoice! Joel Hodgson is bringing your favorite bad movie critics to The Balboa Theatre during SDCC this year, with not one, but two shows. You'll be able to catch the cast live, which includes new host Jonah Heston (Jonah Ray), Crow (Hampton Yount), Tom Servo, and Gypsy, on Friday, July 21 at 7PM and/or Saturday, July 22 at 7PM.
Joining the cast is Synthia (Rebecca Hanson) and her Bonehead henchmen. Monitoring the hapless crew from the ground will be Kinga Forrester (Felicia Day) and Frank (Patton Oswalt).
Want even better news? It's a double dose of MST3K. The show consists of two completely separate B-movies, so if you want the full effect, you'll need to buy two sets of tickets (one for each show). Friday's show will be MST3K favorite Eegah! (with all new riffs!), while Saturday's show will be a super-secret surprise movie never before featured on MST3K (so it won't be Mitchell or Manos: Hands of Fate).
The show is all-ages, so feel free to bring the kids (as long as they have their own tickets).
It's also worth noting that this is the timeslot traditionally held by Chris Hardwick's Nerdist podcasts – so could we see Hardwick focusing more on his own Conival event this year instead?
Tickets start at $39.50 and will be available to the general public on Friday, May 19 at 12PM PT (for both Friday and Saturday). You can nab your tickets a day early though (Thursday, May 18) at 10AM PT by using the code THEATER.