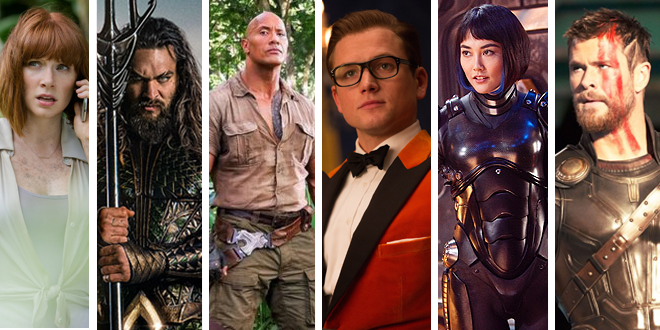 We all know San Diego Comic-Con is more than just comics. Yet despite all the great panels and events that happen throughout the convention, nothing gets quite the attention of a big Hollywood reveal on the stage of the Convention Center's Hall H. Tom Hiddleston as Loki? The cast of Star Wars appearing together on a stage, followed by that epic concert? Those moments and more might not be your personal favorites, but they're the moments everyone remembers and talks about for years (and in the case of the Star Wars concert, it's what our own James Riley is still talking about).
Every year, we take a gander at the theatrical release schedule and put down our best guesses as to which films might be filling up Hall H in July.
With that said, let's look at this year's possibilities:
1. Thor: Ragnarok (Marvel Studios)
Marvel has already promised they'll be in Hall H this summer – so the first few films are all about Marvel Studios. Of the many, many upcoming movies on their slate, Thor: Ragnarok is the most likely to attend, as it comes out the earliest (in November) – meaning there should be plenty of footage, news, reveals, and more to talk about. We fully expect stars Chris Hemsworth and Mark Ruffalo to make an appearance, as well as Tom Hiddleston. How are they possibly going to top Hiddleston dressed as Loki though? We'll have to wait and see.
2. Black Panther (Marvel Studios)
As the second upcoming film on Marvel's slate, Black Panther seems like a heavy favorite to head to the Hall H stage with cast. The film wrapped production last month, so they should have enough footage to split between D23 the week before and Comic-Con. Last year, several members of the cast were announced at SDCC, and brought on stage for a few short minutes – but we expect a more robust panel presence this year, with questions for the cast and footage.
3. Avengers: Infinity War (Marvel Studios)
Technically, Marvel could decide to save Earth's Mightiest Heroes for a 2018 appearance, to promote the second of the two upcoming Avengers films — but we think this year might be the big push. Why? Well, just like when Avengers: Age of Ultron came to town, all of the cast is currently in one place, filming — which makes getting them all on a plane to take to San Diego a whole lot easier.
4. Ant-Man and The Wasp/Captain Marvel/Other Marvel Films (Marvel Studios)
We'll talk about something that isn't Marvel next, we swear. With so many upcoming films on their slate, Marvel can easily pick and choose which ones to promote at D23 and/or San Diego Comic-Con — and we wouldn't rule out some teases for further out films, like Ant-Man and the Wasp or Captain Marvel. Who knows, they may even announce some film titles for further out than that.
5. Justice League (Warner Bros.)
If there's any studio that consistently brings their A-game to San Diego Comic-Con every single year, it's Warner Bros. In fact, the only reason this isn't listed as #1 on this list is because Marvel's Kevin Feige already confirmed Marvel will be back in Hall H for 2017, while WB is just a foregone conclusion. And so is the fact that we'll get Justice League on the Hall H stage for a substantial amount of time, with a substantial amount of footage/teases/reveals. They brought out the entire cast just to show off a small sneak peek last year — imagine what they'll do ahead of the film's November 2017 release, now that the film is mostly finished. This will be big.
6. Aquaman (Warner Bros.)
So long as you're bringing along the entire Justice League, you might as well give some love to Aquaman, right? The film doesn't release until December 2018 — meaning the biggest push will likely be next year's San Diego Comic-Con — but we could easily see them bringing out some key members of the cast alongside Jason Momoa to reveal exclusive footage, or a very early trailer. It's a strategy that WB's been using for years.
7. The LEGO Ninjago Movie (Warner Bros.)
After their DC properties, the next most-obvious San Diego Comic-Con fare on WB's slate is The LEGO Ninjago Movie. Warner Bros. has brought along both of the previous two LEGO films, and the LEGO Ninjago TV series makes an appearance nearly every year, so it should be a no-brainer. Plus, with a voice cast that includes Dave Franco, Justin Theroux, Michael Peña, Kumail Nanjiani, Abbi Jacobson, Zach Woods, Fred Armisen, Jackie Chan, and Olivia Munn — there's plenty of Comic-Con-friendly actors to choose from to bring along to promote the film.
8. Blade Runner 2049 (Warner Bros.)
WB should already have a pretty packed Hall H lineup, but that's never stopped them before from cramming in everything they can (which is great!). We think we're likely to see Blade Runner 2049 get some love as well, as WB surely knows that Harrison Ford and Ryan Gosling sharing a stage together would get everyone on their feet. The film also stars Dave Bautista, Jared Leto, and Robin Wright, any of whom could easily tag along for some added excitement. Director Denis Villeneuve's 2016 sci-fi offering, Arrival, was possibly the best film of the entire year — so we're excited to see what he can do with the Blade Runner franchise.
9. It (Warner Bros.)
Sometimes, WB doesn't showcase their horror/thriller fare to Hall H — like last year when they opted for a screening of Lights Out rather than a full-on panel presence. But with It being the cult classic that it already is, and not releasing until September, we think it will likely be part of WB's film programming (and hey, it may even get a screening of its own, if it's far enough along in post-production). At the very least, we expect actors Bill Skarsgård and Stranger Things' Finn Wolfhard to be in attendance, along with director Andrés Muschietti (Editor's Note: whose film Mama is highly underrated).
10. Ready Player One (Warner Bros.)
We're cautiously optimistic that Warner Bros. will bring Stephen Spielberg's Ready Player One to the convention as well. The upcoming film is based on the book by Ernest Cline, about a virtual reality simulator and the hunt to find easter eggs left by the creator to win the ultimate prize. It's Spielberg, and should feature more pop culture references than even Hall H would know what to do with — but it doesn't release until March 2018, which may mean that WB chooses to promote some other genre fare first. Still, it's a beloved property, and it stars Tye Sheridan, Olivia Cooke, Ben Mendelsohn, Mark Rylance, Simon Pegg, and T.J. Miller — and it makes complete sense for the con. Fingers crossed.
11. Kingsman: The Golden Circle (20th Century Fox)
20th Century Fox skipped out on the convention last year, but they also had very little that they could promote back in the summer of 2016. That's not an issue in 2017, and we think we'll likely see them back in a big way — with the biggest push going towards Kingsman: The Golden Circle. The original Kingsman also got the full-on Hall H treatment back in 2014, with Colin Firth, Taron Egerton, and Samuel L. Jackson all in attendance, along with director Matthew Vaughn and comic writer Mark Millar. This time around, we'd expect most of the same cast and creatives to be in attendance — with Jackson replaced by any combination of Julianne Moore, Mark Strong, Halle Berry, Channing Tatum, Jeff Bridges, and Vinnie Jones. Have we mentioned we're excited for this one?
12. Maze Runner: The Death Cure (20th Century Fox)
Maze Runner: The Death Cure doesn't release until February 2018, but they've brought along the previous two Maze Runner films to San Diego Comic-Con — and there's no reason to think they'd stop with the final installment. All you really need to do is put actor Dylan O'Brien up on stage, and a good number of fans will flock to Hall H. They do have any number of other actors to choose from for promotion, though, including Giancarlo Esposito, Aidan Gillen, Walton Goggins, Kaya Scodelario, Thomas Brodie-Sangster, and more. While this might seem like a bit of a dark horse, we actually think this one is almost certainly a sure thing.
13. Murder on the Orient Express (20th Century Fox)
We also think there's a high likelihood we'll see 20th Century Fox's Murder on the Orient Express at the con. While, again, it may not seem like the most obvious film — it's a mystery based on the classic Agatha Christie novel, and it includes a cast of everyone from Johnny Depp to Josh Gad to Daisy Ridley (as well as Kenneth Branagh, Penélope Cruz, Olivia Coleman, Willem Dafoe, Judi Dench, Michelle Pfeiffer, and more). When you have that much SDCC-friendly cast in a film, surely it would be silly not to bring it. It's slated for a November release, so there should be plenty of footage to show off as well.
14. The Dark Tower (Sony)
Sony doesn't always attend San Diego Comic-Con, but they've got enough on their slate that we think they'll attend this year — starting with The Dark Tower. It's a dark fantasy/western based on the popular Stephen King series, starring Matthew McConaughey and Idris Elba. You don't get more "obvious Comic-Con fare" than this. The film releases in early August, so we could even be looking at an early screening, if Sony felt so inclined, but at the very least we should be getting lots of early footage. But hey, Sony, if you're listening — unlike the first and only time McConaughey came to Comic-Con with Paramount, how about you tell us what you're bringing before the panel, in order to get people in the room. Cool? Cool.
15. Jumanji: Welcome to the Jungle (Sony)
What else is on Sony's upcoming slate? Well, only a little film called Jumanji: Welcome to the Jungle. The upcoming sequel to the 1995 film stars Dwayne Johnson, Kevin Hart, Jack Black, Karen Gillan, and Nick Jonas — and the original film is so beloved that nostalgia alone should pack the house. It doesn't release until December, but that just means that Comic-Con might be the perfect place to drop that first trailer.
16. The Emoji Movie (Sony)
Sony has been pushing The Emoji Movie hard — even recently sending star T.J. Miller around Cannes on a parasail to promote the film. But a more natural fit for it would be San Diego Comic-Con, where they can bring along footage and voice actors Miller, Anna Faris, Sofía Vergara, Patrick Stewart, James Corden, and more. It's been a few years since Sony Pictures has gone all out at the convention, though Columbia Pictures and Screen Gems have been represented in other years. With three big films on this list (and some Screen Gems films further down), we're hopeful 2017 is the year that all changes.
17. The Greatest Showman (20th Century Fox)
The Greatest Showman is a bit of a stretch for Comic-Con, but we wouldn't rule it out entirely, as 20th Century Fox may decide that it's ultimately a good fit. The film, a musical about Ringlong Bros. and Barnum & Bailey Circus' founder P.T. Barnum, features Hugh Jackman as Barnum, with Zac Efron, Rebecca Ferguson, and Michelle Williams also starring. It isn't the most obvious Hall H fare, but a musical about a circus is sure to be a visual spectacle on its own, and with Jackman starring, it might be just different enough to get people excited. We're definitely not calling this a sure-thing, but keep an eye on this one as a possible dark horse if 20th Century Fox needs another film to fill out their programming block.
18. Pacific Rim: Uprising (Universal Pictures)
Then there's Universal Pictures, whose presence has also been very hit or miss over the years. We're hopeful this may be a "hit" year, though, as they have Pacific Rim: Uprising on their slate, which director Stephen DeKnight has already hinted at may be in attendance. There's possibly no other director/producer who loves SDCC as much as Guillermo del Toro, so we'd like to believe if there's a way for the film to be there, he'd be spear-heading that effort. And with John Boyega, Rinko Kikuchi, Charlie Day, and Scott Eastwood all in the cast — there should be plenty of actors to choose from to bring along for the ride. Then again, the film doesn't release until February 2018, so it may just be too early for a really good look at the film — but we remain hopeful.
19. Jurassic World 2 (Universal Pictures)
We're not going to lie — we were pretty surprised when Jurassic World skipped the convention a few years ago. Will 2017 be the year they make up for it by bringing along Jurassic World 2? If Universal does decide to attend, and they bring along Pacific Rim: Uprising, then we think the odds go up substantially, even though the film isn't slated to release until June 2018. Filming began in February of this year, so they could have something to show if they really wanted — and if Ready Player One is in attendance, it would be a waste not to bring along producer Stephen Spielberg. Along with Chris Pratt and Bryce Dallas Howard, the sequel also stars original Jurassic Park alum Jeff Goldblum, as well as James Cromwell — all of which is basically to say if Universal wanted to be the talk of the convention, they easily could. They just have to want to.
20. Half to Death (Universal Pictures/Blumhouse) / 21. Insidious Chapter 4 (Universal Pictures/Blumhouse)
If Universal needs something else to pad their panel with, there's the upcoming Universal/Blumhouse film Half to Death, about a woman who must relive the same day over and over again to figure out who's trying to kill her. It doesn't boast any big names in the cast, so they may choose to promote something like Insidious Chapter 4, which at least has name recognition over Half to Death. But we'd give the edge to the earlier-release-date film.
22. American Assassin (Lionsgate)
Lionsgate may be in bed with Comic-Con International now for the streaming service CCHQ, but that meant a whole lot of nothing for their Hall H presence last year (and even stranger, they brought along the cast of Power Rangers for interviews around the convention, but no official panel presence). They've got more than one film they could promote this year, though, starting with American Assassin, about a counterterrorism agent named Mitch Rapp, based on the Vince Flynn novel. Actor Dylan O'Brien plays Rapp, and if he's already in town for Maze Runner, it makes sense to keep him around to pull double promoting duty. The film also stars Taylor Kitsch and Michael Keaton, who could easily make an appearance and get people excited.
23. The Hitman's Bodyguard (Lionsgate)
The Hitman's Bodyguard certainly wouldn't be the first action comedy to make its way to the convention — and we think it stands a good shot, assuming Lionsgate decides to actually promote things this year in Hall H. The film follows a special protection agent (Ryan Reynolds) who is tasked with guarding the life of his mortal enemy, a notorious hitman (Samuel L. Jackson). If those two names alone aren't enough to get you very excited, maybe these are: Gary Oldman, Élodie Yung, and Salma Hayek. The film releases in August, so honestly, even if Lionsgate decides to skip Hall H this year, we think the odds of a screening are pretty high.
24. My Little Pony: The Movie (Lionsgate)
Also on Lionsgate's upcoming slate is the long-awaited My Little Pony: The Movie, which features everyone's favorite ponies (Twilight Sparkle, Applejack, Rainbow Dash, Pinkie Pie, Fluttershy, and Rarity) as they embark on a journey beyond their home kingdom of Equestria to save the town of Ponyville. The My Little Pony: Friendship is Magic TV series is always represented in some form at the convention, and most of the main voice actors are already in town — so it makes sense to pull together the original voice cast as well as bring in some of the bigger cast names (Emily Blunt, Kristin Chenoweth, Liev Schreiber, Zoe Saldana, and Taya Diggs) for some all-out promotion.
25. Flatiners (Screen Gems/Sony)
Typically, Sony's Screen Gems has come along to the convention on years when Sony Pictures hasn't. We think this year, Sony has enough to warrant a panel all on their own — but they may still have a Screen Gems panel, or combine their presence. If they do that, the most obvious offering is Flatliners, an upcoming sci-fi psychological horror film that's a sequel to the original 1990 film, about a group of medical students who find out what lies beyond death by conducting clandestine experiences that produce near-death experiences. The cast includes SDCC-friendly actors like Ellen Page, Diego Luna, Nina Dobrev, and Kiefer Sutherland — and the film releases in September, so it should have plenty of footage to show at SDCC.
26. He's Out There (Screen Gems/Sony)
Sony's Screen Gems also has He's Out There, about a mother and her two young daughters who take a break at a house on the lake, only to find that they must deal with a man with evil intent. Actress Yvonne Strahovski stars, and depending on what else attends the convention, she could easily be pulling double or triple duty between The Handmaid's Tale and All I See Is You (further down this list).
27. Cadaver (Screen Gems/Sony)
Finally, Sony's Screen Gems also has Cadaver, a horror film about a cop coming out of rehab who takes the graveyard shift in a city hospital morgue, only to face a series of bizarre and violent events caused by an evil entity in one of the corpses. The film stars Shay Mitchell and Stana Katic, who each have a small following of their own — and it makes sense if Sony decides to give Screen Gems their own programming block.
28. Saw: Legacy (Lionsgate)
We're not too sure how well Lionsgate's Saw: Legacy would pair with the likes of My Little Pony: The Movie, which may mean that this is relegated to a screening similar to last year's The Woods (or it may not attend at all). But the upcoming sequel boasts name recognition, and Lionsgate likes to promote their horror fare at Comic-Con, so it stands a chance.
https://www.youtube.com/watch?v=cP9Cz8wvXa4
29. All I See Is You (Open Road Films)
Every year, there's some unexpected films that turn up at the convention – and we're putting our bets on All I See Is You, a psychological thriller about a blind woman (Blake Lively), who regains her sight unexpectedly and begins to discover previously unseen and disturbing details about her marriage and life with her husband (Jason Clarke). It's being distributed by Open Road Films, which seems eager to establish itself with a Comic-Con presence, as they've held a Hall H panel for the last two years. The film also stars a very SDCC friendly cast, which includes not only Lively and Clarke, but also Yvonne Strahovski and Danny Huston.  Trust us, this actually has a very real shot.
30. Deadpool 2 (20th Century Fox)
So long as 20th Century Fox is in attendance (and we think they will be), you can probably expect something for Deadpool 2. But the film hasn't even started production yet, which means that having a lot of footage ready to show, or a full-out panel with lots of cast, by the time of San Diego Comic-Con is a stretch. But still, 20th Century Fox knows how much Hall H loves Ryan Reynolds as Deadpool, and if he's already in town for The Hitman's Bodyguard, it makes sense to put him in the Deadpool costume and push him out on the stage for a few minutes of interaction and maybe a first look at a scene.
31. Star Wars: The Last Jedi
Is Star Wars: The Last Jedi attending San Diego Comic-Con? With D23 happening just days before San Diego, many thought that meant both Star Wars and Marvel Studios were for sure out — but with Marvel now confirmed, where does that leave Star Wars? We still think it stands about a 50/50 shot, and could go either way very easily. If Pacific Rim: Uprising and Murder on the Orient Express both attend, then John Boyega and Daisy Ridley should already be in town, making a panel presence that much easier. But for Disney, it's less about the logistics, and more about strategy. They may choose to keep one of their biggest properties just at their own convention to drive up interest. Then again, they may decide to simply split the reveals, and offer something like 2015's behind-the-scenes footage at San Diego, and save the real teaser trailer material for D23. Time will tell on this one.
32. God Particle (Paramount Pictures)
We think Paramount Pictures will likely choose to skip the convention this year. Sure, they have things they could bring — including God Particle, part of the Cloverfield franchise, about a team of astronauts aboard a space station who find themselves alone after a scientific experiment causes Earth to disappear. But producer J.J. Abrams loves nothing more than his secrets, and we're not sure we can see a whole lot of promotion for this film. Still, it boasts a great cast — including David Oyelowo, Gugu Mbatha-Raw, Chris o'Dowd, and Daniel Brühl — so we wouldn't complain if we're wrong.
33. Downsizing (Paramount Pictures)
If Paramount does surprise us and attend, they also have Downsizing — about a guy who realizes he would have a better life if he were to shrink himself. The film stars Matt Damon, Laura Dern, Kristen Wiig, Christoph Waltz, Neil Patrick Harris, and Margo Martindale, just to name a few, so there shouldn't be a shortage of actors to choose availability from.
34. The Mountain Between Us (20th Century Fox)
We still give the 20th Century Fox dark horse option to The Greatest Showman, but The Mountain Between Us does have a shot at attending. The film is about two strangers who are stranded after a tragic plane crash, who must forge a connection to survive the extreme elements of a remote snow-covered mountain. Those two strangers are played by Idris Elba and Kate Winslet, and with Elba possibly attending for The Dark Tower, this might have a shot.
35. Red Sparrow (20th Century Fox)
The upcoming spy thriller Red Sparrow, about a Russian spy who falls for a CIA officer, doesn't come out until March 2018 — which is the main reason we think this is a long-shot. But the cast boasts the likes of Jennifer Lawrence, Joel Edgerton, Jeremy Irons, and Ciarán Hinds — so if Fox can get Lawrence to attend, they may choose to bring Red Sparrow along.
36. The Snowman (Universal)
Universal also has the British crime drama The Snowman on their slate, about a detective investigating the disappearance of a woman whose pink scarf is found wrapped around an ominous-looking snowman. But it's not the snowman doing the killing, it's just your average crime mystery thriller about a potential serial killer — which is why we think this doesn't have great odds for attending. Still, it stars Michael Fassbender, and it releases in October, meaning there's plenty of footage to show and Fassbender is a huge draw in himself. So maybe.
37. How to Train Your Dragon 3 (Dreamworks Animation)
While DreamWorks Animation has been attending every year that we can remember, this year is a little different. Their next film, Captain Underpants: The First Epic Movie, releases about six weeks before the convention – and their following film, How to Train Your Dragon 3, isn't slated until March of 2019 (!), so we could easily see them opt to skip out of a Hall H presence this year. So unless they feel like combining some very light footage with, say, the Trolls Holiday Special airing on TV this fall, we'd count this one out entirely.